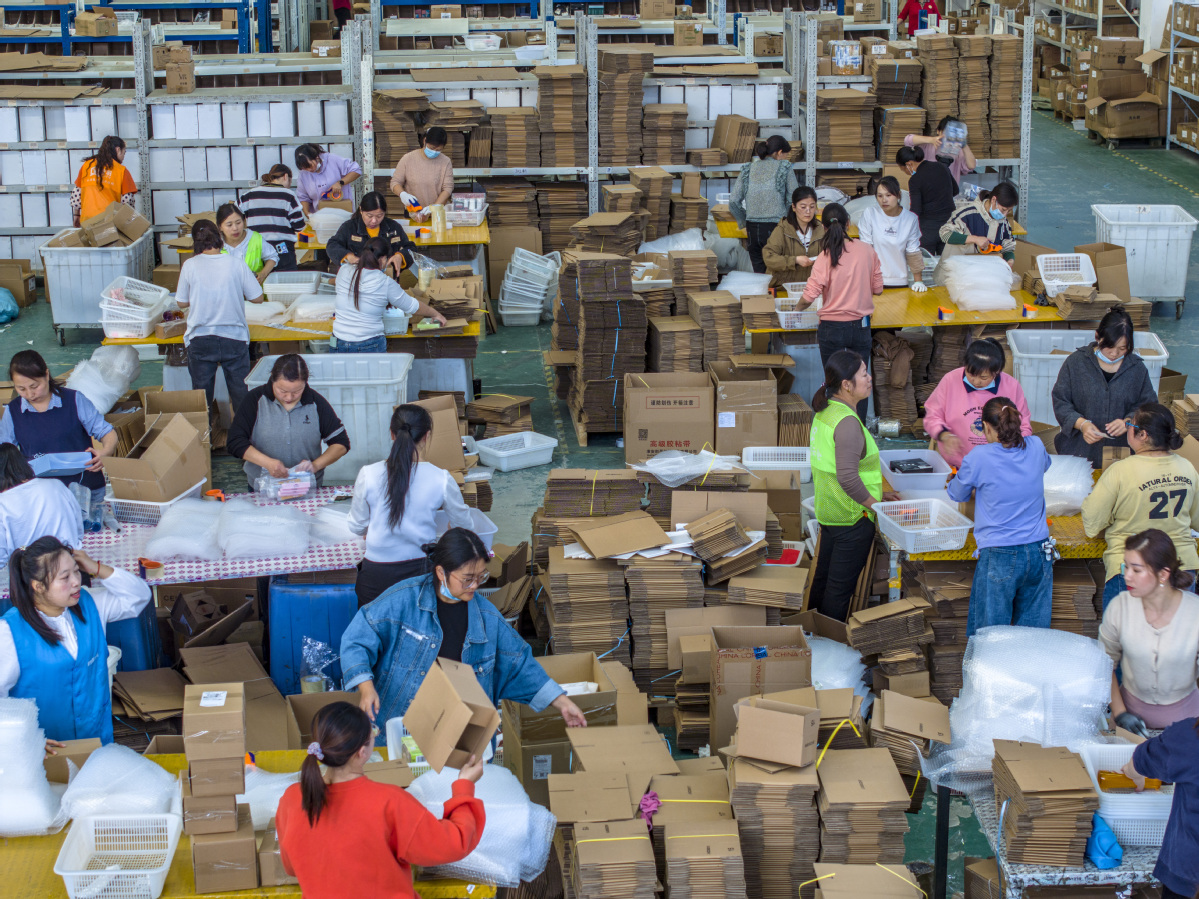 Survey: Consumers focus on domestic products as quality, value increase

Pan Lin, a 23-year-old postgraduate in Beijing and a fan of Chinese brands, scrolled through online marketplaces during this year's Singles Day shopping promotion. The first domestic brand she bought was from Florasis, which produces cosmetics in Hangzhou, Zhejiang province.
"Compared with some well-known Western brands, I feel that Florasis' products are more cost-effective and more suitable for Asian people's skin," Pan said, adding that the package design is exquisite, using traditional Chinese cultural elements.
"In the past two years, I bought an increasing number of domestic products that cover a wide range of categories, such as apparel, shoes, makeup, skincare, foods and beverages."
During the presale of the promotional campaign, domestic products occupied about 70 percent of her shopping cart. Pan replaced international cosmetics brands with homegrown products, including an eyeshadow palette, loose powder and lipstick when watching livestreaming sessions on e-commerce platforms.
Like Pan, hundreds of millions of young Chinese shoppers are inclined to purchase high-quality domestic brands, especially those that feature fashionable and creative designs mixed with elements from traditional Chinese culture.
In its 15th year, the Singles Day, or 11-11, shopping extravaganza, initiated by Alibaba Group Holding Ltd on Nov 11, 2009, remains the world's biggest online shopping event. This year's festival has seen major e-commerce platforms provide steep discounts and low-priced products to boost sales, with domestic brands becoming more popular among Chinese consumers.
Data from Tmall, Alibaba's business-to-customer e-marketplace, showed that in the first hour of this year's 11-11 presale, which kicked off at 8 pm on Oct 24, sales of more than 20 domestic brands exceeded that of the entire day last year.
Homegrown beauty and makeup commodities, household products and foods have witnessed explosive growth. For example, the turnover of Chinese skincare brand Proya surpassed 1 billion yuan ($137.3 million) in the first two hours of the presale, while sales of Timage, a domestic cosmetics brand, surged more than 315 percent year-on-year, Tmall said.
According to Tmall, the transaction volume of more than 70,000 domestic brands doubled on Oct 31 when the official promotional sales began and 85 Chinese brands saw sales surpass 100 million yuan in just a brief period.
JD began its presale promotion at 8 pm on Oct 23 and saw sales of domestic smartphone brands, such as Xiaomi, Honor, Huawei, Oppo and Vivo, via the e-commerce giant's online marketplaces exceed 100 million yuan within just one second.
In the first 10 minutes of the promotional event, sales of Shanghai-based haircare brand Bee & Flower and Tianjin-based children's skincare products maker Yumeijing skyrocketed by 20-fold and 10-fold year-on-year, respectively, JD said.
According to a survey released by global consulting firm AlixPartners, Chinese brands continue to gain momentum, as 66 percent of interviewed consumers said they plan to increase spending on domestic brands.
The survey, with a sample size of over 2,000 consumers across different age groups and regions in China, found that consumers are increasingly looking for local alternatives with "more bang for the buck" as Chinese product quality and safety improve.
This is particularly true for young shoppers purchasing clothing brands and accessories, as 61 percent of the respondents aged between 18 and 25 plan to increase spending on Chinese-branded clothing, fashion items and accessories during this year's promotional gala, the highest among all product categories and age groups.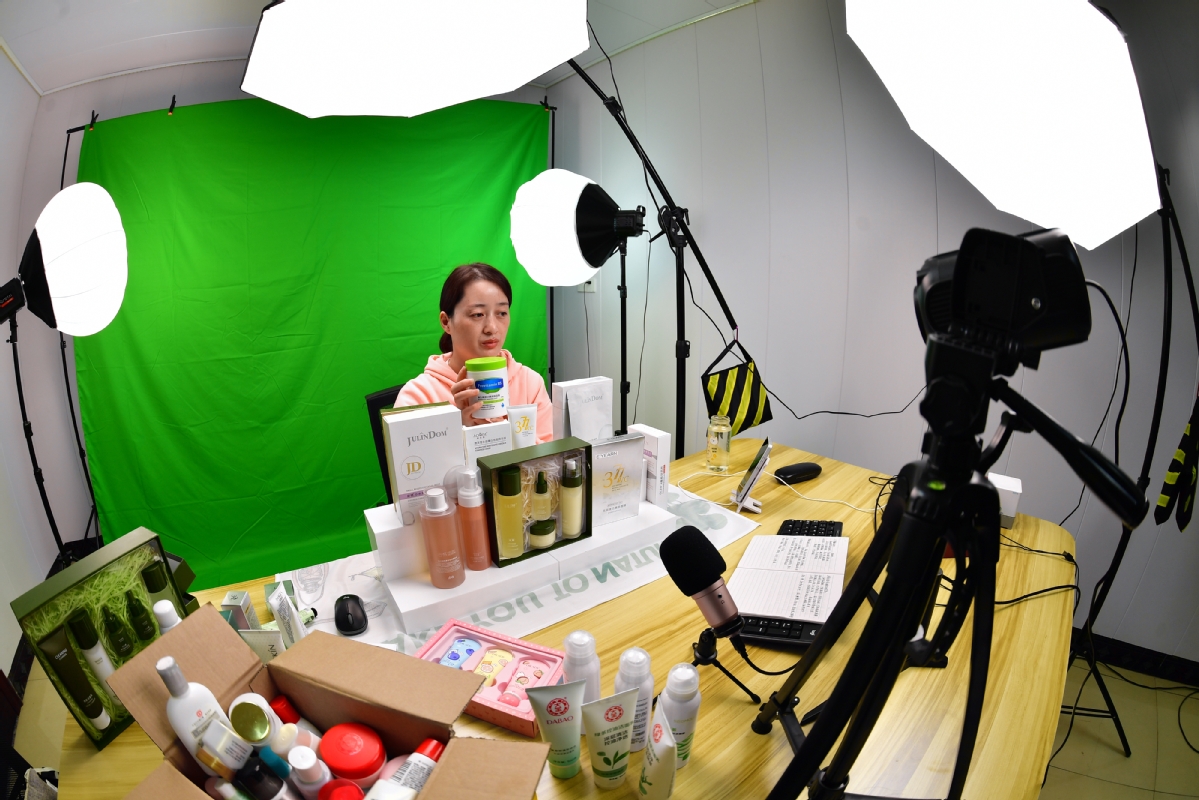 Domestic brands are gaining popularity among Chinese consumers, especially the post-90s and post-00s generations, who have a growing sense of national pride and confidence in Chinese culture, along with the rapid development of the Chinese economy, said Wang Yun, a researcher at the Academy of Macroeconomic Research, affiliated with the National Development and Reform Commission.
"They are not only looking for domestic cosmetics and clothing brands, but also every category covering time-honored brands and brand-new trendy brands," Wang noted.
She said the Singles Day shopping festival has played a vital role in further stimulating consumer purchasing appetites, shoring up the confidence of shoppers and bolstering consumption recovery.
She added that consumption, as the main driving force boosting economic growth, is expected to reach a growth rate of about 7 to 8 percent this year.
Jason Yu, general manager of Kantar Worldpanel China, a market research provider, said, "Domestic brands have ramped up efforts to increase investment in research and development and improve the quality of products and brand value, which is different from past strategies that only emphasized cost-effectiveness and relied on data traffic."
Domestic brands are continuously strengthening their technological innovation capacities and expanding their presence in the high-end market, Yu said, adding brand owners should pool more resources into R&D to enhance product competitiveness and upgrade supply chain systems amid a broader push to cater to consumer demand and improve shopping experiences.
Chinese consumers are becoming more rational and carefully reviewing their needs, with a focus on quality and value. "They aspire to buy cost-effective commodities, rather than just obtaining low-priced goods at the cost of quality," Yu said.
In addition, the survey from Alix-Partners stated that as consumer sentiment picks up, nearly half of the respondents said they are likely to spend more this year compared to last year, and 62 percent said they will spend at least 3,000 yuan this year, up 11 percentage points from 2022.
Britton Russell, who leads the consumer and retail practice at Alix-Partners Greater China, said, "2023 marks the first post-pandemic Singles Day, where consumption returns to normal levels. We are seeing stronger sentiment and spending, evidenced by the 18 percent increase in total spending compared to 2022 — more than three times last year's growth."
"While value-based shopping is nothing new, consumers are more prudent and knowledgeable about potential purchases than ever before as they seek maximum value with every purchase," he said, adding that rational consumption drives the search for quality rather than flashy promotion.
Russell also said that shoppers are carefully researching options across channels and platforms to find true product differentiators, such as quality and sustainability, beyond reduced price tags.
This year's 11-11 promotion has added significance as it is the first since China optimized its COVID-19 response measures, and consumption has become the bedrock for the country's stable economic growth, experts said.
China's consumer market recovered in the first three quarters of this year. Retail sales, a significant indicator of consumption strength, grew 5.5 percent year-on-year in September compared with 4.6 percent in August, data from the National Bureau of Statistics showed.
In the first nine months, the country's retail sales increased 6.8 percent year-on-year, according to the NBS. Consumption contributed 83.2 percent to China's economic growth during the January-September period.
The country has recently rolled out a raft of measures to spur the consumption of products and services such as automobiles, electronics, housing and home decor amid its broader push to boost momentum and stabilize the economy.
Chinese shoppers are likely to be more value-conscious, with value for money a priority, according to a report from consultancy Bain & Company.
The report also found that Chinese shoppers are willing to devote their attention to more novel platforms that blur the boundaries between entertainment and retail, particularly in livestreaming e-commerce provided by short video platforms such as Douyin and Kuaishou.
James Yang, a partner in the retail practice of Bain & Company, said Chinese retailers need to adjust to a more value-conscious strategy while doing an even better job of entertaining shoppers.
"That's no easy feat. For one thing, it doesn't mean just serving up more of the discounts that have long been a hallmark of Singles Day. Successful playbooks are likely to rely on a broader range of tactics that deliver better everyday value to shoppers," Yang said.
At the same time, leading Chinese retailers are gearing up to fully exploit content-led retail innovations such as livestreaming e-commerce, a China-led trend that global retailers are watching closely, he said, adding retailers can still win by adapting and combining shopping and entertainment through livestreaming and other innovations.
"Both Taobao and JD are facing intensified competition from video-sharing and livestreaming platforms, including Douyin and Kuaishou, which are betting big on e-commerce in livestreaming format," said Mo Daiqing, a senior analyst at the Internet Economy Institute, a domestic consultancy.
Traditional e-marketplaces should make strategic adjustments to reduce their dependence on top livestreaming anchors and nurture new ones, she added.
If you have any problems with this article, please contact us at app@chinadaily.com.cn and we'll immediately get back to you.