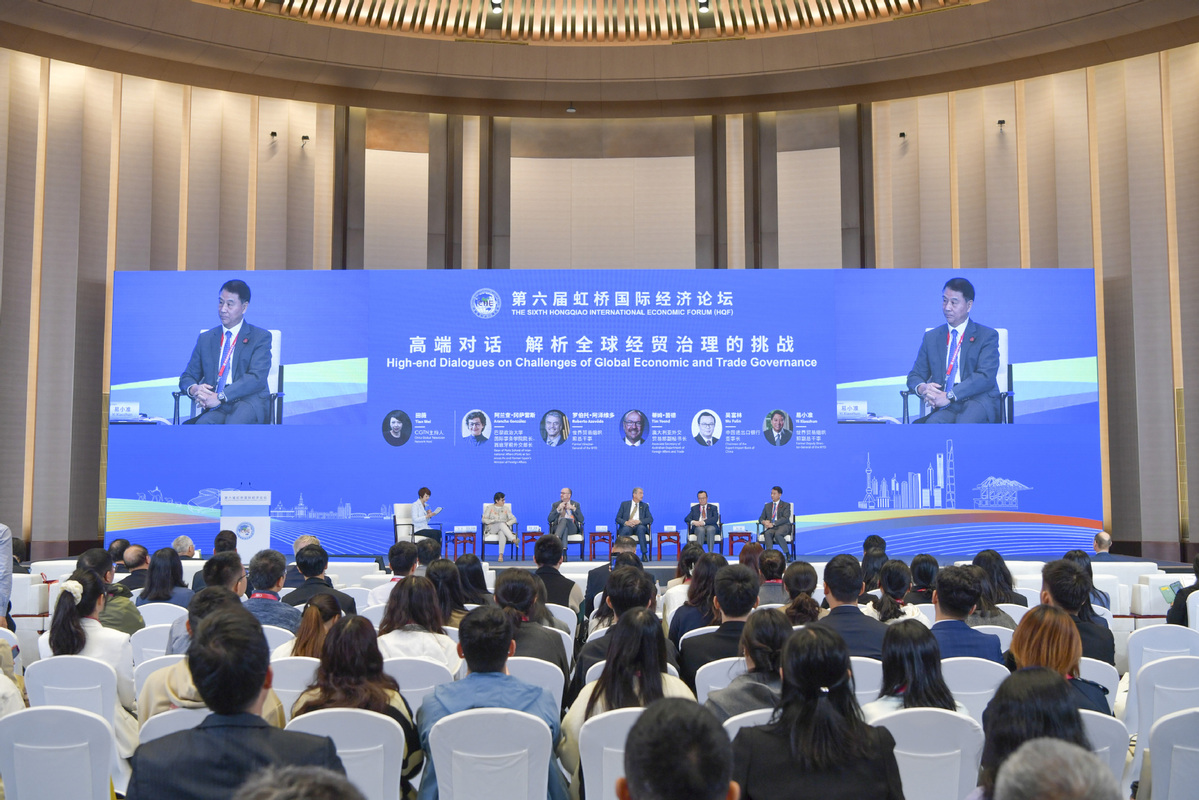 Multilateral trading system to combat unilateralism, protectionism in focus
All countries should promote the multilateral trading system with the World Trade Organization at its core, given multiple challenges like geopolitical tensions, rising protectionism and climate change, government officials and experts said on Monday.
They also urged support for WTO reform, especially the restoration and normal functioning of the organization's dispute settlement mechanism.
They made the remarks at the High-end Dialogues on Challenges of Global Economic and Trade Governance, a session of the Hongqiao International Economic Forum, which is part of the ongoing sixth China International Import Expo in Shanghai.
Ling Ji, vice-minister of commerce and China's deputy international trade representative, stressed that efforts to promote openness and the multilateral trading system are needed as unilateralism and protectionism have been on the rise in recent years.
"China is always a staunch supporter of the multilateral trading system, and we have taken practical and concrete actions to uphold the multilateral trading system and its rules," he said, adding the country will align with high-standard international economic and trade rules. China will also expand institutional opening-up in rules, regulations, management and standards.
Don Farrell, Australia's minister for trade and tourism, said via video: "We're working in a difficult environment with investment and trade flows influenced by geopolitical tensions and by global challenges like climate change.
"It's more important than ever that we work to support a robust rules-based trading system that can respond to modern challenges."
Australia, Farrell said, is supporting efforts to ensure the WTO remains at the center of a well-functioning global trading system in the future.
Arancha Gonzalez, dean of the Paris School of International Affairs, and former Spanish foreign minister, said the biggest risk today is that "we tilt international trade too much toward security and move it away from the laws of economics".
That, she said, is zero-sum mentality, not the win-win logic of economics. "The big challenge for us is how to make sure the pendulum doesn't move too much in this direction of security, away from prosperity.
" (Or) how can we find a new balance between security and the economy that helps us protect ourselves and protect businesses without protectionism?"
Experts and government officials called for concrete actions to push forward the necessary reforms of the WTO.
Tim Yeend, associate secretary of Australia's Department of Foreign Affairs and Trade, said global economic uncertainties, geopolitical tensions and concerns about energy security and food security have "really placed new and mounting challenges on the multilateral system".
The reform of the multilateral trading system is "an absolutely central consideration" for the 13th WTO ministerial conference in February, he said. "There is no more important issue for us than doing what we can to repair and restore the dispute settlement system."
Yi Xiaozhun, former deputy director-general of the WTO, said it is important to urgently revitalize the dispute settlement mechanism. "Without a functioning dispute settlement mechanism, the world will go back to the 'jungle era'. No one is the judge. There will be unfair competition or fight … No one is going to benefit from it."
Yi said he hopes that WTO member countries would cooperate at the 13th WTO ministerial conference to address many of the pressing issues faced by the humanity, including climate change, the fishery industry subsidies and other issues.
If you have any problems with this article, please contact us at app@chinadaily.com.cn and we'll immediately get back to you.