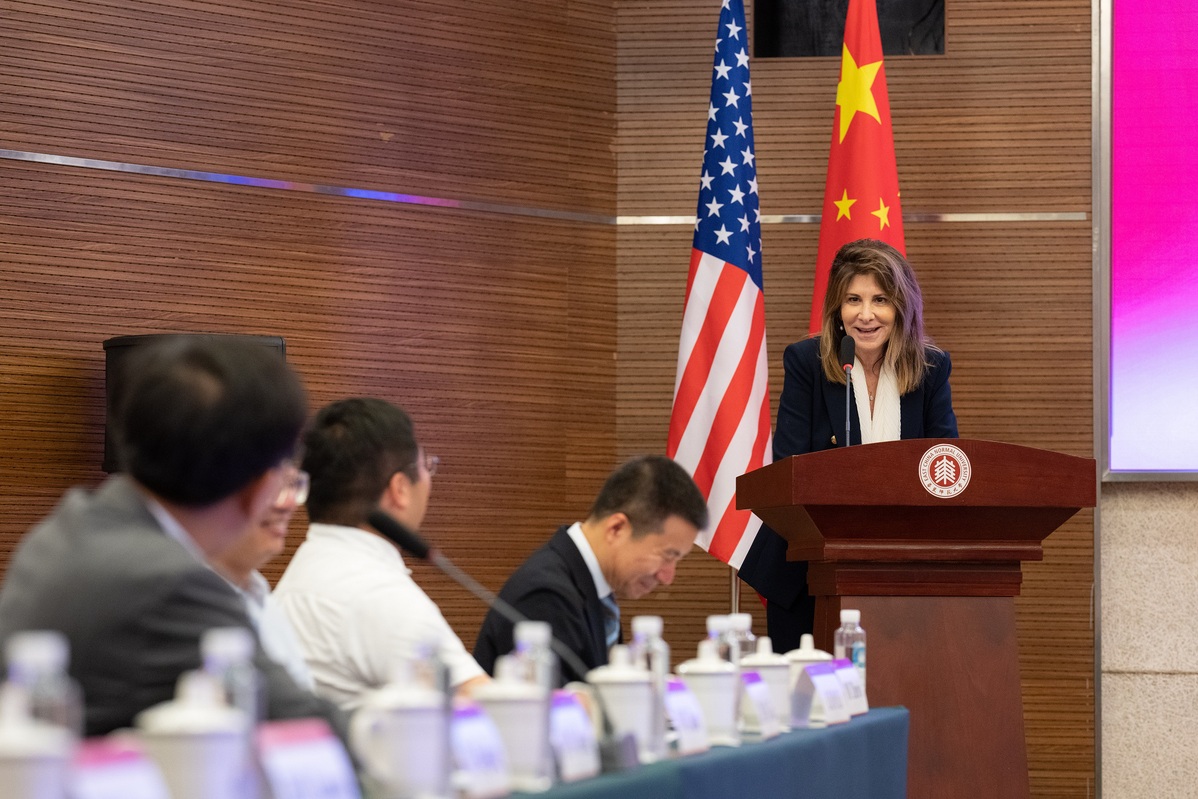 East China Normal University and New York University signed a memorandum of understanding for a new cooperation cycle on Saturday in Shanghai during a NYU delegation visit led by the university's new president Linda Mills.
ECNU and NYU have been cooperating closely in the fields of talent training and joint scientific research since 2012 when the two jointly established NYU Shanghai.
NYU Shanghai, the third degree-granting campus of the NYU Global Network, is the first Sino-US research university in China and regarded as a pilot program in China-US educational cooperation.
According to the memorandum jointly signed by ECNU President Qian Xuhong and NYU President Mills on ECNU's campus in downtown Shanghai, the two parties will continue to support the current talent training and joint scientific research projects of the two universities and actively explore emerging win-win and mutually beneficial projects.
Qian said ECNU has been adhering to the development concepts of innovation, coordination, green, openness and sharing to achieve excellence in intelligent education, digital humanities, social computing, health management, big data governance and other fields.
He hopes that in the new cooperation cycle, the two universities will continue to adopt an innovative, open, inclusive and pragmatic attitude; work together to face global issues; and set an example for active participation in global governance in the field of education.
President Mills said that ECNU, driven by an international education strategy, is a natural partner for NYU, which is committed to building a university featuring a global education system.
She said this has given the two schools valuable opportunities to stand at the forefront of scientific and technological development, break down traditional subject boundaries, enable cross-border mobility of teachers and students, and promote global education.
Mills added that she firmly believes this consensus will provide continuous impetus for future cooperation between the two universities and she hopes that the level and radiation effect of cooperation between the two universities can be further expanded in the future.
Mills, who became the 17th president of NYU, is the first woman president of the 192-year-old institution. A professor of public policy and law and executive director of the Center on Violence and Recovery at NYU, she has been a longtime member of NYU's senior leadership team. This visit is her first visit to ECNU and China since taking office.
Mills was joined by Josh Taylor, vice president for global affairs at NYU, for the visit.
If you have any problems with this article, please contact us at app@chinadaily.com.cn and we'll immediately get back to you.