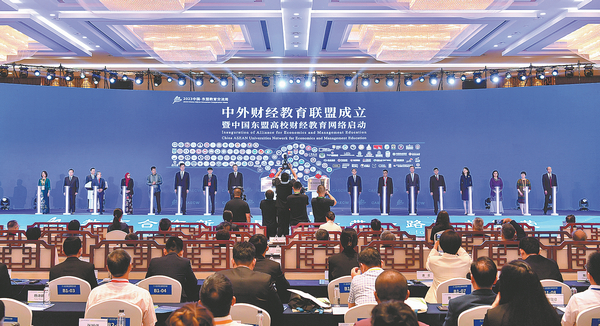 "The rapid progress of artificial intelligence has triggered a revolutionary transformation within the finance and economics sector," said Zhao Zhongxiu, president of the University of International Business and Economics. "Furthermore, it has exerted a profound impact on educational institutions dedicated to finance and economics."
The remarks were made during the 1st Plenary Meeting of the Alliance for Economics and Management Education (AEME) and the International Forum on Higher Education for Economics and Management Talents in the Era of Artificial Intelligence, held in Guiyang, Southwest China's Guizhou province, on Aug 29.
This new reality underscores the necessity for the establishment of the AEME, a development encouraged by the Central University of Finance and Economics. The objective is to "encourage universities to enhance collaboration and integration among various academic disciplines, exchange knowledge and expertise, facilitate the convergence of artificial intelligence with traditional financial and economic fields, and participate in building a robust ecosystem for high-quality artificial intelligence financial education," as articulated by Chen Jie, China's vice-minister of education.
AEME's membership comprises 121 domestic universities and businesses, along with 24 foreign universities based in countries including the United States, the United Kingdom, Greece, Australia, Singapore and Argentina.
The meeting and forum were integral components of the 2023 China-ASEAN Education Cooperation Week, which ran from Aug 28 to Sept 2 with the theme "New Vision for Education Cooperation, Common Prosperity for Belt and Road".
Professor Leonidas Anthopoulos at the University of Thessaly, Greece, emphasized the transformative potential of AI in education. "AI is something that can be useful and it definitely transforms the way education works, especially in the domains of finance, science and relevant disciplines," he said. "We have to understand how AI can be utilized."
According to Ma Haitao, president of the Central University of Finance and Economics, the task of fully exploring the potential of AI falls on the shoulders of the current recipients of higher education since they've grown up in the internet era and are more knowledgeable about related technologies. This means that universities must adjust their methods for developing financial and economical talent.
"We need to shift our approach to talent development by maximizing students' personal value and their capacity for continuous learning," said Ma in his keynote speech at the forum. "We should also encourage the merging of different academic disciplines, as well as maintaining a systematic and comprehensive development approach to promote the integration of subjects, majors and courses."
Ufuk Gunes Bebek, a professor at the University of Birmingham in the UK, agreed. "Unlike conventional approaches to fostering alliances, we must prioritize cultivating a functional relationship over rigid management structures," he said. "Embracing our differences is essential, for these distinctions are our primary sources of strength."
Huai Jinpeng, China's minister of education, underscored the shared challenges that human beings face in today's world, including climate change, energy crises, public health, and, of course, the risks posed by artificial intelligence. Moreover, he emphasized the importance of nurturing young talents who are capable of addressing future uncertainties and challenges.
"Looking ahead, China is ready to work together with ASEAN countries to contribute talent and innovation for the Belt and Road Initiative through high-quality education development," he said.
chenxue@i21st.cn
If you have any problems with this article, please contact us at app@chinadaily.com.cn and we'll immediately get back to you.