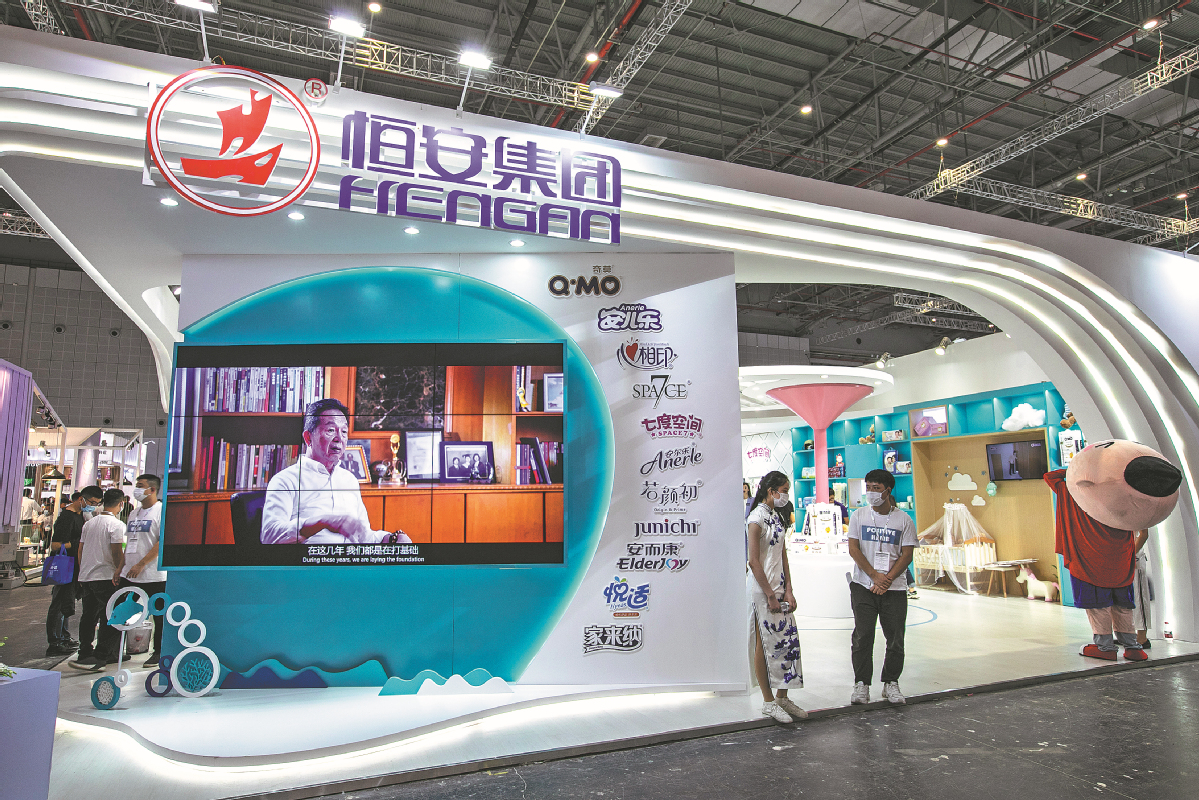 Nimble firms tap emerging biz opportunities in segments like adult diapers, nutrition
As new births continue to drop in an aging society like China today, a daily necessity producer has decided to focus on adult care products in addition to baby products.
Hengan International Group, the Jinjiang, Fujian province-based producer, plans to step up its disposable diaper production to cater to the senior population.
Hengan's diaper business had been booming for years when China's population grew steadily to exceed 1.4 billion. Sales soared after the country relaxed its single-child policy in 2015.
But the tide turned quickly again as there were only 9.56 million newborns in 2022, representing, for the first time since 1950, a drop below the 10 million mark.
On the other hand, the improvement in living standards and the aging population have continued to fuel the growth of the country's adult disposable diaper market, said Hengan.
In 2022, sales of its premium product maintained growth momentum and grew more than 17 percent year-on-year. Adult diapers garnered more than 30 percent of the overall products, said the company.
Meanwhile, benefiting from the growing domestic adult sanitary products market and the higher penetration rate of the group's adult disposable diapers, sales of Hengan's adult disposable diapers grew nearly 13 percent year-on-year in 2022, accounting for about 24 percent of the overall diaper sales.
Wu Jianlong, head of the diaper unit of Hengan Group, said the diaper for adults is going to create a major market, given the rising consumption power and improved awareness of self-care among elders aged above 60 and the increasing welfare policies for them. "Previously, elders were often found shy of buying diapers," said Wu. "Now, our sales record has shown more younger elders in China are open to the idea of using elastic diapers to make their daily lives more convenient and hygienic."
Hengan will invest more resources in the development of adult care products, so that its ElderJoy brand and related products can fully penetrate the domestic market and at the same time expand their market share in Southeast Asia, said Wu.
In addition to e-commerce sales channels, the company will strive to develop new retail channels and also increase cooperation with nursing homes and hospitals.
The company will expand its potential customer base, and provide a one-stop product sales chain, bringing sustainable growth momentum to the disposable diaper business. It will support the long-term development of the adult care business and continue to tap the growth potential of the adult care market, said Wu.
Hengan is among a cluster of maternity and infant-related product makers that have gradually extended their business into senior care-related products and services, to meet the growing market demand.
According to a trade report on infant and toddler formula milk published by research firm Nielsen-IQ in May, the Chinese maternity and infant-related product sector, which includes formula milk, infant food, diapers and maternity formula milk, had seen its revenue drop in 2022 amid the global decline of population and drops in birth rates.
According to Euromonitor International, the infant and baby food and diaper market in China leads the world with nearly one-third of the total sales worldwide. However, the market contracted for the first time this year due to the effects of the decline of population in China.
Yet, Health and Happiness (H&H) International Holdings, a health and nutrition company listed on the Hong Kong stock exchange, has seen its first-quarter revenue rise 17.3 percent year-on-year to 3.15 billion yuan ($44.04 million). But, it has faced increasing "competitive intensity" in its baby nutrition and care category in the first quarter.
H&H, which owns brands such as Biostime, Swisse and Solid Gold, has shown stronger interest in the adult nutrition business.
Akash Bedi, interim chief executive officer of H&H, said, "We are particularly pleased with the continued strong performance of Swisse on markets, including the Chinese mainland, Australia and New Zealand, along with the growth of the pet nutrition and care segment in markets, including the mainland and North America, led by Zesty Paws."
On the Chinese mainland, the company's overall revenue increased by 15.3 percent year-on-year last year, with the adult nutrition and care segment achieving strong double-digit growth with sales of Swisse rising by 96.1 percent and Solid Gold sales leading growth in the pet nutrition and care segments.
This offsets a decline in the baby nutrition and care segment, which, despite robust double-digit growth in probiotics sales, was led by a fall in infant formula milk sales, the company said in its first-quarter report.
"Swisse continued to perform very well on the Chinese mainland, maintaining its No 1 position in the online vitamin, herbal and mineral supplements market," said Bedi.
Jason Yu, general manager of Kantar Worldpanel, a global firm studying shoppers' behavior, said: "With the aging global population and drop in new births, brands are required to keep expanding their product portfolio to reach full spectrum of the life cycle, through brand extension or acquisitions to de-risk the over-exposure to merely one consumer group.
"A product portfolio with multiple engines for diversified consumer groups is found to better serve the family consumers, and play to the fullness of the synergy generated from branding, research and development, and distribution channels."
Shaun Rein, general manager of China Market Research, told media that infant and baby-related product makers in China would face declining profits and revenues if they do not diversify their business. So, they should start focusing on different consumer groups.
China Market Research estimates China's child-related products and services market, which includes education, is worth about $500 billion now, and is expected to shrink 15 percent to 20 percent in the next five years.
In 2022, Feihe Dairy, the leading domestic infant formula producer, saw its revenue slide 6.4 percent year-on-year. Feihe has also been engaged in making products that target middle-aged and senior segments of the population. Adult formula milk with vitamins and minerals is considered to be a potential growth sector deserving more investments, the company said.
If you have any problems with this article, please contact us at app@chinadaily.com.cn and we'll immediately get back to you.