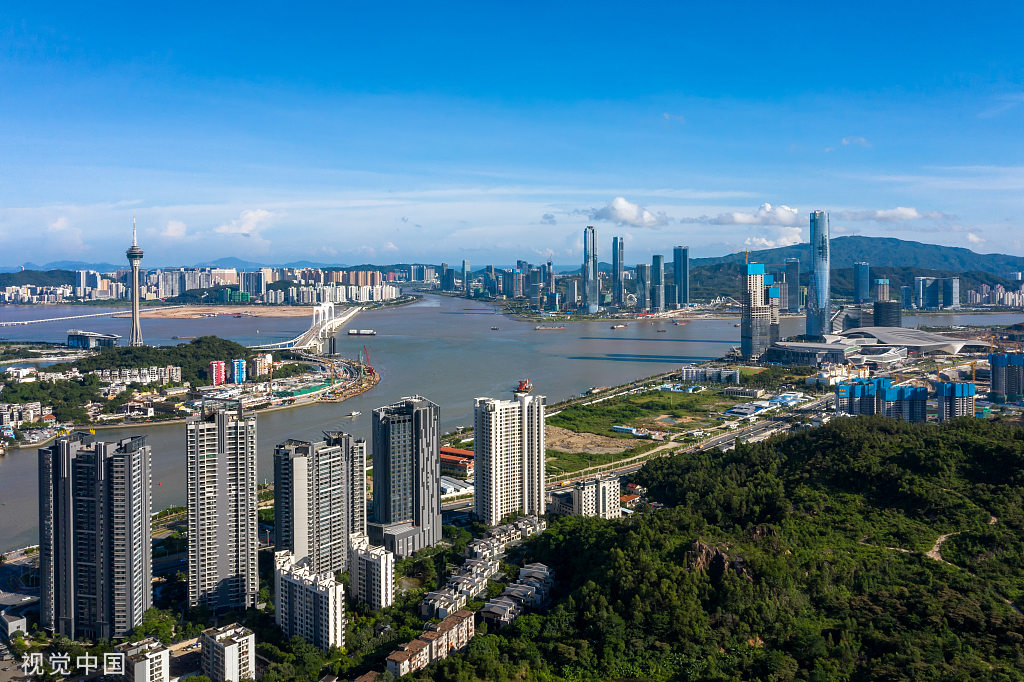 The Guangdong-Macao In-Depth Cooperation Zone on Hengqin Island in Zhuhai, Guangdong province, will soon start its Summer Internship Program for University Students from the Macao Special Administrative Region.
The program, which provides about 185 internship positions to university students from Macao this year, aims to encourage and support more Macao youth to participate in the construction of the Guangdong-Hong Kong-Macao Greater Bay Area, better understand their motherland and integrate into the overall development of the country, according to a statement released by the zone's livelihood affairs bureau.
University students from Macao who want to participate in the program, which will start in May, have been able to register online since last Friday, the statement said.
The bureau will provide comprehensive internship services and join with enterprises that recruit interns, offering internship living allowances, food, accommodations, insurance and other services, along with paying internship wages, it said.
Huang Yujie, director of livelihood affairs bureau of the zone, said his bureau would continue to increase its support for Macao youths' internships in the zone, creating a dedicated internship and employment service platform for Macao youths in the months to come.
"The bureau will further optimize the policy support and reward system for Macao youths' entrepreneurship in the zone and support the enterprises established by them to participate in market competition, and actively build a full chain service system for the young entrepreneurs from Macao to start businesses," he said.
The program also provides Macao students internship positions in Beijing, Shanghai, Guangzhou, Shenzhen and other major cities on the mainland for the first time this year to help Macao youths quickly and deeply understand the development and prospects of relevant industries, offering more diversified choices for them in their future entrepreneurship and career choices, he said.
During the internship, exchange events will be organized, including visiting patriotic education bases and well-known local companies to further enhance Macao students' awareness and understanding of the country's political, social and economic development and to enhance their sense of identity and belonging to the motherland, said Huang.
Wong Chi-hong, director of the Macao Labor Affairs Bureau, said the internship program provides Macao youths with the opportunity to study and work in the mainland's excellent enterprises, which would help them promote their business ability and greatly expand their employment development space.
He encouraged Macao university students to actively equip themselves, strive for innovation and continuously improve their competitiveness to contribute to the country's development and the diversified development of Macao's economy.
Macao students this year will be offered internship opportunities in financial services, law, high-tech, traditional Chinese medicine, culture, innovation, tourism and related industries.
Launched in 2018, the program has been welcomed by students from Macao. Located at the mouth of the Pearl River, Hengqin Island, which borders Macao, is one of the three pilot free trade zones in Guangdong province, one of the world's major production areas.
If you have any problems with this article, please contact us at app@chinadaily.com.cn and we'll immediately get back to you.