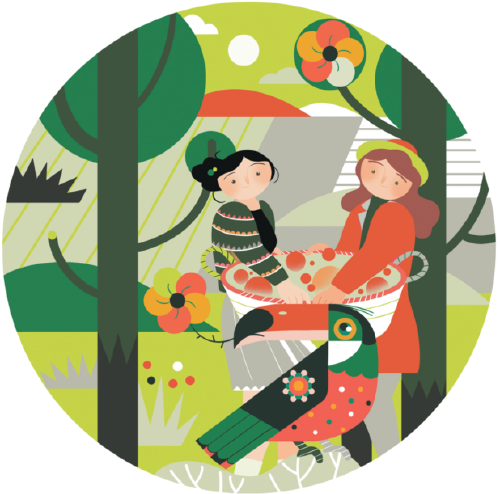 Great potential for fostering greater cooperation between China and Brazil on sustainable agriculture and forest protection
On April 15, Brazilian President Luiz Inacio Lula da Silva concluded a successful state visit to China, resulting in 15 bilateral agreements focusing on technological cooperation, trade, energy and agriculture. Accompanying Lula were 40 top officials, including the minister of the environment and climate change and the minister of agriculture, livestock and food supply. The visit produced a joint communique on deepening the global strategic partnership between the two countries and a joint statement on combating climate change, with the latter including the establishment of a subcommittee on environment and climate change, emphasizing the importance of prioritizing issues such as deforestation, climate change, and sustainable investment and finance in their bilateral cooperation.
This collaboration presents opportunities for facilitating sustainable agriculture supply chains between the two countries. China and Brazil have a strong trade relationship, with China being Brazil's largest trading partner, accounting for one-fourth of all Brazilian exports. China is the main destination for Brazilian beef and soybean exports. This relationship has highlighted the important role of China in Brazilian foreign trade and the importance of joint efforts to control deforestation through global supply chains, as Brazil faces an unprecedented environmental crisis with deforestation rates increasing from 2019 to 2022, after an 83 percent reduction from 2004 to 2012.
Over the past four decades, China has been pursuing nationwide greening, involving grassroots movements and the public and private sectors in this endeavor. China has been struggling with pollution and the effects of environmental degradation and desertification. Yet, the Chinese government has made significant investments to tackle those issues, adopting in 2007 the goal of achieving an ecological civilization.
Since then, China has also started to look beyond its own borders and consider its role in reducing greenhouse emissions and fostering biodiversity conservation abroad. More recently, China has taken the global leadership in forest restoration and renewable energy capacity growth.
A report from the China Council for International Cooperation on Environment and Development recommended the launching of a pilot program to establish best practices for greening the global value chains for soy, palm oil and forest products. While China does not have a policy in place to ensure imports of deforestation-free agricultural commodities, the revision of its Forest Law (2019) introduced a ban on the purchase, processing or transportation of illegally sourced timber. There is a common understanding that the extension of the due diligence process — and its legality verification requirements — could be applied to other agricultural commodities in the future, making it more difficult for these products to access a relevant market.
China has been positioning itself as a leader in agreements to combat deforestation and ecosystem degradation by global supply chains. At COP 26, the United States and China pledged to support an end to global illegal deforestation by effectively enforcing their respective laws on banning illegal imports. In 2022, 188 out of 196 countries that make up the COP CBD, adopted the "Kunming-Montreal Global Biodiversity Framework". Under China's chairmanship, the Parties adopted the global goal of effectively managing at least 30 percent of the world's lands, and having restoration completed or underway on at least 30 percent of degraded terrestrial ecosystems by 2030, with China, encouraging efforts at home and abroad.
The private sector in China has also been moving toward eliminating deforestation from its supply chains. The China Meat Association, a group that brings together 64 companies that are among the largest importers of animal protein in the country, announced in 2017 its efforts to establish traceability and avoid deforestation. Likewise, COFCO, China's largest food company, announced that it would ensure full traceability of its suppliers by 2023 and eliminate deforestation from 2030, while obtaining $2.1 billion in sustainability linked loans. Recognizing the crucial role that tropical forests play in tackling climate change, protecting biodiversity and ensuring ecosystem services, 251 investors (representing approximately $17.7 trillion in assets), including Chinese investors, endorsed in 2022 the statement on deforestation and forest fires in the Amazon, which requests companies to implement no-deforestation policy covering the entire supply chain.
A growing number of environmental nongovernmental organizations have helped catalyze action on issues that range from nature conservation to low-carbon international trade. The Global Environmental Institute, a leading Chinese environmental NGO, has adopted a strategic approach by engaging public and private stakeholders on both the supply and demand sides to build consensus and organize pilots with Brazilian stakeholders. International NGOs are also already working closely with Chinese authorities and companies. Solidaridad has facilitated the development of the China Sustainable Soy Guidelines along with the Sustainable Soy Trade Platform Advisory Group comprised of China's soy-related industry associations, companies, and industry experts. Likewise, WWF, the Round Table on Responsible Soy Association, CDP and other institutions have been working closely with Chinese officials as part of their efforts to build a collaborative network on sustainable supply chains.
The Brazil-China agro relationship has undergone challenges, including disruptions caused by swine flu, the COVID-19 pandemic and the conflict in Ukraine. However, despite these setbacks, the Chinese public and private sectors have already committed to sustainability. This presents a great opportunity for Brazil, since it is one of the few countries with the capacity of increasing its food production while enforcing a strong zero-deforestation policy.
The newly-elected Brazilian government is prioritizing the issue of deforestation control in the Amazon and has offered to host the UNFCCC COP 30 conference in the Amazon city of Belem. The Brazilian government emphasizes that the country has enormous potential to be both an agricultural and a forestry power, and can benefit from China's vast experience with reforestation. Both Brazil and China share a common interest in greener supply chains, investing in the development of systems for the traceability of agricultural commodities. The to-be-established subcommittee on the environment and climate change within the scope of China-Brazil High-Level Commission for Consultation and Cooperation presents an opportunity for both nations to collaborate and address key challenges. There is great synergy in what can be a win-win relationship that fosters sustainable agriculture trade and forest protection for both nations.
Ren Peng is program director of Overseas Investment, Trade and the Environment at the Global Environmental Institute. Rodrigo Bellezoni is policy specialist at the Center for Territorial Intelligence at Federal University of Minas Gerais. Zhao Zhong is a fellow of Paul Tsai China Center at Yale Law School. The authors contributed this article to China Watch, a think tank powered by China Daily. The views do not necessarily reflect those of China Daily.
Contact the editor at editor@chinawatch.cn.
If you have any problems with this article, please contact us at app@chinadaily.com.cn and we'll immediately get back to you.