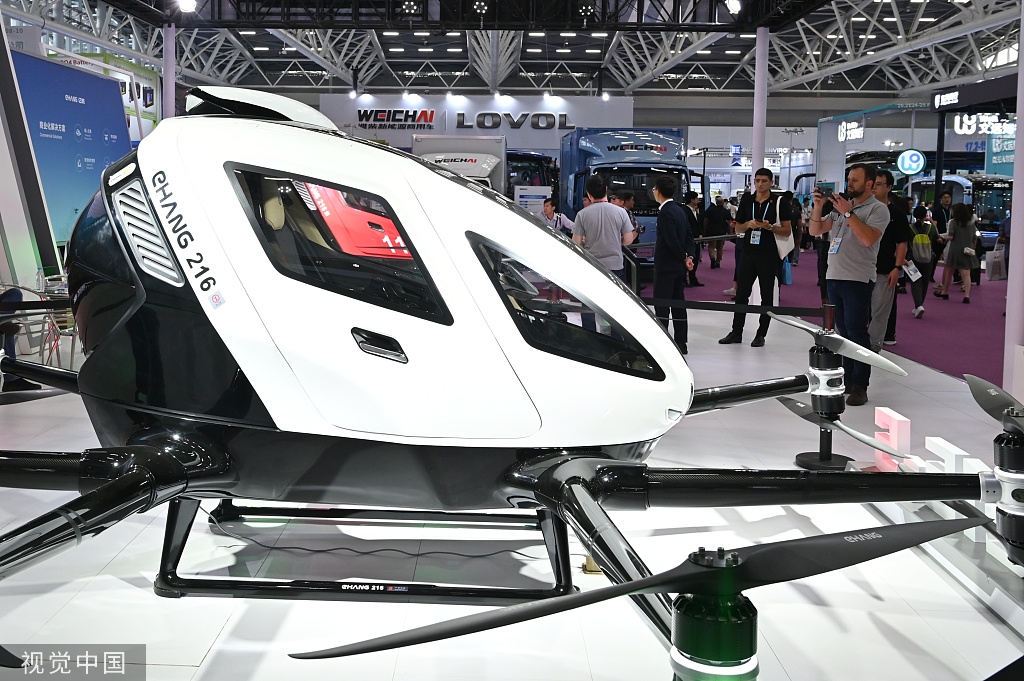 Chinese exporters have brought their latest innovative products and solutions with cutting-edge technologies to the China Import and Export Fair (Canton Fair) with hopes of clinching more overseas orders as the biannual trade event fully reopened its in-person exhibitions after three years of COVID-19 disruptions.
EHang Holdings Ltd, the world's leading autonomous aerial vehicle technology platform company, brings its EH 216 series to the Canton Fair to showcase its cutting-edge urban air mobility technologies and functionality.
"We bring the EH 216 series to the Canton Fair to demonstrate a new way of traveling, a safe, autonomous, eco-friendly urban air mobility for global users," said He Tianxing, vice-president of EHang.
Independently developed and designed for short- to medium-range intracity air mobility, the EHang 216 series can be applied in various scenarios, including passenger transportation, aerial sightseeing, aerial logistics and medical evacuations.
Organizers of the fair said that the number of high-quality companies exhibiting their products during the fair has reached a record high in the event's history.
In addition to displaying its latest development of smart and low-carbon electric appliances, Midea Group, a leading Chinese home appliance maker based in Foshan, Guangdong province, is displaying its latest cutting-edge smart energy solutions for residential use during the fair.
"Home smart energy solutions are based on the expansion and improvement of business lines of energy storage and consumption for all types of smart home scenarios, covering all product categories with household air conditioners," said Jiang Haihao, director of Midea's RAC renewable energy and heating solutions.
"The energy solution modality, which combines at-home photovoltaic energy storage with smart home solutions, will help completely solve the problem of high electricity consumption by air conditioning and other equipment, creating a green and zero-carbon home," said Jiang.
"Using our energy solution is expected to help reduce about 70 percent of electricity generated from the current power grid system for a household," Jiang added.
"We have introduced a series of smart and low-carbon products during the fair, which we believe will be a market trend for the global home appliances industry," said Zhang Yunyi, director of Midea's residential air conditioning marketing.
Zhang said Midea will invest more in research and development of intelligent and low-carbon products. "We are actively promoting such products, hoping to meet more regular and new overseas customers during the fair," he said.
Overseas markets contributed over 40 percent of Midea's total sales revenue in the past two years, the company said.
Dongguan Kashibang Film Materials Co, which mainly produces high-definition thermal insulation films and other products for the automotive and construction sectors, has its new innovative patent products on display at the fair.
A regular participant at the Canton Fair, the company — based in Dongguan, a traditional manufacturing and trade city in Guangdong — looks forward to expanding its sales overseas by investing more in research and development of products with cutting-edge technologies in the future, said Zheng Xuejuan, a sales manager with the company.
If you have any problems with this article, please contact us at app@chinadaily.com.cn and we'll immediately get back to you.