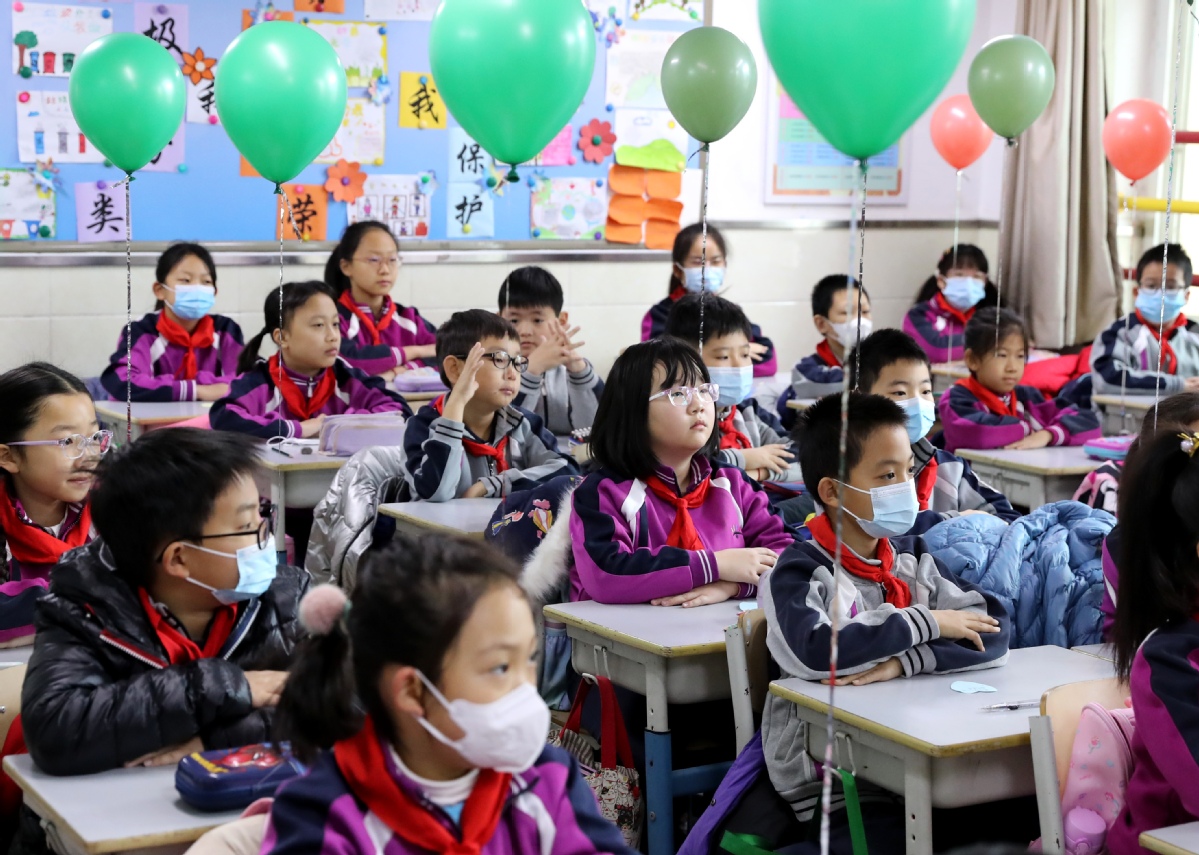 Schools, parents and students have had mixed reactions toward China's recent removal of the mask mandate on school campuses.
Released by the Ministry of Education, the National Health Commission and the National Administration of Disease Prevention and Control, the March 13 document said that students and teachers can make their own decisions on wearing masks according to their own conditions in the new semester.
Zeng Wenpei, a college student at Changsha University of Science and Technology, said she will not wear a mask after the policy change.
"It's not convenient to wear a mask, especially an N95 mask. I can't breathe smoothly. Besides, wearing a mask makes my face sweat when the weather is hot. For girls, if they wear masks with makeup, the makeup on their faces will be messed up. It will also cause different kinds of skin problems," she said.
Li Li, father of a middle school student in Kunming, Yunnan province, said he supports taking off masks at school.
"We need to return to normal life and treat COVID-19 with a rational mentality," said Li. "Health can not only be guaranteed by wearing a mask. Physical exercise, a balanced diet, a regular lifestyle and a positive attitude are necessary. The past three years have helped my child develop good hygiene habits, and even if there is no COVID-19, these habits should be adhered to."
However, there are also concerns about this change, especially with regard to the spread of flu since February across many regions of China.
On Monday, Wang Dayan, director of the Chinese National Influenza Center, said the current influenza peaked in mid-March, and although the overall level is still high, some provinces have experienced a turning point and influenza is on the decline.
A grandfather surnamed Yu goes to the Primary School Affiliated to the University of International Business and Economics to pick up his granddaughter. He told China Daily that his granddaughter will continue wearing a mask despite the policy change.
"Wearing a mask doesn't feel good. But children and the elderly have weaker immune systems. They need extra protection," said Yu.
Ma Ran, mother of a third-grade student in Baoding, Hebei province, said she is concerned about the flu. "I believe our country made this decision after extensive research. Masks bring many inconveniences, especially when the weather is hot. But because it is the flu season, I will make my child wear a mask at the moment."
To ease parents' anxiety, schools are working to protect students from being infected.
Zheng Yanheng, deputy director of the disease prevention and control office at Changsha University of Science and Technology, said medical and canteen staff, dormitory superintendents, security personnel and cleaning workers will still wear masks.
"We have strengthened the dissemination of knowledge on influenza prevention, encouraged vaccination, helped teachers and students develop good hygiene habits and stockpiled enough medical supplies. When they have symptoms, they will be quarantined in isolation," said Zheng.
"The school disinfects dormitories and classrooms thoroughly every day and takes students' temperatures regularly. When students have suspected symptoms, we will ask students to wear masks and parents will be contacted to take them back for treatment. Hand sanitizer and soap are also provided in bathrooms," said Tian Yuncan, headmaster of the Affiliated High School of Kunming University of Science and Technology.
Li Yingqing contributed to this story.
If you have any problems with this article, please contact us at app@chinadaily.com.cn and we'll immediately get back to you.