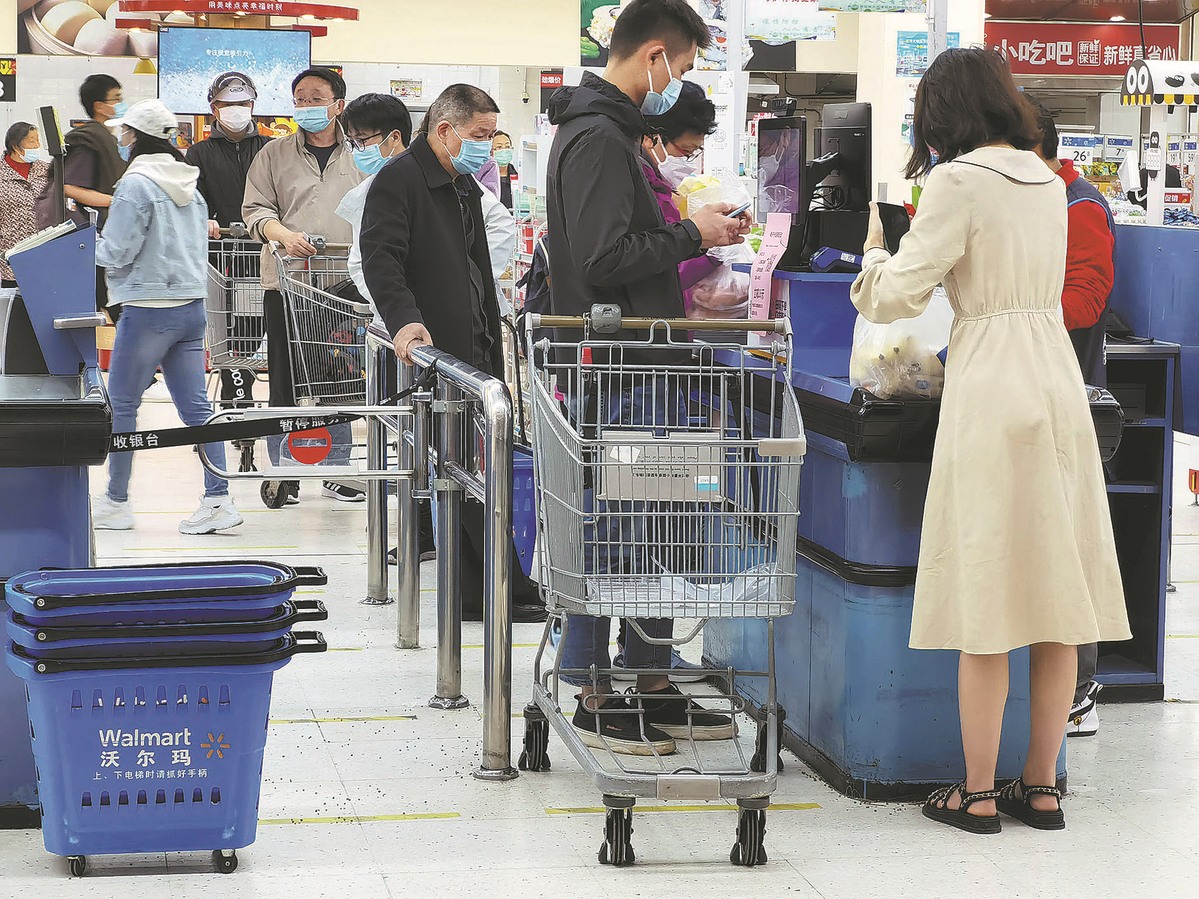 Sales growth stands out in fast-moving consumer goods, hypermkt, e-commerce
Walmart China's strong fourth-quarter growth, propelled by its high-end membership store Sam's Club and e-commerce services, serves as a sign of steady recovery of the fast-moving consumer goods and retail sectors this year, said industry insiders.
According to the global retailer's recent financial results released on Feb 21, Walmart delivered strong revenue growth globally in the fourth quarter with strength in stores and e-commerce. Total revenue in the quarter was $164.0 billion, up 7.3 percent year-on-year.
Walmart China achieved net sales growth of 13.5 percent and comparable sales growth of 13.3 percent in the quarter.
Continued strong sales growth in Sam's Club, e-commerce and improving hypermarket performance have been attributed to the performance in the Chinese market. In the fourth quarter, e-commerce net sales, contributing 48 percent of its net sales in China, increased 70 percent year-on-year.
The reports said the Chinese market is one of the factors that have led to the increase of Walmart International's net sales of 2.1 percent to $27.6 billion.
"We're excited about our momentum. The team delivered a strong quarter to finish the year and, as our results in the last two quarters show, they acted quickly and aggressively to address the inventory and cost challenges we faced last year. We built momentum in the third quarter and that continues. We are well-positioned to start this fiscal year," said Doug McMillon, president and CEO of Walmart Inc.
In 2022, Walmart's revenue was $611.3 billion, up 6.7 percent year-on-year. Its net income was $11.7 billion, down 14.6 percent compared with the previous fiscal year, which is the first decline of its kind in six years.
The sales growth of Walmart China in the fourth quarter has stood out from the sector, as revenues of China's fast-moving consumer products have declined 4 percent year-on-year, with hypermarkets dropping by 10.9 percent and supermarkets at 11.7 percent, according to Kantar Worldpanel China.
However, sales of smaller supermarkets have grown 11.3 percent in the quarter due to the convenient location in communities, said the report.
Thanks to the stimulus policies to increase consumption from local governments, out-of-home consumption and brick-and-mortar traffic gradually rebounded at the beginning of this year, said Kantar.
Walmart's market share in China has risen from 5.2 percent to 5.5 percent last year compared with a year earlier, mostly driven by Sam's Club's steady growth, Kantar's report shows.
"Sam's Club performed exceptionally strong with its distinctive value proposition and locally appealing product offers as well as great omnichannel experiences for its middle-income members in China," said Jason Yu, general manager of Kantar Worldpanel China.
Walmart hypermarket also improved its financial performance, Yu said. It strived to localize its product offers and optimize store operations and coverage, he added. "However, the hypermarket sector remained challenging, therefore more transformation and efficiency drives are required to sustain the profitable growth of Walmart's business," he said.
In the past year, Sam's Club has opened six stores in China, a leader in the competitive membership format category, where the entrance of Metro, an arm of Wumart Group, and Hema X, the retail unit of Alibaba Group, further escalated the rivalry, according to Kantar.
If you have any problems with this article, please contact us at app@chinadaily.com.cn and we'll immediately get back to you.