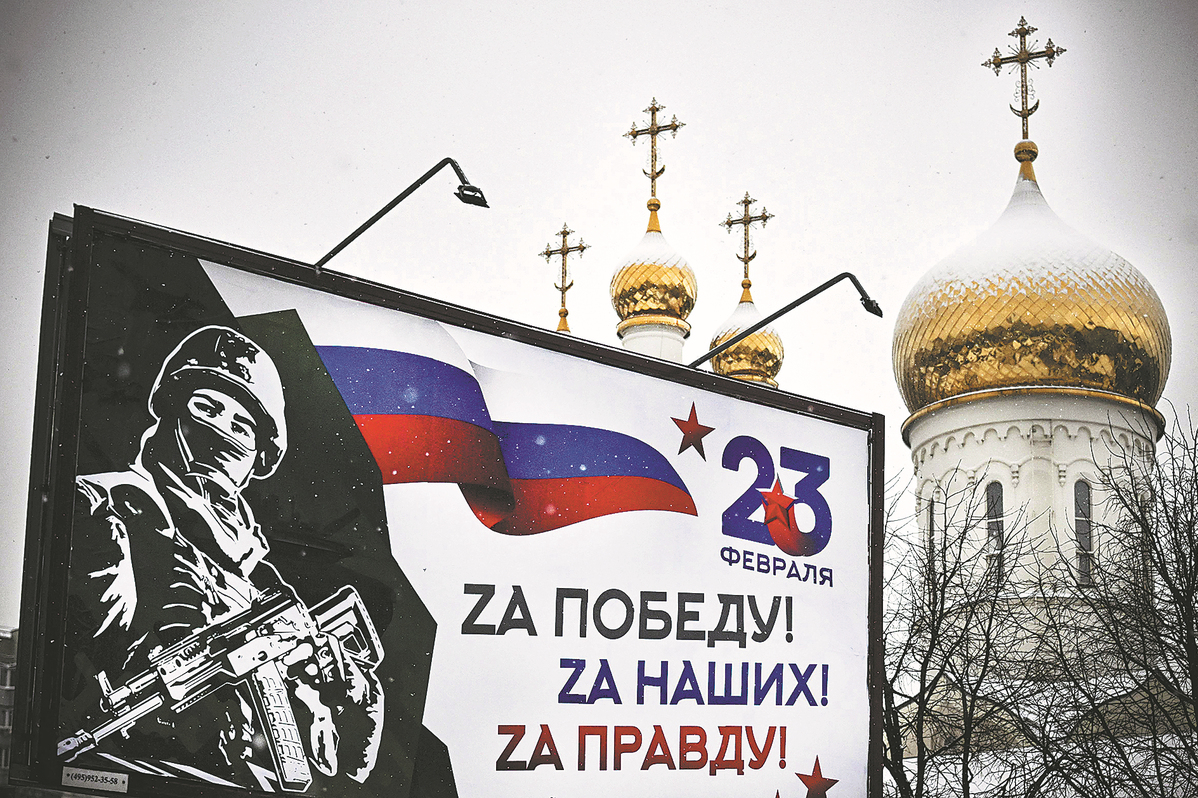 Russia and its people are living under the pressure of what seem like endless sanctions from Western countries, but they are coping with them, President Vladimir Putin says.
He made the remark at a meeting of judges of arbitration, military and common jurisdiction courts on Feb 14.
In the weeks before Russia launched what it called a "special military operation" a year ago, US President Joe Biden attempted to influence events by warning Putin of "economic consequences like none he's ever seen".
The US and its allies have imposed unprecedented economic measures on Moscow. Russia is now the world's most sanctioned country, with more than 5,500 measures aimed against it.
Initially it seemed that sanctions could be devastating for the country; it caused the value of the ruble to slide rapidly, the banking system to shudder and companies worldwide to stop exporting vital goods to Russia.
However, one year later Russia has remained more resilient than many expected, thanks to its oil and gas exports, and deft maneuvering by its central bank and others that has allowed some banned technology to sneak through.
Russia's position looked strong in the early days as the ruble remained strong, even though Western governments had frozen a large portion of the country's hard currency reserves, sanctioned financial institutions and expelled major banks from SWIFT, the international payments system.
There was a risk of a bank run at the beginning of the conflict and shortly after the sanctions were imposed, said Alexandra Prokopenko, at the time an adviser to the Russian central bank's first deputy chairwoman, now living in exile in the West.
The steps sparked financial panic, prompting lines at bank machines as people feared the ruble would crash and result in a cash shortage.
The measures banned companies globally from selling Russian computer chips and other high-tech goods the country needed to build weapons and military vehicles.
They also severed so many banking links that Russian importers had trouble paying overseas counterparts. By April Russia's imports were 43 percent below prewar levels, a recent report by the think tank Silverado Policy Accelerator in Washington said.
However, quick countermeasures by Russia's central bank soon restored a measure of stability. Officials closed down stock markets, forced the main interest rate to 20 percent, and imposed restrictions on currency exchange, withdrawals and hard-currency transfers overseas. The measures reversed the ruble's slide.
Janis Kluge, an economist at the German Institute for International and Security Affairs in Berlin, forecasts that Russia's budget deficit could reach 5 percent of GDP this year, compared with 2 percent last year, due to the drop in energy exports and the rapidly falling tax take from the declining economy.
On Thursday the European Bank for Reconstruction and Development lowered its forecast for Russia's economic growth this year to 3.5 percent but maintained its forecast for a 3 percent decline in GDP this year.
Forecasts for Russia's economic growth outlook have become a matter of contention after the International Monetary Fund forecast this month that the country's economy would grow 0.3 percent — faster than that of both Germany and the UK.
If you have any problems with this article, please contact us at app@chinadaily.com.cn and we'll immediately get back to you.