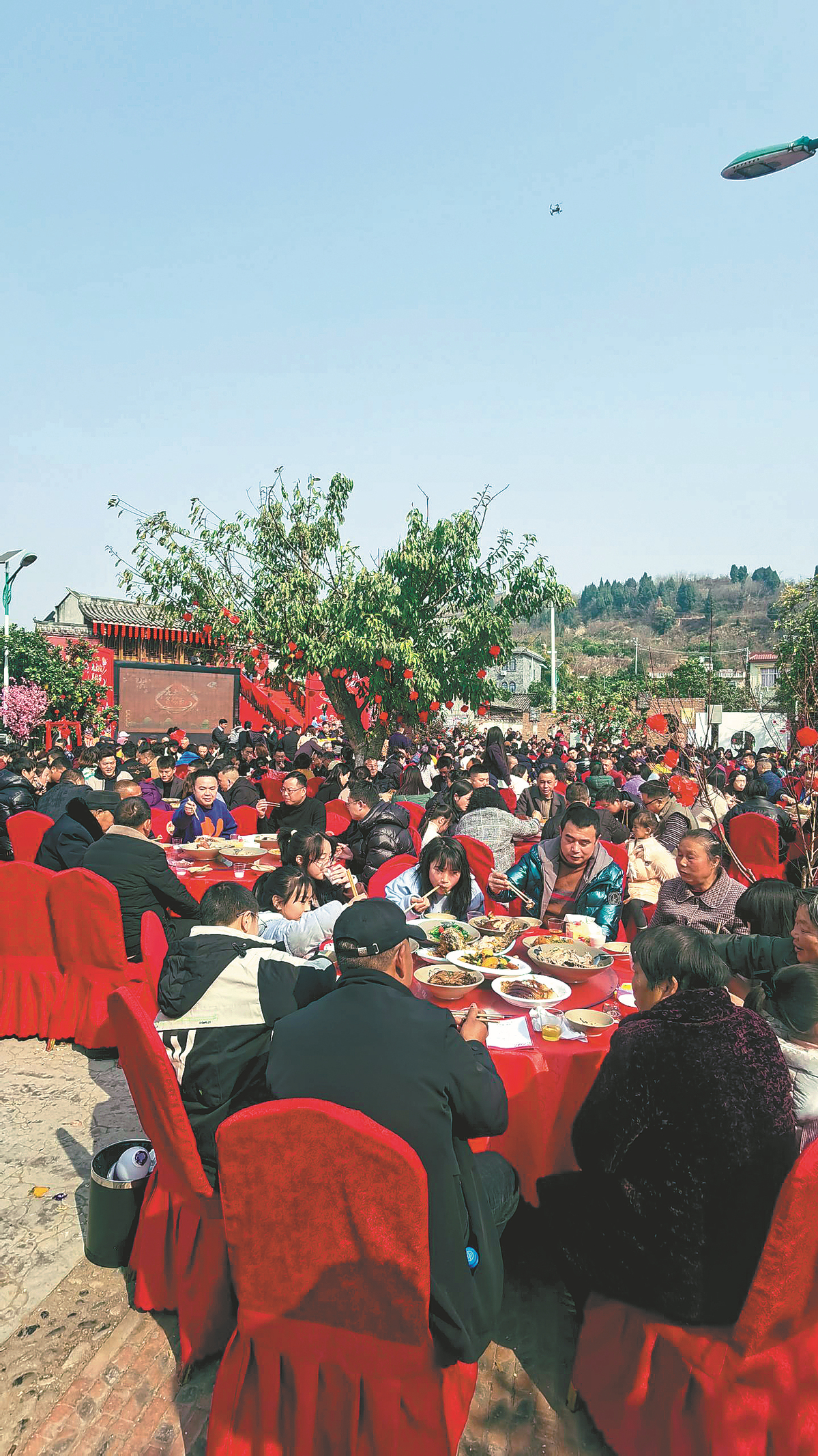 Spring Festival family reunions enjoyed for first time in three years
At 9 am on Monday, farmer Deng Yiqiong attended a banquet for 1,260 diners seated at 126 tables at a village center in Shatian, Sichuan province.
The 62-year-old, who farms apples, oranges, peaches and grapefruits, greeted fellow villagers and watched cooks preparing food for the feast, which began at noon.
"Each year, soon after the Spring Festival holiday, a huge banquet is held in the village. Residents attend it by purchasing coupons. This year, the banquet was held for the first time since the start of the COVID-19 epidemic," she said.
More than 1,000 people from the village, which has a population of 4,000, bought the dining coupons. They feasted on nine dishes, including double-cooked pork, fish, chicken and ribs.
Chen Can, Party secretary of Lianshan township, where Shatian is located, said, "They felt confident about attending the banquet because the long-anticipated second wave of infections failed to materialize."
According to Deng, more than 1,000 people from Shatian work as bricklayers and in clothes factories in Shanghai and in Jiangsu, Zhejiang and Guangdong provinces — only returning home for Spring Festival, one of the most important holidays for Chinese family reunions.
Mi Feng, a spokesman for the National Health Commission, or NHC, said on Monday there is currently a low level of COVID-19 transmission in China, and the epidemic in the nation is steadily declining.
Fu Wei, an official at the commission, said grassroots medical institutions in urban and rural areas ran smoothly during Spring Festival, and fever clinics remained open.
She said the number of patients at such clinics during the holiday was down by 94 percent from the peak of the most recent COVID-19 outbreak from Dec 23 to Jan 22, the first day of Spring Festival.
Patients attending outpatient and emergency departments at grassroots medical institutions totaled 2.03 million, down by about 30 percent from the level before the holiday, and a decline of 44 percent from the peak on Dec 29, Fu said.
According to a report from the Chinese Center for Disease Control and Prevention, the number of COVID-19 deaths at hospitals peaked at around 4,270 on Jan 4, before falling steadily to less than 900 on Jan 23.
"By late January, the overall epidemic had waned, easing the strain on the nation's medical systems," the report said.
There was no major resurgence of COVID-19 cases during Spring Festival, and no new viral mutations were detected, the report added.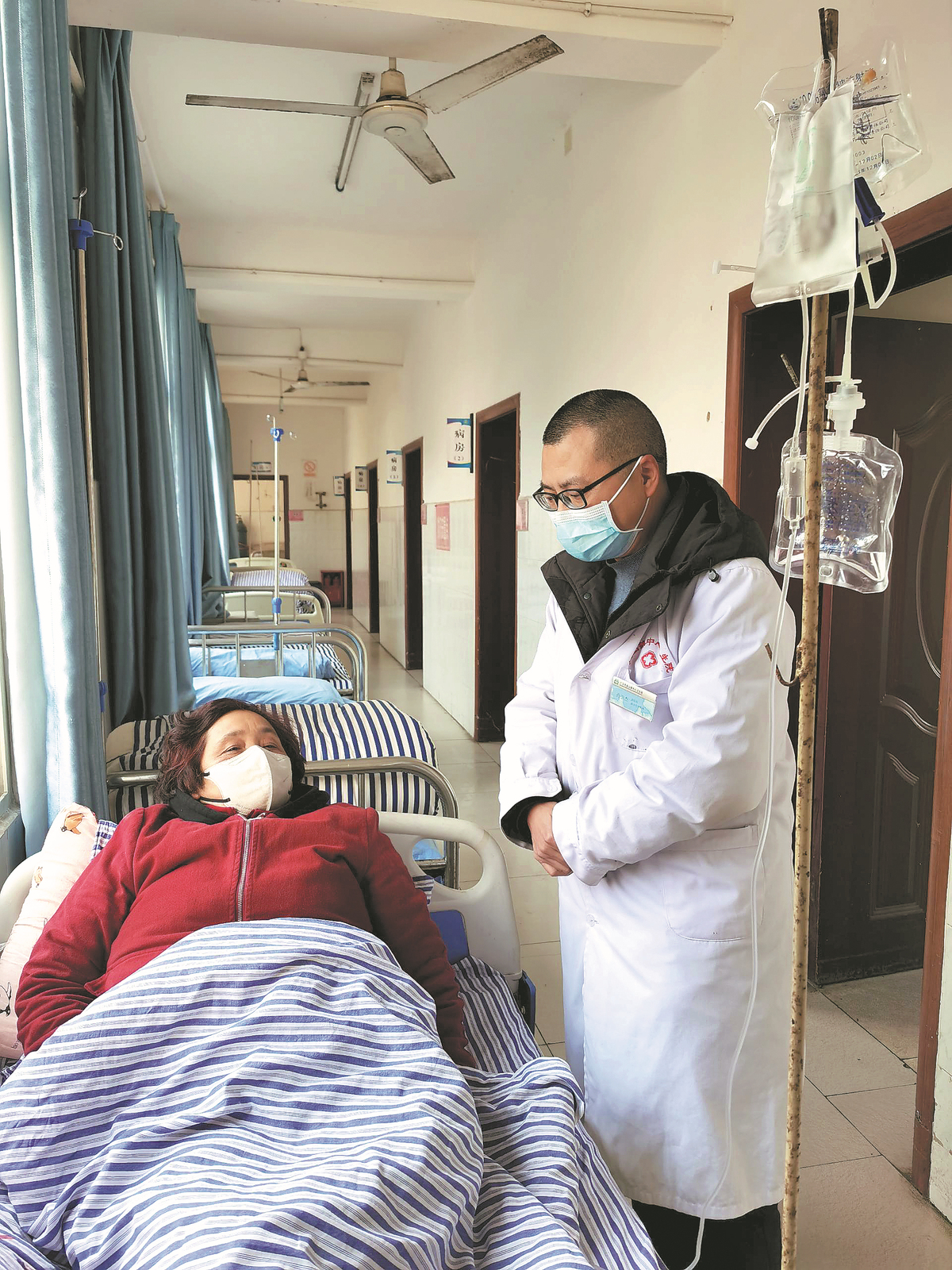 Home quarantine
Fearing the influx of those returning for the holiday would result in the second wave of infection, officials in Lianshan township persuaded these people to quarantine at home for a week.
Like many others in the village, Deng's family stayed at home for seven days and had no interaction with other people. As the second wave of infections did not eventuate, villagers' fears faded and they were happy to join the banquet, she said.
Xiao Chongjie, deputy head of Lianshan Township Central Hospital, which serves 59,000 people, breathed a sigh of relief when the anticipated second wave of infections did not arrive.
The 52-year-old expert in traditional Chinese medicine said: "Our hospital has 119 beds, but on December 18, the peak day of infection, more than 200 people with COVID-19 needed beds. They had to stay in corridors and two tents I erected.
"All the 70 doctors and nurses in our hospital were infected and we had to work day and night for weeks and barely had time for meals," said Xiao, who ran a fever for six days but took little rest.
Life returned to normal at the hospital on Jan 1.
Xiao said: "During Spring Festival, the hospital's emergency department received 30 to 40 patients a day, much the same as usual. I took two days off and had a good rest."
On Monday afternoon, the hospital appeared deserted, as its 118 beds were unoccupied.
The only COVID patient, Chen Taiju, a 58-year-old farmer, was admitted that day, as she had difficulty breathing.
Before the weeklong holiday, there were concerns over how well rural areas with weak medical infrastructure would handle the epidemic as millions of migrant workers traveled home.
However, Mao Dezhi, an official at the Ministry of Agriculture and Rural Affairs, said the epidemic situation in these areas was stable during the holiday, and there was no resurgence of outbreaks.
More than 3.8 million officials took part in rural epidemic control work during the holiday, and a special task force for such work at all levels of government functioned well throughout this period, Mao said at a news conference on Monday.
Guo Yanhong, director of the NHC's health emergency response department, said before the holiday that 99.1 percent of township and village hospitals had opened fever clinics, and the commission required all clinics to open during Spring Festival.
Moreover, the shortage of drugs in rural hospitals has eased significantly, and local authorities have also hired more medical workers and asked such employees at major hospitals to help in rural areas, she said.
Each township hospital is equipped with at least one ambulance, and social organizations and the public have also been mobilized to transfer patients in serious condition in rural areas to large hospitals in cities, she added.
Li Kexing, a doctor in Chuanjiang village, Guanghan city, Sichuan province, was relieved that there was no second wave of infections.
The 52-year-old worked in the village clinic for nearly 30 years, serving a population of about 6,000.
"On the peak days of December 13 and 14, between 200 and 300 patients with COVID-19 visited the clinic each day. It normally only receives 40 to 60 patients a day," Li said.
"Although I had a temperature of nearly 39 C, I worked from 7 am to 11 pm. All the medicine in the clinic was used up."
As the number of patients returned to normal before Spring Festival, Li closed the clinic until Friday. On Monday, he attended to only 40 patients.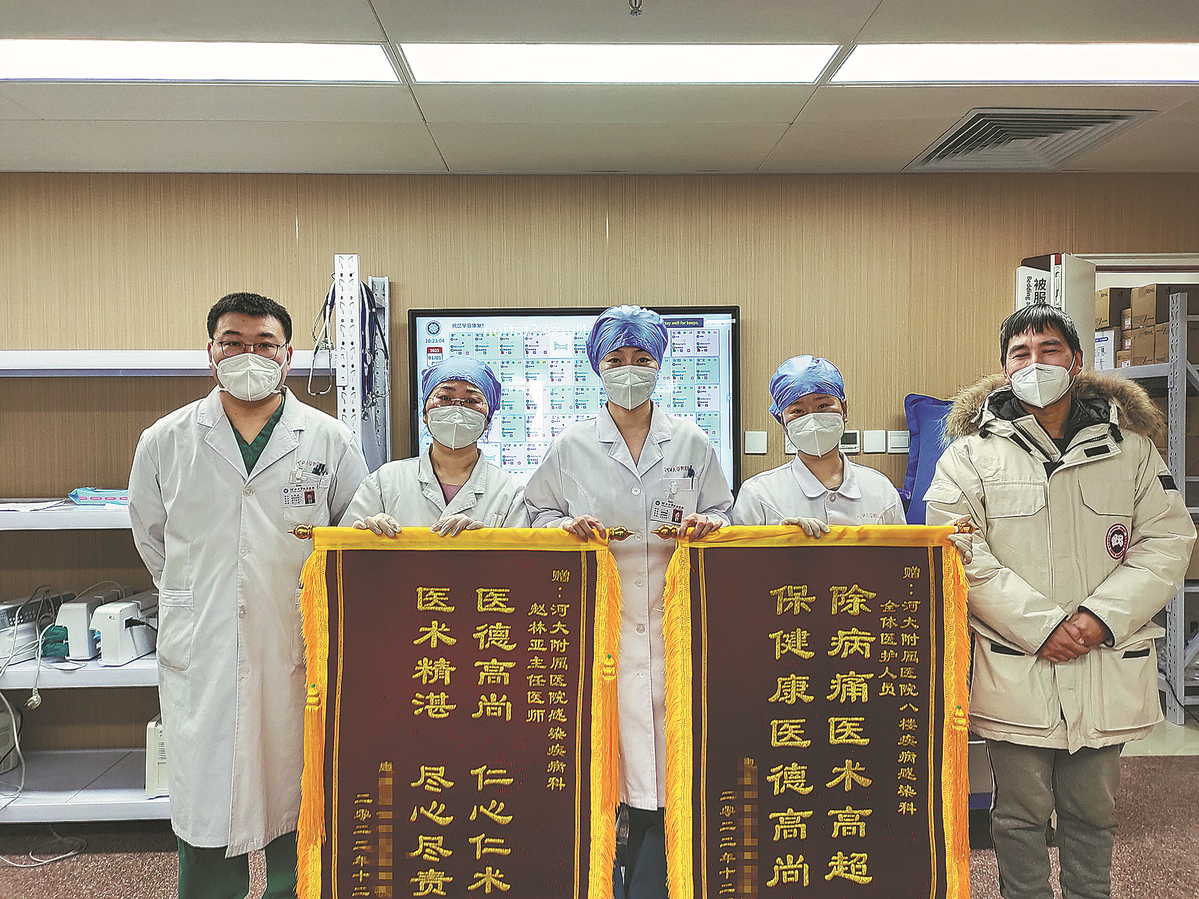 Zeng Xianhua, 46, has worked as a doctor at a private clinic in Lianshan town, Guanghan city, since 2006.
A graduate from a medical college in Wuhan, Hubei province, Zeng said he had never experienced anything as "terrible and unimaginable "as the first wave of infections in December.
His clinic only has eight beds. From Dec 10 to 15, between 200 and 300 patients with COVID-19 visited the clinic, where one bed was shared by two patients for intravenous injection.
"One woman was so upset that she held our nurse and cried. She kept saying 'Save me'," Zeng said.
The clinic had almost returned to normal by Jan 10. On Monday, only one bed was occupied by a patient.
Zhang Xiaoxia, a physician at a township hospital in Tangxian county, Baoding city, Hebei province, said she is now working normally again, as there have been no COVID-19 patients at the hospital since Spring Festival.
During the December peak, a doctor was seeing 20 to 30 patients with the disease a day, she said.
"At that time, we often worked into the night," Zhang added.
Wan Ning, a doctor at a clinic in Xibaoshui village, Tangxian county, Hebei, said it only received six or seven patients after the holiday, and most of them were elderly people collecting medicines for underlying conditions.
"No one has come to us with a cough or fever since the holiday started," he said.
The village has a population of 5,800, and at the end of last year the clinic received about 160 visits from patients with COVID-19 symptoms, Wan added.
"At the time, the clinic was the most sought-after place in the village," Wan said.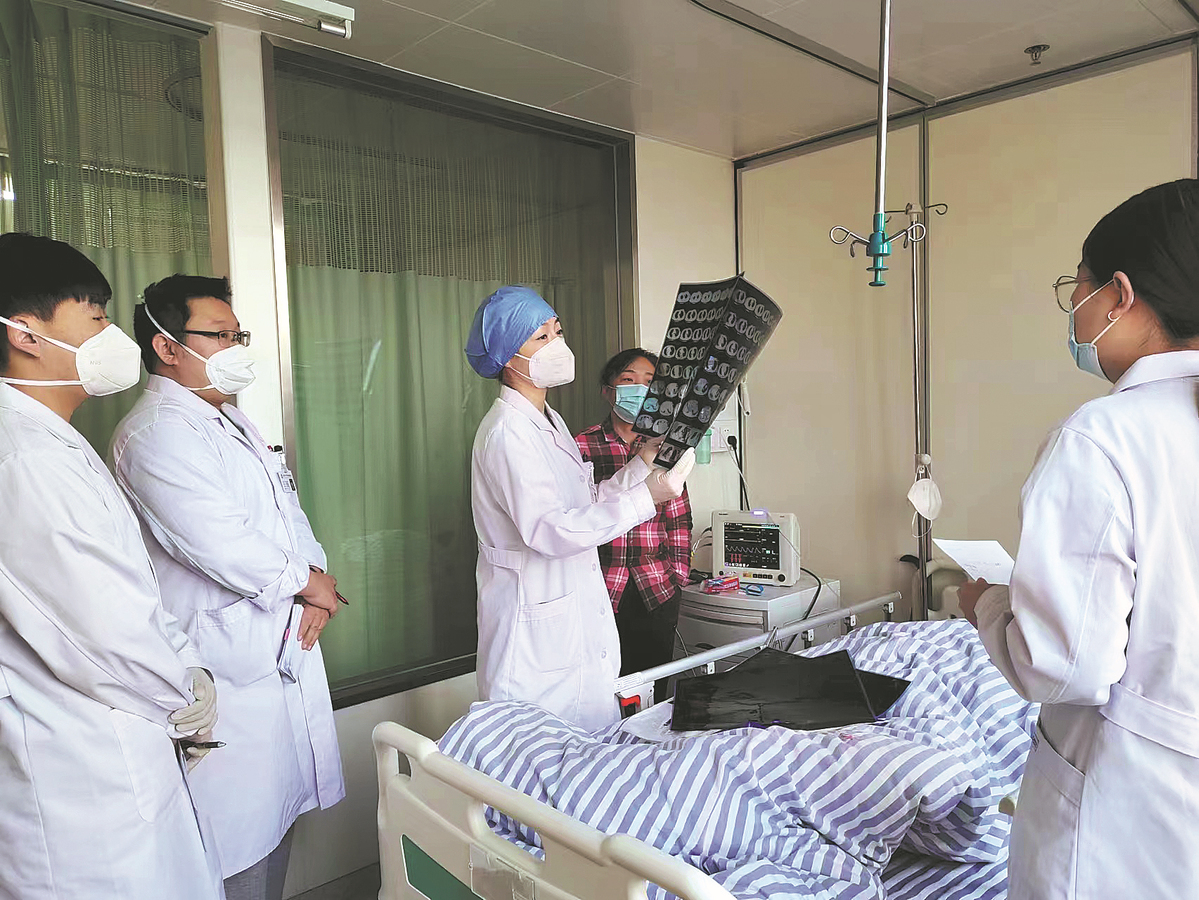 Holiday fears
Before Spring Festival, Chen Ping, Party chief of Chenxiaozhai village, Linquan county, Anhui province, had been increasingly anxious about the spread of COVID-19 in the area during the holiday due to the return of migrant workers.
The village has about 6,500 residents with household registration, but as many locals had moved to cities throughout the country for work, only some 2,000 villagers remained in the area before the holiday.
"However, it seems the virus has disappeared," said Chen Ping, who was a doctor at one of the village's two clinics until 2015, when he was persuaded by the local government to serve as a village cadre.
During Spring Festival, Chen Ping remained on duty in his office for two days completing work unrelated to epidemic control, such as collecting annual fees for rural residents' medical insurance.
Since 2020, many locals had not returned home for Spring Festival. Chen Ping said, "The elderly and the children who remained in the village were missing their family members," adding that life finally returned to normal ahead of Spring Festival.
Although employers in cities want migrant workers to return as early as possible, Chen Ping said most of the outbound villagers would leave home after Lantern Festival, which falls on Sunday, to enjoy a few more days with family members.
Chen Ming, head of a local clinic and brother of Chen Ping, said: "Many people became infected in late December and early January. We received about 70 patients a day and found that most of them had COVID-19 symptoms.
In contrast, the clinic only received seven or eight patients a day during the holiday, and none of them had the disease," Chen Ming said.
While Wang Zhengchao, a resident of Lu'an city, Anhui, was enjoying a family reunion and visiting relatives on Friday night, his 3-year-old son was found to have COVID-19 symptoms. An antigen test later confirmed the boy was infected with the disease.
"Although this is a rare case recently detected in this area, it makes me realize that the virus has not disappeared," said Wang, adding that his son felt much better by Tuesday.
If you have any problems with this article, please contact us at app@chinadaily.com.cn and we'll immediately get back to you.