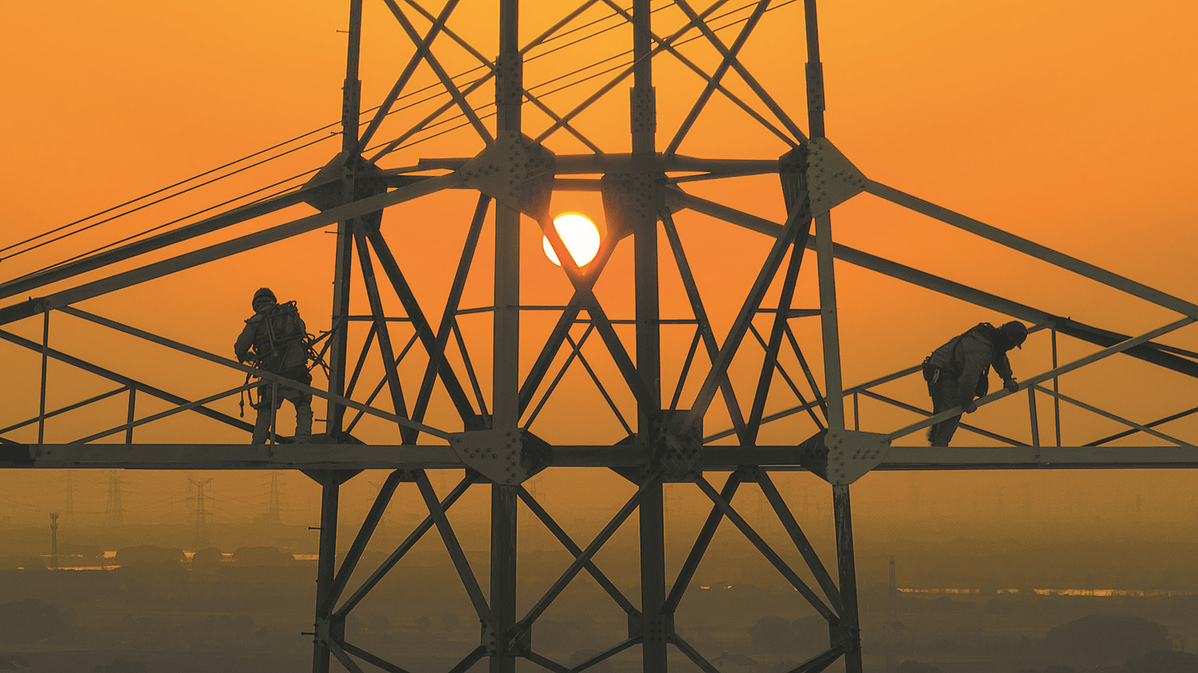 China's economic recovery is expected to drive up electricity consumption with an estimated growth of 6 percent this year amid the optimization of COVID-19 control measures, according to recent forecasts from the China Electricity Council.
Power consumption data can reflect situations of enterprises' production and economic operation, and thus become a key barometer of economic activity, experts said.
"Macroeconomics and climate are important aspects that influence the growth of electricity consumption. In 2023, China is expected to see its economy rebound, driving the growth rate of electricity consumption higher than that in 2022. Under normal weather conditions, it is estimated that the country's electricity consumption will be 9.15 trillion kilowatt-hours, an increase of about 6 percent compared with 2022," said CEC Secretary-General Hao Yingjie.
According to Jiang Debin, deputy director of statistics and data at CEC, electricity consumption in the primary industry is expected to maintain rapid growth momentum this year, and the growth rate of electricity consumption in the secondary industry will gradually pick up.
Jiang said that under the influence of favorable policies, the gradual recovery of the real estate market will promote the recovery of electricity consumption in industries such as steel and building materials.
In addition, buoyed by the production of and investment in high-tech manufacturing and high-tech service industries, electricity consumption in related industries will continue to grow rapidly, Jiang said.
"The optimization of COVID-19 pandemic prevention and control measures will also create favorable conditions for the recovery of sectors including services and offline consumption this year. Electricity consumption in sectors such as accommodations, catering, transportation and tourism will become an important driving force for the recovery of electricity consumption in tertiary industries this year," Jiang said.
As power consumption is likely to increase this year, the CEC proposed a series of measures to ensure energy supply, which include increasing the ability to supply coal, reducing the cost of coal-fired power generation, and accelerating planning, investment and construction of power grids.
The CEC's predictions followed a power consumption growth last year. In 2022, the high-tech and equipment manufacturing industry's electricity consumption increased by 2.8 percent year-on-year, which was 1.9 percentage points higher than the average level of the manufacturing industry in the same period, according to the CEC.
Among them, electricity consumption in the areas of electrical machinery and equipment manufacturing, pharmaceutical and electronic equipment manufacturing increased by more than 5 percent. Electricity consumption in the new energy vehicle manufacturing sector increased by 71.1 percent, it said.
According to Jiang, electricity consumption in the photovoltaic equipment and component manufacturing sector has increased by more than 70 percent year-on-year. Electricity consumption in the areas of medical equipment manufacturing, aviation and aerospace has also achieved double-digit growth. Electricity consumption in power charging and battery-swapping service sector has continued to grow rapidly in recent years with the growth rate in 2022 at 38.1 percent.
If you have any problems with this article, please contact us at app@chinadaily.com.cn and we'll immediately get back to you.