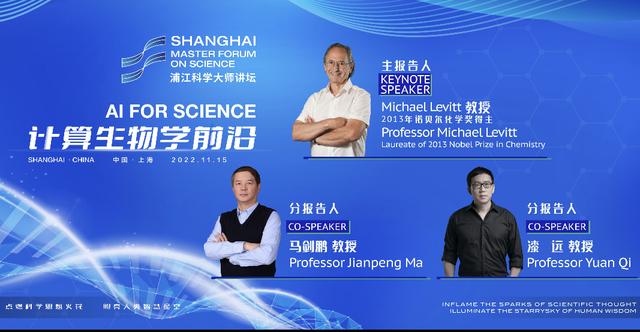 Focused on sharing the scientific thoughts of leading experts from around the world, the first Shanghai Master Forum on Science will be held in Fudan University on November 15.
Initiated by the Chinese People's Political Consultative Conference Shanghai Committee and hosted by the city's science and technology administrators and Fudan University, this year's forum will feature Professor Michael Levitt, laureate of the 2013 Nobel Prize in Chemistry, who will deliver the keynote speech titled AI for Science: Frontiers in Computational Biology.
Professor Levitt, who is also a member of the American National Academy of Sciences and a tenured professor of Structural Biology at Stanford University, is a pioneer in developing a molecular dynamics simulation method for protein and DNA. He has for many years been evaluating protein structure prediction and studying protein folding and packing. He has also established a scoring system for structure comparison of large-scale sequences.
In 2018, Levitt joined Fudan University, where he founded the Multiscale Research Institute of Complex Systems (MRICS).
In his 60-minute keynote speech at the Xianghui Hall, Levitt will talk about the transformation of Computational Biology, which used to be a marginalized subject, and how it has grown into a leading one.
An interdisciplinary field of computer science, biology and big data, computational biology refers to the use of data analysis, mathematical modeling and computational simulations to understand biological systems and relationships.
"Computational biology is playing an important role especially in the field of biomedicine as it is necessary to the research of design, comparison and analysis of biological data," said Ma Yugang, Chinese Academy of Sciences academician and assistant president of Fudan University at the press conference on Wednesday.
The forum has also invited two co-speakers professor Ma Jianpeng and Qi Yuan, both from Fudan University, to share their thoughts and research results on the research, prospects and application of AI and its contribution to pharmaceutical development and innovation.
"The three speakers of the first forum will present to audiences core AI technology and knowledge, as well as their thoughts on how to instigate the reform of fundamental subjects and improve the breakthrough in key scientific issues," said Ma Yugang.
The organizers said the forum, compared with the World Laureates Forum and Pujiang Innovation Forum which are held in the city annually, will more focus on the gathering and sharing of scientific thoughts, and thus become a platform to improve Shanghai's construction to be a scientific and technological innovation hub.
The organizer plans to hold six forums every year, with each event featuring one keynote speaker and two co-speakers at most.
If you have any problems with this article, please contact us at app@chinadaily.com.cn and we'll immediately get back to you.