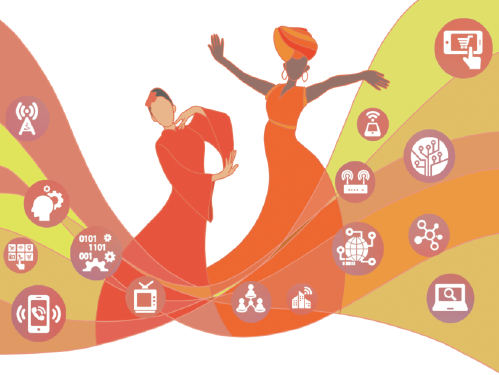 China is helping Africa materialize its blueprint for an integrated and inclusive African digital economy and society
Throughout the past decade, digitalization has been highlighted as a dynamic force to drive productivity development, improve social product distribution, generate new job opportunities, and increase information accessibility and connectivity among different individuals, peoples and countries in Africa.
Thanks to the revolution of information and communication technology, digitalization of both traditional and emerging industries has been gradually embedded into the overall economic development of the continent, and countries such as South Africa and Nigeria are embracing the digital economy which accounted for more than 10 percent of their GDP by 2021.
Amid the severe impact of the COVID-19 pandemic and global climate change, a positive correlation between an exponentially digitized industries and a resilient and smart economy is further illustrated in Africa, ever since mobile-empowered platforms improved the anti-risk capability of many sectors of the economy by effectively transforming their traditional value chains, and guaranteed more opportunities for employees and entrepreneurs to engage easily in their businesses by directly linking suppliers with consumers.
New e-commerce service modes such as Jumia, Afrikrea, Kilimall and Fintech provided by CowryWise, M-Pesa, and PiggyVest have enabled more people, including socially vulnerable and marginalized groups, to have access to basic social services and job creation across the continent, showcasing the crucial role of digitalization in reducing social injustice.
It is along this trajectory that the African Union launched the Digital Transformation Strategy for Africa (2020-30) in 2020, the continent's first comprehensive plan for the continent's digitalization which calls for an integrated and inclusive African digital economy and society, and which sketches a detailed and practical road map for the full implementation of the UN's Sustainable Development Goals by securing the benefits of the digital revolution for the socioeconomic development of Africa.
Alongside the incremental achievements and promising outlook, however, miscellaneous challenges still persist.
The structural imbalance between the huge demand of African societies for affordable connectivity to internet and insufficient influx of investment and technology on information and communications technology infrastructure is the key impediment to rapid digitalization. The report, Digital Trends in Africa 2021, published by the International Telecommunication Union, shows that although mobile network coverage in Africa is above 80 percent, internet use by individuals is below 30 percent, and the ratio even drops to 14.3 percent when calculating the number of households with internet access in 2019.
Behind this significant gap lies the brutal truth of the lack of internet affordability that still prevails across the continent, and among more than 50 member states of the AU, only the ratio of mobile and fixed broadband expenditure cost in Mauritius was below 2 percent of gross national income per capita by the end of 2021, meeting the target proposed by the UN Broadband Commission.
Digital cooperation has grown into a pillar of the China-Africa partnership, and China's engagement has set the ball rolling to enable Africa to make further breakthrough of its digitalization blueprint through international cooperation.
The China-Africa Partnership Plan on Digital Innovation put forward by China in 2021 synergized with the AU's digital agenda within the overall framework of its relations with Africa, in which the recommendation of "digit+" has not only updated traditional cooperation fields, such as trade, public health, and the construction of transportation facilities with internet-based intelligent solutions of operation and management, but also given rise to a variety of new cooperation projects regarding internet innovation, including the Digital Silk Road e-commerce, satellite remote-sensing application, clean energy development, and smart city management.
Moreover, the digital partnership was also endowed with a broader significance, since this logical framework was further integrated into the China-Africa Cooperation Vision 2035 and Dakar Action Plan (2022-24) adopted at the Forum on China-Africa Cooperation in November 2021, in which digitalization was explicitly designated as a crucial lever for China to step up its contribution to Africa's endeavor to sustain fundamental strategies on poverty reduction, climate mitigation and adaptation, and the building of continental free trade areas.
Africa's digital divide is expected to be mitigated by China's technical transfer and investment in ICT infrastructure and vocational training across the continent.
Despite the pandemic, Chinese companies have not only financed and constructed different telecommunication projects represented by the 3G/4G highway in many African countries, but also shared the latest 5G technologies and cloud computing with their African partners. ZTE, for instance, has enabled Libya to increase its long-term evolution coverage rate to 75 percent by supporting the digital upgrading of Libiyana, the country's leading mobile operator, and it successfully completed the commercial opening of the first batch of 5G stations in the Western Cape of South Africa in 2021.
Alongside the upgrading of "hardware", Chinese companies have also prioritized improved "software" through talent training. Taking Huawei as an example, the company launched its latest edition of "Seeds for the Future" course in South Africa in late 2021, with the aim of inspiring the participation of local talent, especially youth and women, in the digital community. While making contributions to improve internet connectivity and affordability in Africa, these achievements of China-Africa cooperation will also become strongholds to promote cohesion and synchronization between the AU's newly launched architecture on digitalization with pertinent existing initiatives such as the Policy and Regulation Initiative for Digital Africa, Programme for Infrastructure Development in Africa, and Smart Africa, creating a stronger resultant force for the whole continent to embrace a new digital era.
The author is deputy director of the Security Studies Division at the China-Africa Institute. The author contributed this article to China Watch, a think tank powered by China Daily. The views do not necessarily reflect those of China Daily.
Contact the editor at editor@chinawatch.cn
If you have any problems with this article, please contact us at app@chinadaily.com.cn and we'll immediately get back to you.