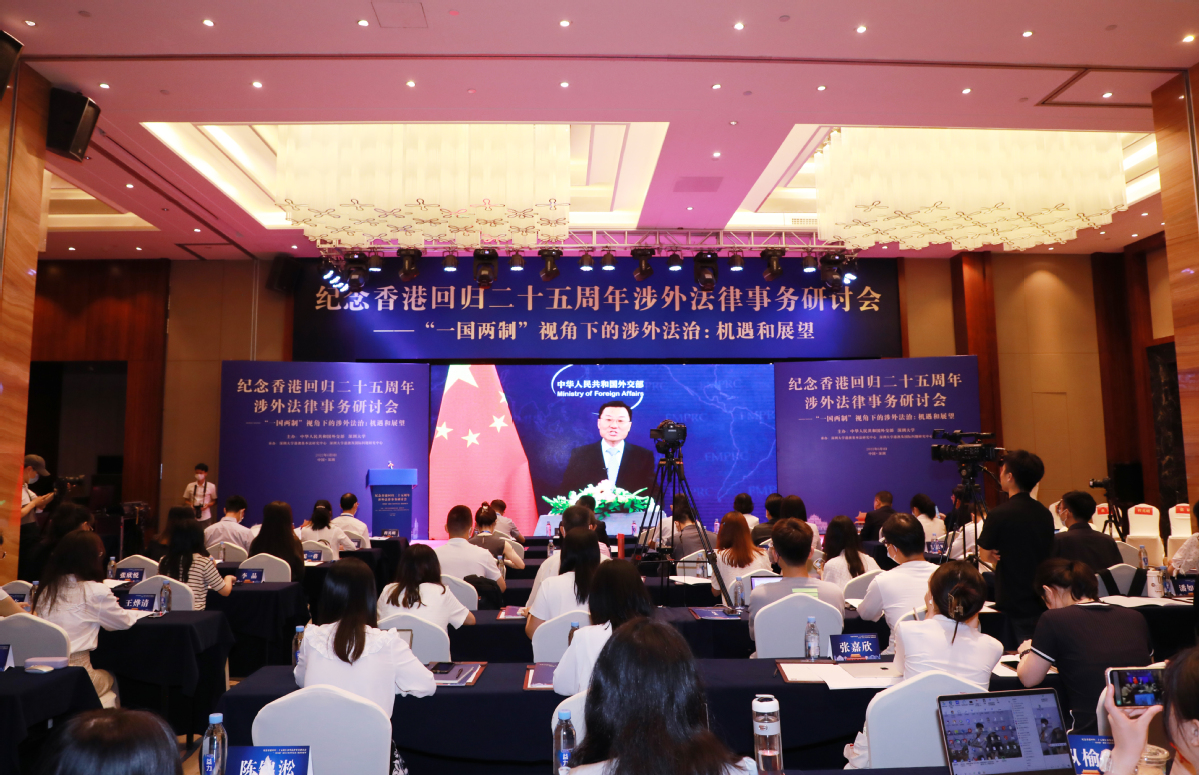 While promoting the rule of law under the "one country, two systems" principle, the Hong Kong Special Administrative Region should also consider its advantages in legal services and talent training to contribute to the construction of foreign-related rule of law of the country, officials said.
Thanks to the implementation of "one country, two systems" and adherence to the Constitution and the Basic Law, Hong Kong has enjoyed stable development, according to Vice-Foreign Minister Xie Feng.
He made the remark at a symposium on foreign-related legal affairs commemorating the 25th anniversary of Hong Kong's return to the motherland, which was held both offline and online on Thursday. The offline venue was in Shenzhen, Guangdong province.
Officials, experts and scholars from the Chinese mainland, Hong Kong and Macao participated in the event, which was jointly organized by the Ministry of Foreign Affairs and Shenzhen University.
In his opening remarks via video link, Xie called for Hong Kong to contribute more to the construction of foreign-related rule of law of the country, as rules-related disputes are becoming more intense around the world due to the ongoing COVID-19 pandemic and major security challenges in both traditional and nontraditional industries.
He said the SAR's contribution would help implement requirements put forth by President Xi Jinping, who stressed taking a coordinated approach to promoting the rule of law at home and in matters involving foreign entities and emphasized the need for greater efforts to be made to better safeguard national sovereignty, security and development interests.
To meet those goals, Xie added that it is necessary to continue attracting international law organizations to establish branches in Hong Kong and hold more legal seminars to help the city become an international center for legal services and dispute resolution in the Asia-Pacific region.
Hong Kong Chief Executive Carrie Lam Cheng Yuet-ngor said at the symposium via video link that the rule of law is fundamental to Hong Kong and is a driving force for the SAR's development.
Lam noted that legal professionals in Hong Kong have extensive knowledge, experience and a global perspective in a wide range of fields, including banking, finance, shipping, construction, intellectual property and information technology.
"The abundant legal talent will be in favor of our country building and promoting legal development involving foreign affairs," she said.
In addition to supporting Hong Kong's efforts to enhance its status as an international financial, shipping and trade center and to become a site in the Asia-Pacific region for international legal and dispute resolution services, the national 14th Five-Year Plan (2021-25) has also supported Hong Kong's construction in new areas: enhancing its status as an international aviation hub; building itself into a global center for innovation and technology and as a regional center for intellectual property trade; and developing itself into a haven for cultural and art exchanges with other countries, Lam said.
"The Asia-Pacific international law and dispute resolution service center and a regional intellectual property trade center are closely related to legal professions, while building centers of finance, shipping and trade also need the support of the legal system and legal talent," Lam said. "Improving the rule of law is essential for maintaining Hong Kong's long-term economic development."
Xie suggested the SAR actively participate in appropriate multilateral treaty consultations and international conferences as part of Chinese delegations, providing its wisdom for China in applying, leading and shaping international rules.
Additionally, Hong Kong should use legal methods to oppose external interference, unilateral sanctions and long-arm jurisdiction to safeguard the legitimate rights and interests of the country and the SAR, he added.
If you have any problems with this article, please contact us at app@chinadaily.com.cn and we'll immediately get back to you.