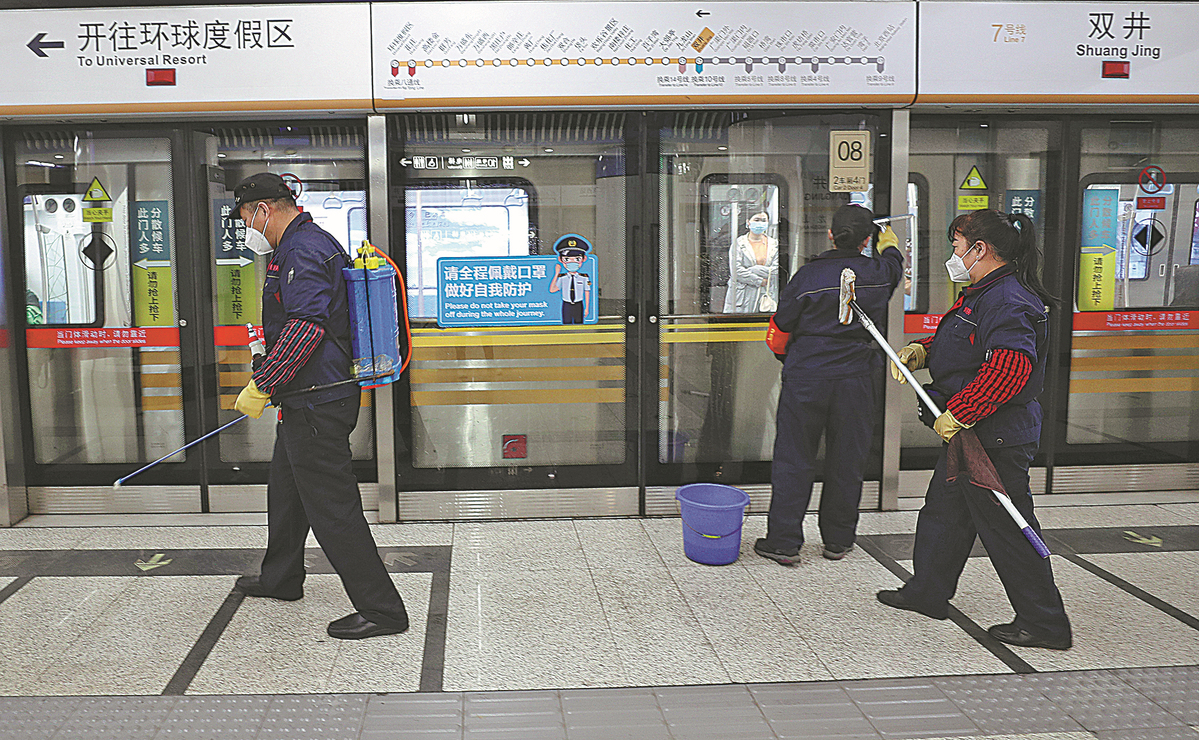 Residents asked to work from home to help halt spread of latest outbreak
The Beijing municipal government has encouraged all residents to work from home on Friday and to stay at home during the coming weekend in order to curb the spread of COVID-19. In addition, another three rounds of mass nucleic acid testing will be conducted starting on Friday, a senior official said on Thursday afternoon.
"It is a rumor that Beijing will be locked down. Beijing's daily supplies are sufficient and will not be affected," Xu Hejian, a spokesman for the Beijing government, said at a news conference.
He added there is no need to stockpile food or do any panic buying, and that the city will function as usual in these times.
He reminded the public to purchase rationally and that delivery services will not be suspended.
"The city's epidemic situation is intense and the hidden transmission chains still exist at the community level," said Xu.
In order to discover the potential risks and swiftly cut the transmission chains, the government has asked all residents in 12 districts including Xicheng, Dongcheng, Chaoyang, Haidian and Fengtai to take another three rounds of tests starting Friday and continuing over the weekend, he said.
The city authority will evaluate the results of the mass nucleic acid tests after the weekend to help prepare the next strategy in terms of epidemic control, according to Xu.
Chen Miao, a company clerk in Haidian district, said she was told to take her work laptop home for the following days on Thursday afternoon.
"We don't know whether we can go back to work on Monday or not. So, it's safe to take work things home just in case."
Hotels, sightseeing areas and homestays in Beijing's suburban areas including Mentougou, Pinggu, Huairou, Miyun and Yanqing, should stop receiving guests over the following three days, according to the government.
On Thursday, many parks, museums and zoos in Beijing put out notices that they will be closed temporarily starting on Friday.
Beijing reported 36 new locally transmitted COVID-19 cases in 24 hours starting Wednesday afternoon, bringing the total number of infections to 928 since April 22. Fifteen districts are involved, according to Pang Xinghuo, deputy director of the Beijing Center for Disease Prevention and Control.
Of the new infections, 32 were reported in controlled zones, and four were found from mass nucleic acid testing in the community, she said.
Of all the 928 cases during the outbreak as of Wednesday, Chaoyang district has registered 349 cases, the most in the outbreak, followed by Fangshan, which has reported 267 cases since April 22. Tongzhou has reported 71 cases and Fengtai has reported 69 cases during the same period.
As of Thursday afternoon, Beijing had 17 high-risk areas for COVID-19 and 37 medium-risk areas.
Li Ang, deputy director of the Beijing Health Commission, said on Thursday that the city's two designated hospitals for COVID-19-Beijing Ditan Hospital and Xiaotangshan Hospital-had accepted 924 COVID-19 patients as of 7 am Thursday since the start of the latest outbreak on April 22.
"By Thursday, 237 of those patients had been discharged from hospital after recovery," he said.
Among all the patients, 560 were received by Beijing Ditan Hospital and the rest were received by Xiaotangshan Hospital.
Li said 113 people among the patients at Ditan Hospital are above the age of 60, with the oldest aged 91. One patient, aged 86, is in severe condition and another patient is in critical condition due to complications.
If you have any problems with this article, please contact us at app@chinadaily.com.cn and we'll immediately get back to you.