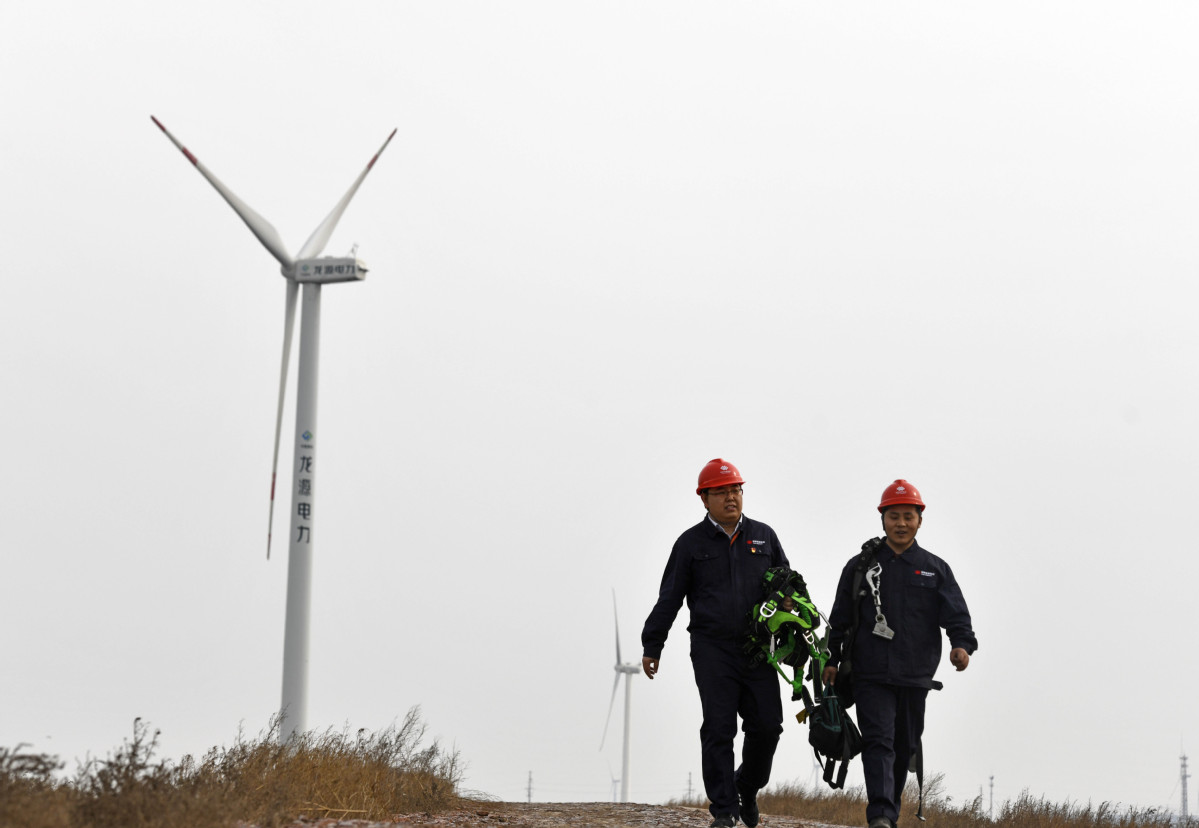 Investment in the green and low-carbon sector will become a growing driving force for the Chinese economy, and it is inaccurate to believe the nation's efforts in pollution control and carbon reduction will negatively impact its economic development, according to economists and industry experts.
China's transition to green and low-carbon fuels will see steady progress, and patience is needed to balance the development of new and clean energy and the phaseout of coal, they said at a recent forum on China's energy development jointly held by China News Service and the Energy Foundation China, or EFC.
"China is embracing a profound industrial revolution characterized by that in energy science and technology, which determines that the nation needs to properly handle the relations of goals and objectives of different policies on economic growth, energy security, environmental protection and climate stability," said Zou Ji, CEO and president of the EFC.
"Those policy objectives and goals can be well-coordinated, and it is especially important to coordinate short-term objectives with medium-term and long-term goals," he said.
According to Zou, as China makes economic stability a top priority and pursues progress while ensuring stability, investment in wind and solar power will further grow and fuel overall economic growth.
During the 14th Five-Year Plan period (2021-25), the total investment will reach nearly 45 trillion yuan ($6.87 trillion) in the fields of digital upgrading and green transformation of traditional industries, green and low-carbon urbanization and modern city construction, green and low-carbon consumption, and the upgrade of power systems, according to a report by the foundation.
The investment in those fields will be around 8.9 trillion yuan per year during the period, Zou said, adding that it will add significant momentum for the total investment to grow. In 2021, China's fixed-asset investment was about 55 trillion yuan, according to the Nation Bureau of Statistics.
"By 2050, direct investment in carbon neutrality will be at least 140 trillion yuan in China, with a much greater size of non-direct investment in related fields. This investment will provide a remarkable boost for economic growth over the next 30 to 40 years," he said.
Li Junfeng, venture partner of Sequoia China and chairman of the Sequoia Institute for Carbon Neutrality, said the core nature of carbon neutrality is propelling the transition of development toward greener and more high-quality pathways, and among that, energy transition is very important.
However, energy transition, which is expected to provide ample investment opportunities to fuel economic expansion, needs to address various tasks and challenges to progress steadily, analysts said.
According to Li, the priority is controlling fossil energy consumption rather than overall energy consumption. It is advisable to make non-fossil fuels the major source of increased energy consumption and the sole source for increased power generation over the 14th FYP period, he said.
He suggested the nation control coal use so that the record coal consumption in 2013(around 4.2 billion metric tons) will remain the peak while overseeing coal-fired power generation to ensure new energy will gradually become the major power source in China.
Li also said non-fossil power capacity growth should be well-planned, especially that of wind and solar power so that the power grid could gradually get used to the transition.
Zou, with the EFC, said as nonfossil power generation technologies continue to improve in maturity and bring down costs, non-fossil energy will steadily account for an increasing share in China's power generation and that of coal will gradually downsize so that new energy will replace coal in China's power generation system as much as possible. The process will take time but will show noticeable progress every five years, he said.
According to Wang Hanfeng, chief strategist and managing director at China International Capital Corp, China has huge green investment demand, especially in sectors including electricity, transportation and construction, and the nation is paying increasing attention to green financing, including more detail-oriented environmental, social and governance criteria.
If you have any problems with this article, please contact us at app@chinadaily.com.cn and we'll immediately get back to you.