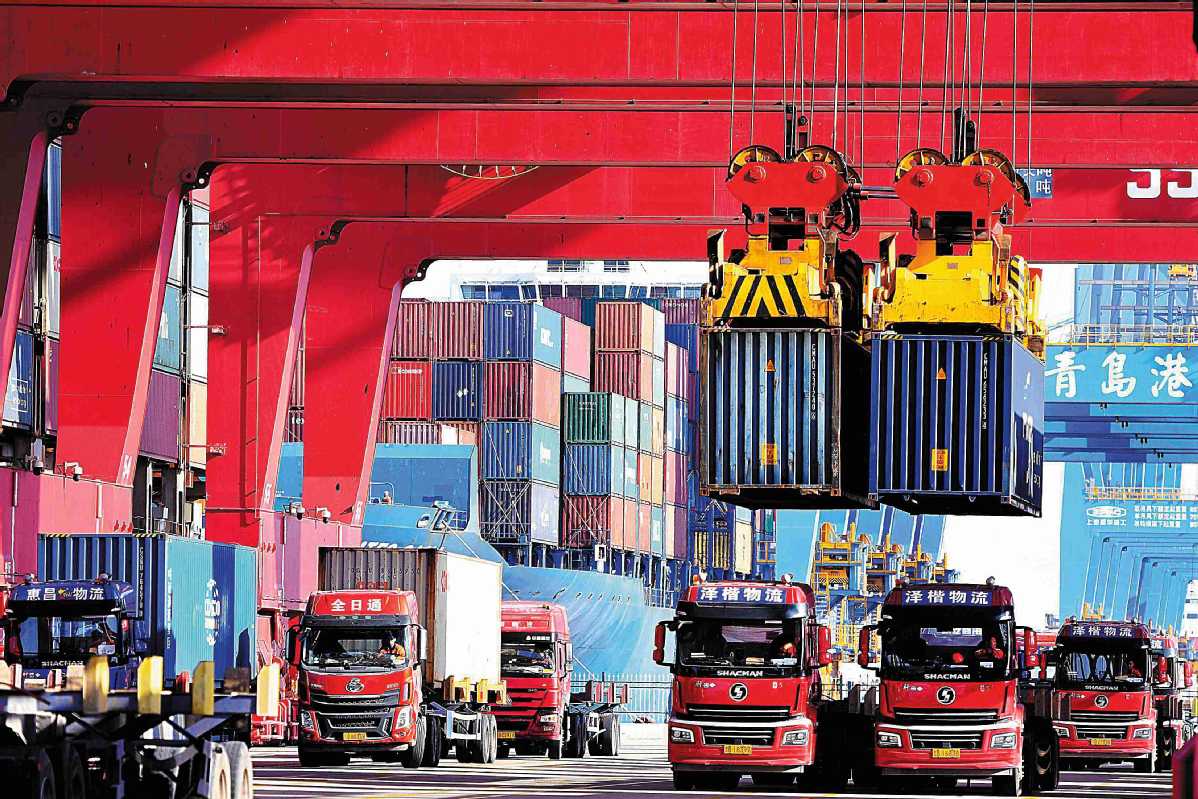 Positive outlook for 2022, but weaker overseas demand may have impact
Supported by reliable fundamentals and the strong resilience of the Chinese economy, the nation's foreign trade is expected to sustain its upward momentum this year and make more contributions to stabilizing global industrial and supply chains, despite various challenges such as the high comparison base last year and the slowdown in the global economic rebound, according to officials and experts on Friday.
To facilitate foreign trade growth, they said the nation needs to accelerate the establishment of the new dual-circulation development pattern that takes the domestic market as the mainstay and lets the domestic and foreign markets reinforce each other, while strengthening cross-cyclical adjustments.
The nation's imports and exports hit $6.05 trillion in 2021, setting a new historic record following a previous high of $4 trillion in 2013, according to data released by the General Administration of Customs on Friday.
In renminbi terms, the total foreign trade in 2021 was 39.1 trillion yuan, surging 21.4 percent from a year earlier.
Exports were 21.73 trillion yuan, up 21.2 percent year-on-year, while imports expanded by 21.5 percent on a yearly basis to 17.37 trillion yuan.
"China's impressive exports significantly offset production disruptions from COVID-19 in other countries, meeting global demand and helping to tame price surges in the world, while its expanding imports boosted economic recovery in related economies, " said Zhou Xuezhi, a researcher at the Institute of World Economics and Politics of the Chinese Academy of Social Sciences.
"The better-than-expected performance last year was mainly due to the relatively strong global economic rebound as well as China's stable industrial and supply chains thanks to its effective control of COVID-19.
"But export growth in 2022 will likely become more moderate due to the high comparison base and weaker overseas demand."
Li Kuiwen, the GAC's spokesman and director-general of its statistics and analysis department, told a news briefing in Beijing on Friday that foreign trade growth in 2022 will be challenged by multiple factors including "shrinking demand, supply shocks and weakening expectations" facing the domestic economy, as well as increasing uncertainties in the external environment.
To support the growth in foreign trade, multiple measures targeting overall economic development are expected to add resilience to the sector, according to analysts.
Tu Xinquan, dean of the China Institute for WTO Studies at the University of International Business and Economics in Beijing, said as more economies reopen and relax disease control measures, China needs to seek a better balance between strict disease prevention and control and economic growth, to further uplift foreign trade.
The establishment of the dual-circulation development pattern and the pursuit of common prosperity are expected to accelerate and increase people's incomes, foster stronger domestic demand, and hedge against external risks, which will at the same time strengthen China's industrial and supply chains and sustain their competitiveness in global trade, he said.
Zhou from the Chinese Academy of Social Sciences suggested more efforts to stabilize the renminbi's exchange rate, to create favorable conditions for China's foreign trade in 2022.
Liu Jie, general manager of Optima Integration Group, a leading frozen products import service platform in China, said the nation's increased foreign trade has been creating more business opportunities for the rest of the world, helping to stabilize global industrial and supply chains.
Li from the GAC said the nation will seek a balance between disease prevention measures at ports and the promotion of foreign trade.
While reinforcing regulation, the authorities will also improve administrative services to enhance the business environment, he said.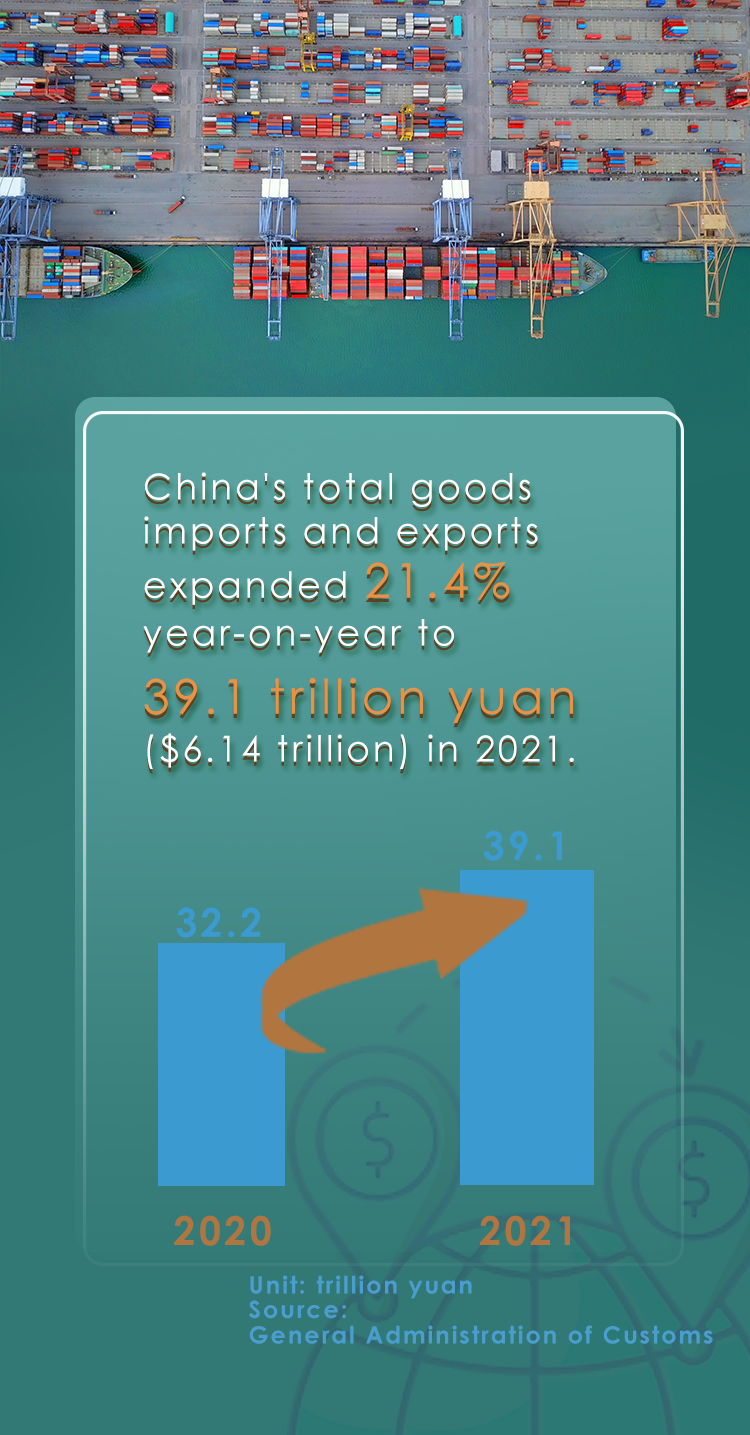 If you have any problems with this article, please contact us at app@chinadaily.com.cn and we'll immediately get back to you.