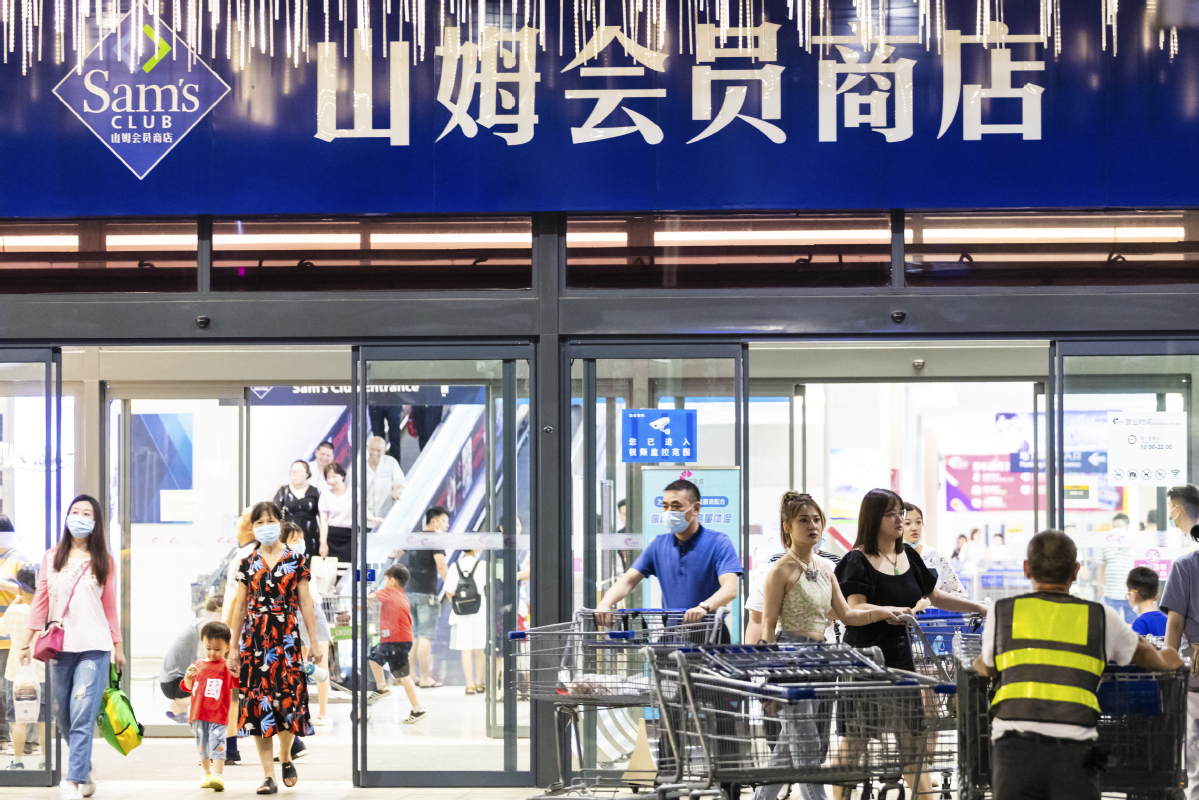 The two business models of Walmart Inc in China-the hypermarket format under the Walmart brand and its high-end membership store Sam's Club-have shown a mixed performance of late in the country.
Twenty-five years ago, Walmart China opened its first hypermarket store in Shenzhen, Guangdong province. The city's Honghu store is expected to be closed on Dec 7. Over the past four years, some 80 Walmart hypermarkets have been closed in China, Caijing Magazine reported.
On Nov 16, its third quarter report stated Walmart Inc's total revenue reached $140.5 billion, up 4.3 percent, but its net income decreased 39.5 percent to $3.1 billion.
Walmart International's revenue-that is, sales outside the United States-stood at $23.6 billion, down 20.1 percent, according to its third quarter report.
However, Sam's Club saw comparative global sales increase 13.9 percent, with e-commerce sales growing 32 percent. Membership income increased 11.3 percent, the fifth consecutive quarter of double-digit growth.
Sam's Club China said the number of its paid members has reached more than 4 million. It operates 36 stores in 23 cities nationwide, with its presence lifted further by its e-commerce platforms.
Its third quarter financial report showed that quarterly sales and memberships have grown by double digits. In 2021, the brand opened five new stores in China, including a flagship store in Shanghai.
It expects to have 40 to 45 stores in operation or in the pipeline in the country by the end of 2022.
Douglas McMillon, president and CEO of Walmart Inc, said during the earnings call for the third quarter this year that Sam's Club had a very strong quarter, with China, Mexico and India leading the way.
The high-end retailer offers about 4,000 kinds of select products. The format has been boosted by its fast development of omni-channels, which integrate its brick-and-mortar stores with its online ordering and delivery services from depots located close to residential communities in urban areas.
Its mobile app in September launched delivery services targeting consumers nationwide in order to reach more buyers who reside in cities where there are still no Sam's Club stores.
During the Double 11 gala this year, its revenue achieved through online channels tripled over that of last year, said the company.
"Our small Sam's Club depots that extend the reach of our large clubs in China helped deliver," McMillon said.
Jason Yu, managing director of Kantar Worldpanel China, said the retail channel shift further accelerated since the outbreak of COVID-19, reflected by the growth of e-commerce and proximity channels-small supermarkets, community stores and group buying-and the continued decline of traditional hypermarkets.
"The closure of certain hypermarket stores that are no longer profitable is not surprising," Yu said. "On the other hand, membership stores such as Sam's club and Costco are able to grow with a clear target-affluent middle-income consumers-as well as highly differentiated merchandise."
If you have any problems with this article, please contact us at app@chinadaily.com.cn and we'll immediately get back to you.