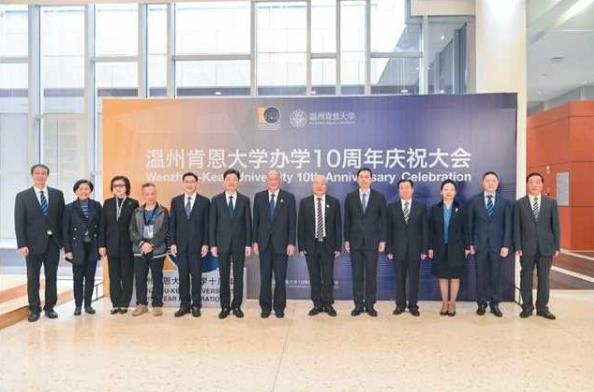 In 2021, Wenzhou-Kean University ushered in its 10th anniversary.
On Nov 20, a Wenzhou-Kean University 10th anniversary celebration conference was conducted to commemorate the occasion. Distinguished guests from all fields of work, faculty, staff, students and alumni gathered for the momentous occasion.
WKU Chairman Wang Beijiao presided over the event. In his opening address, he extended sincere gratitude to all levels of government, departments, fellow universities, and all WKU's supporters over its 10-year journey.
WKU Chancellor Wang Li said the past decade has been an endeavor of shouldering significant responsibilities and missions, a road of constantly fighting against obstacles with positive spirits, and following a course of pursuing innovation and excellence.
The world is under the fallout of the increasingly complicated international relationships and interwoven effects of the pandemic. As a Sino-US Cooperative University, Wenzhou-Kean University fulfills its commitment to connecting China with the rest of the world, and he added. "At this new crucial starting point, we should insist on our original intention of cultivating international talents, strive for facilitating cultural exchanges while raising WKU up to a higher-level university with its one-of-a-kind features; we must unwaveringly consolidate and boost WKU's international path head-on."
Joining the celebration virtually, Kean President Lamont O. Repollet encouraged students to cherish what they have at present and to reflect on the past: "15 years ago, our vision for Wenzhou-Kean University was very clear: to build an international, high-level university in Wenzhou, providing American-style higher education for students from all over the world."
At present, WKU has nearly 3,500 students this year providing 20 majors in six disciplines, including economics, science, engineering, literature, management and art, and six postgraduate and doctoral majors. Its reputation has risen steadily as a high-level international university, with its campus and facilities almost completed.
In 2006, Wenzhou University and Kean University in the US established an agreement to jointly found Wenzhou-Kean University. Wenzhou University President Zhao Min delivered a congratulatory speech, saying Wenzhou University applauded WKU's progress and was honored to have contributed to its accomplishments. He said he is looking forward to WKU's further development in the coming years.
The event also saw the attendance of the faculty team, including Toby Michelena, an assistant biology professor from the United States. When he arrived over six years ago, he initially found himself in an uncertain and confusing situation. Now he has close ties with the university and Wenzhou --which he did not expect when he first arrived. He is an integral part of both the WKU community and Wenzhou now. His research program for managing the Wenruitang River is designed to enhance the wellbeing of corresponding regions. His efforts received recognition through the "2020 West Lake Friendship Award" in Zhejiang province.
The event also featured student representatives and alumni speeches from Educational Leadership Program student Zhang Renjie and alumna Zhang Bingyi.
Zhang Renjie's comments focused on one idea — integration. From architecture, course content, teaching methods, class forms and faculty backgrounds, integration is at the core of WKU, Zhang said, adding this unique international education experience will empower his academic journey.
Zhang Bingyi is one of many graduates who has witnessed her alma mater's growth within the decade. Speaking on behalf of WKU alumni, she proclaimed her belief her days at WKU paved the way for her career and endowed her with the abilities and confidence to overcome any challenges she will face along the way.
Tao Hongjian, a first-level inspector for the Ministry of Education's Department of International Affairs, sent a video message to congratulate WKU.
Wenzhou CPC Committee Secretary Liu Xiaotao said Wenzhou-Kean University serves as an essential window for Wenzhou to expand its opening-up, adding the past decade saw WKU starting from scratch to soaring high. He expressed his hopes WKU could continue this trend, build its brand, leverage its resources to promote cultural exchanges and play a pivotal role in advancing regional development.
At the end of the celebration, 24 faculty and staff who have devoted themselves to WKU's development for more than 10 years were honored with exclusive souvenirs.
A video from alumni worldwide concluded the conference and the celebration. The meeting was livestreamed on Xinhuanet.com, Bilibili and YouTube.
If you have any problems with this article, please contact us at app@chinadaily.com.cn and we'll immediately get back to you.