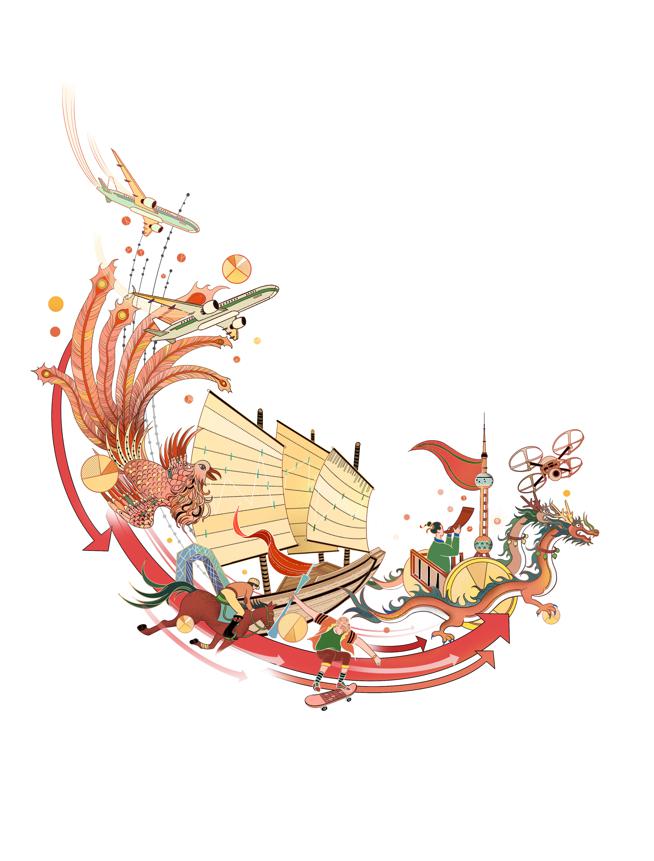 The People's Republic of China, under the leadership of the Communist Party of China, has made a series of remarkable accomplishments, such as eliminating absolute poverty, providing quality medical care and education for the majority of China's huge population, developing technology and the economy. Especially since 1978, after launching the policy of reform and opening-up and a series of modernization measures, China's GDP has risen rapidly, which has brought profound changes to society.
This year, the CPC celebrates its centennial anniversary, which provides an opportunity to review its own development and that of the country over the past 100 years. Having founded the People's Republic of China, the CPC began exploring a development path for the nation that suited China's actual situation, and it identified the right path with the comprehensive start of reform and opening-up. After that it has amazed people with the speed of its rise. In recent years, China's initiatives and its performance in international arenas have been a focus of attention. Among China's many accomplishments and initiatives, there are some recent ones that shine particularly bright.
China announced last year that it had eliminated absolute poverty. Over the past 40 years, China has lifted 800 million people out of abject poverty, contributing more than 70 percent of the global poverty reduction. Completing the key task of poverty alleviation and eliminating absolute poverty on schedule has been an extremely arduous task. As early as the end of 2013, President Xi Jinping put forward the requirement for targeted poverty alleviation, and determined to formulate a plan and implement measures according to the structural factors and actual conditions of the people.
The Belt and Road Initiative in recent years is a grand and practical vision that could not have been born without China's stable development and traditional values. The Belt and Road Initiative provides the greatest service to the world's social and economic development in human history. By adhering to the concept of multilateralism and equal treatment, the initiative has gained more and more international recognition.
China has also made outstanding contributions to the worldwide fight against the novel coronavirus. President Xi delivered a speech at the opening ceremony of the 73rd World Health Assembly via video link on May 18, 2020, announcing that China would fight against the COVID-19 pandemic with the global community and render international assistance. The determination the Chinese government has demonstrated to join hands with other countries in this time of crisis has been admirable. It can be said that China is a model for global anti-pandemic action, which reflects its sense of responsibility as a major country. In the face of the pandemic, the Chinese government's excellent leadership, management and actions are worth consideration.
The world is facing multiple challenges. The international community should work together. All countries should collaborate to promote multilateralism and curb hegemonism. Other serious challenges we all face are climate change and the damage we are doing to planet's ecosystems. China's commitments and contributions to meet these challenges are commendable. The 14th Five-Year Plan for China's National Economic and Social Development (2021-25) emphasizes that in order to realize socialist modernization by 2035, environmental issues must be included, and that sustainable production and lifestyles must be a priority. President Xi has emphasized that the principle of common but differentiated responsibility is the cornerstone of global climate governance, and the Paris Agreement should be fulfilled on this basis. China has enhanced its nationally determined contribution, by adopting more effective policies and measures to peak carbon dioxide emissions before 2030, and achieve carbon neutrality before 2060. In short, China attaches great importance to scientific development and strives to continuously improve people's quality of life and realize the harmonious coexistence of human beings and nature.
Over the past decades, I have visited China many times and witnessed the improvement of the living standards of the Chinese people year by year. And I have seen that science and technology are constantly used in agricultural production and daily life. In areas with a large ethnic populations, I have observed that the local governments are making great efforts to protect the values, languages and cultures of the various ethnic groups and develop and exploit their traditional medicine, food, and forms of artistic expression and the wisdom passed down from generation to generation to improve people's livelihoods.
These areas show a multicultural and inclusive Chinese society. It is worth emphasizing that based on diversity and inclusiveness, China conducts dialogues and exchanges with other countries. Based on the Belt and Road Initiative, China proposes to build a community with a shared future for mankind. This is a means to avert and address common threats and pursue common development.
The author is a professor of Veracruz University in Mexico, director of the China Research Center of Veracruz University, and former academic director of the alliance of APEC research centers in Mexico.
If you have any problems with this article, please contact us at app@chinadaily.com.cn and we'll immediately get back to you.