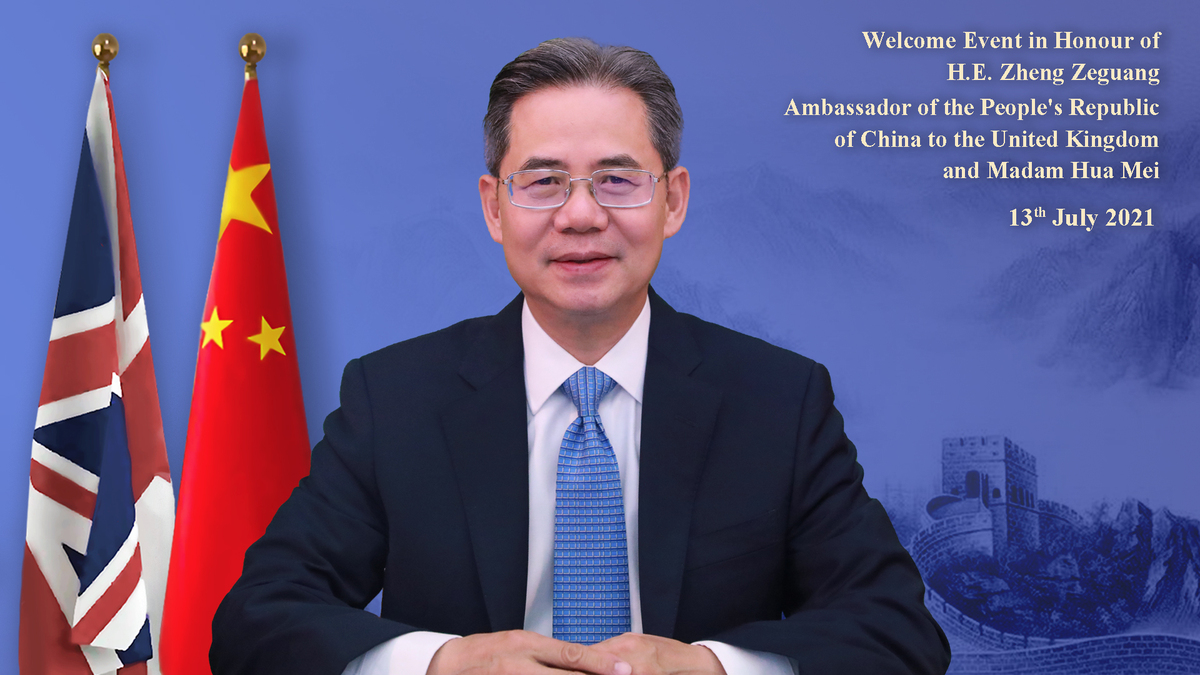 Sino-British relations have "again come to an important historical juncture" and the two countries should "stay the course of cooperation, remove various disruptions and strive for sustained progress in (bilateral) relations", said Zheng Zeguang, China's ambassador to the United Kingdom, at an online event.
"In the face of the new situation and new tasks, it is all the more important that both countries bear in mind the fundamental interests of our peoples and the people of the world," Zheng said on Tuesday.
Nearly 50 years ago, China and the UK established ambassadorial diplomatic ties, in spite of differences in ideology and social systems.
"This decision required extraordinary political courage and strategic vision. Since then, China-UK relations have traveled an extraordinary and fruitful journey," the ambassador said.
"It has fallen upon us to display the same strategic vision and political courage nearly half a century ago," he added.
The ambassador made the remarks at a virtual reception event held by China's embassy in the UK, which was attended by about 600 people from all walks of life, including Jenny Bates, director general of Indo-Pacific at the Foreign, Commonwealth and Development Office, and James Sassoon, a member of the House of Lords and honorary president of the China-Britain Business Council.
In his speech, Zheng called on the two countries to foster a sensible strategic understanding of one another, and to adopt the right approach toward each other.
"A China that pursues peaceful development will pose no threat to anybody; a China that follows a new and Chinese-style path to socialist modernization will only create greater opportunities for the world.
"China is the UK's partner for cooperation and opportunity for development. China is not a challenge, threat or rival. On this major strategic issue, there should be no misunderstanding or misjudgment," Zheng said.
The two countries have a lot in common, although they do have differences on certain issues, said the ambassador.
"The right approach to our relations is to seek and expand areas where we have common interests, and focus on and advance cooperation. As for differences and disagreements, we should build up consensus and mutual trust through candid dialogues on the basis of respecting each other's core interests and major concerns," he said.
Despite the differences, there is major potential in trade between the two countries, as China became the UK's largest trading partner in goods in the first quarter of this year, despite disruption caused by the pandemic.
The ambassador said the two countries should expand practical cooperation in more fields that are mutually beneficial, such as biomedicine, public health, environmental protection, green finance and new energy vehicles.
This year, both countries will host two major international conventions.
The United Nations, or UN, Climate Change Conference, or COP26, is due to take place in Glasgow and the UN Biodiversity Conference, or COP15, will be held in Kunming, capital of Southwest China's Yunnan province.
The ambassador said coordination and cooperation is needed to make both conferences successful.
Zheng also spoke highly of the people-to-people exchanges between the two nations, in areas such as sport, culture and the arts.
"Our two countries have every reason and great potential to expand exchanges, enhance mutual learning and make progress together. The Chinese side welcomes Team GB to the (2022) Winter Olympics in Beijing," he continued.
After arriving in London last month, Zheng presented his Letter of Credence to Queen Elizabeth II on July 7.
In Tuesday's speech, he said he hopes to work with the British government and friends from all sectors to promote the sound and steady development of China-UK relations.