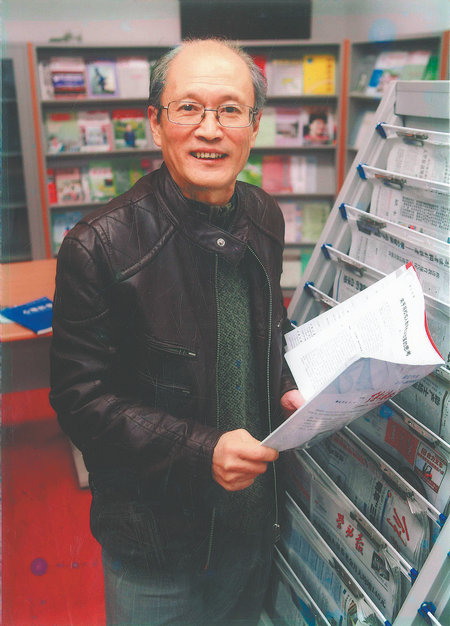 Math education reform is a complex, long-term process requiring the persistence and effort of generations of experts, as well as the integration of theories from educational research and best practices from classroom experiences, a Shanghai math expert says.
Gu Lingyuan, who pioneered mathematical education reform in Shanghai in the 1970s and was the former vice-dean of the Shanghai Academy of Educational Sciences, made the remarks during an exclusive interview with China Daily regarding a speech about a math education experiment that he delivered at the 14th International Congress on Mathematical Education, the largest international conference of its kind. It is currently underway at East China Normal University and will run until Sunday.
"Education reform relies on the efforts of generations of experts from different disciplines, including math, education and psychology," Gu says.
"Ideas from front-line teachers who are familiar with students' academic, physiological and psychological characteristics are vital to enhance the efficiency of the reform as well."
Gu's insights are based on a math teaching experiment that he and his peers initiated in 1977 to improve students' academic performance in the subject in Qingpu district, an area too far away from the center of Shanghai to, at that time, have access to abundant and quality teaching resources and proper school management.
The experiment will conclude next year, according to Gu.
The national college entrance examination was resumed on the Chinese mainland in 1977, and Gu arranged a math test for all high school graduates in Qingpu to assess their abilities.
Although the test was on primary and middle school level math, student performance was shockingly disappointing, Gu says. Among the 4,373 people who took the test, over 23 percent received zero out of 100 marks. The average score was 11.
Supported by local education authorities, Gu formed a team of five to carry out the trial. The first three years were spent on investigating and researching teaching approaches, student performances and school management in Qingpu. They then explored suitable teaching methods for Shanghai students and applied the shortlisted methods to classes as an experiment.
Great progress was made after 10 years of reform, while Gu's team grew to include over 200 math teachers, researchers and other practitioners.
More than 85 percent of students in Qingpu scored over 60 out of 100 marks in the high school entrance examination in Shanghai in 1986, which was a surge of 69 percentage points from 1979. The Qingpu students' performance in high school math exams that year was also higher than the average of high school students in Shanghai at 68 percent.
Aside from academic performance, since 2008, Gu's team has also been engaged in cultivating students' creative and analytical abilities. The team has also adopted some elements of foreign math instruction into the local curriculum through teacher exchange programs, such as interactive techniques to make classes fun.
"This year, we'll summarize the experiment, results and achievements so far and publish a book on it for further promotion of the core accomplishment of the reform next year," Gu says.
"It's a complex, long-term process requiring the persistence and effort of generations of experts and the integration of front-line practice and theories based on facts.
"A transformation of the roles of teachers and students is the essence of an educational reform. In the past, imparting knowledge used to be the only responsibility of teachers, but the student-teacher relationship evolved into teachers asking inspiring questions in a bid to lead students to study on their own. However, teachers are now more like tutors, seeking to enlighten students to learn, inquire and experience proactively," Gu says.
He adds that in the next phase, improving students' creativity and critical thinking ability in math study is a key challenge for mathematics education in China.
"It is not advisable to achieve high scores through excessive academic training. Diverse teaching and research activities are crucial for teachers to analyze the performance of students and themselves and accelerate their professional growth," Gu adds.