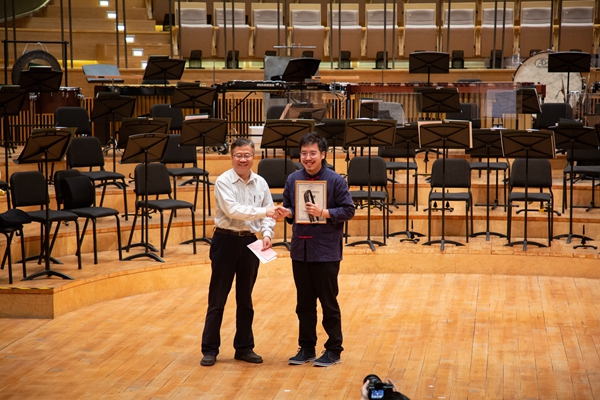 Composers compete in international competition to create music inspired by the city of Suzhou, Chen Nan reports.
At the 2021 Jinji Lake International Composition Competition on Saturday, 22-year-old Wen Ziyang took home the top prize.
Home to the Suzhou Symphony Orchestra, the Suzhou Jinji Lake Concert Hall staged the competition finale concert on the same day and Wen's award-winning music piece Immerse in Landscape VI was performed by the Suzhou Symphony Orchestra under the baton of conductor Zhu Qiyuan, featuring 21-year-old French horn player Zeng Yun. Zeng won the first prize and gold medal in the brass category of the XVI International Tchaikovsky Competition in Russia in 2019.
Wen's music piece was inspired by the ancient city of Suzhou and consists of four chapters: Wuyue Dynasty, Hanshan Temple, Huqiu and Jinji Lake, all named after some of the most important periods and famous scenic places in Suzhou.
"As a child, I traveled to Suzhou with my family. The picturesque canals, stone bridges, temples, gardens and pagodas made our trip very memorable. When I grew up, I returned to the city and was intrigued with its contemporary architecture aside from its traditional culture," says Wen, who is also a student from the Central Conservatory of Music. He received a 100,000 yuan ($15,460) cash prize as the winner of the competition.
A native of Chengdu city in Sichuan province, Wen learned to play the piano at the age of 4 and learned to compose when he was 6 years old. He comes from a musically inclined family with both his parents working as teachers at the Sichuan Conservatory of Music. In 2013, he enrolled to study composition at the middle school affiliated to the conservatory. And in 2016, he began studying composition at the Central Conservatory of Music in Beijing under veteran musicians including Jia Guoping, Chen Yonggang and Qin Wenchen.
"For me, composing is like writing diary entries. I compose every day, which is usually about six hours a day," Wen says. "As long as I bring my computer with me, I compose anytime and anywhere, such as the bus station, dormitory and restaurant. Composing is a way to express my emotions, which goes beyond words."
Immerse in Landscape VI took him four months to finish and it is part of Wen's compositional series Immerse in Landscape. The series highlights the cultural history of Chinese cities, places the young composer has traveled to.
He says it is a valuable experience for young composers to have their works performed by professional musicians at concert halls.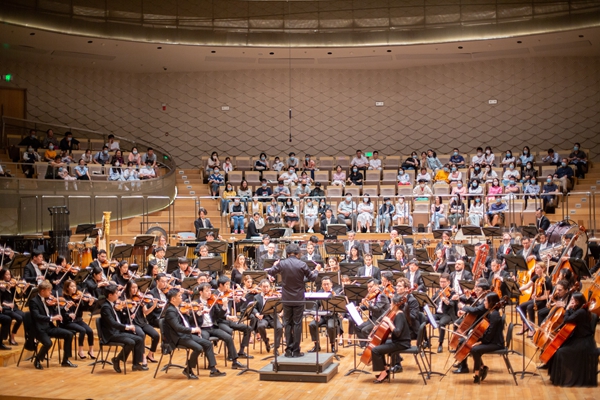 Apart from Wen, works of five other finalists were also performed during the concert. A committee consisting of veteran Chinese musicians announced the results on the day of the concert. Committee members included conductor Chen Xieyang, who is also music director of the Suzhou Symphony Orchestra; Jin Ping, a composer and professor at the China Conservatory of Music; and Shanghai Opera House president and conductor Xu Zhong.
The second place went to composer Liu Huan for The Lion's Grove, a piece inspired by the Lion Grove Garden, one of the most famous gardens in Suzhou. The use of brass and percussion instruments in The Lion's Grove portrays the maze of rocks and stones in the garden.
A Mirror of the Heavens, composed by Chilean composer Mario Afredo Oyandel Guinez, took third place. As Guinez describes, the significance of water in Suzhou's gardens is highlighted in the piece, "acting as a mirror for all the elements and helping them converge with the skies".
Founded in 2016, the Suzhou Symphony Orchestra comprises more than 70 musicians with an average age of 30, and are natives of China and 18 other countries and regions including Japan, South Korea and the United States. The orchestra started the Jinji Lake International Composition Competition in 2018, inviting composers from around the world to create music inspired by the city of Suzhou.
Xu Mengdong, professor at the Shanghai Conservatory of Music and president of the Jinji Lake International Composition Competition committee, says the competition this year received 74 entries from composers of 14 countries, making the competition an international one.
"We are very excited to have those composers join us despite the ongoing pandemic, which has caused cancellations of music events worldwide," Xu says. "Composers are delighted to have their works performed onstage by symphony orchestras and musicians. The finalists are young and talented. We are happy to have them."
Chen Guangxian, head of the Suzhou Symphony Orchestra, says they have also commissioned composers to write new music pieces to mark the centennial of the Communist Party of China. On June 16, a concert staged at the Suzhou Jinji Lake Concert Hall premiered seven commissioned music pieces with the symphony orchestra performing under the baton of Xu Zhong.
"Many composers have borrowed from old Suzhou art forms such as pingtan and kunqu for their own compositions, making their works quite diversified," Chen says. Pingtan is an ancient form of singing and storytelling dating back 400 years, and kunqu is one of the oldest Chinese operas dating back more than 600 years.
Chen adds that another seven commissioned music pieces will premiere in Suzhou on Sept 18 as a sequel to the June 16 concert.
If you have any problems with this article, please contact us at app@chinadaily.com.cn and we'll immediately get back to you.