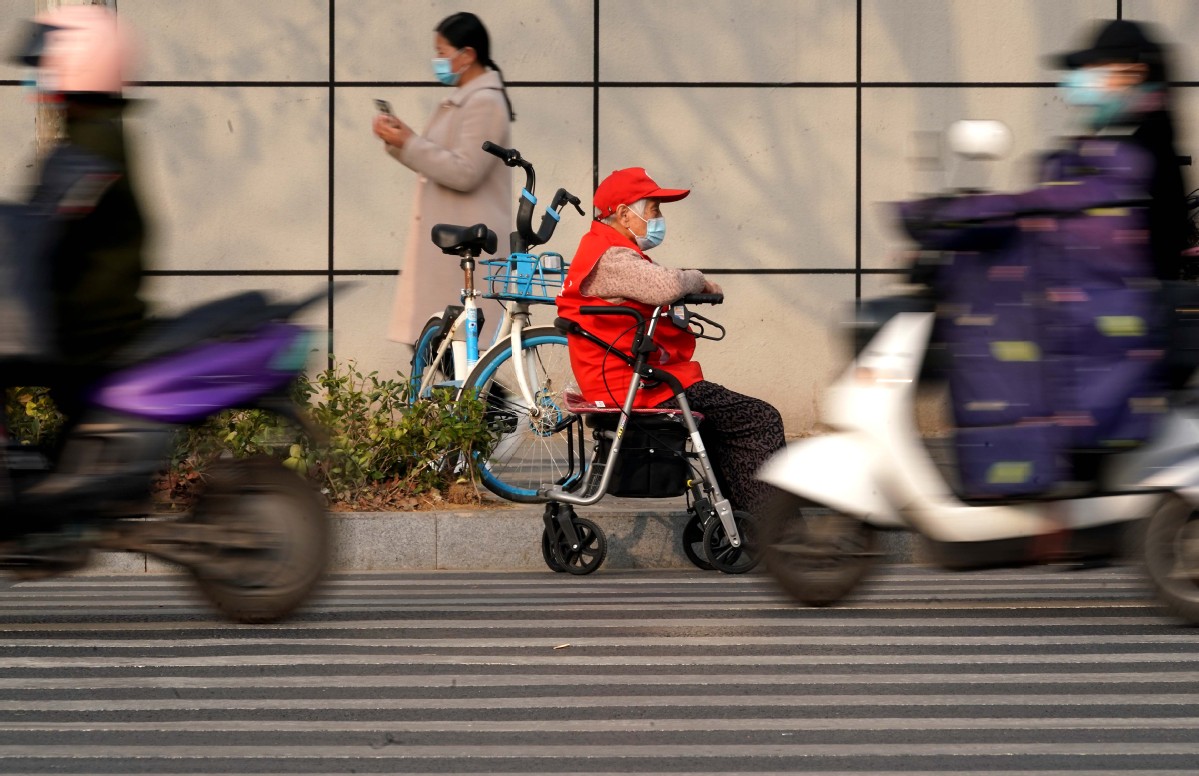 The release of census is always a significant moment for any country. China is no exception. The data, robust and multi-layered, offer government, development partners, including the UN family, and civil society at large a clear picture not only of the country's demographic trajectory, but also of the progress made on multiple fronts as well as the gaps and challenges that must be addressed for long-term sustainable development impacting citizens across the spectrum.
China's National Bureau of Statistics released the results of its seventh population census on Tuesday. The main census results further confirm general population dynamics and trends that have been reported through annual statistics and various surveys and studies. However, the census provides the latest comprehensive population data.
Population grows with slowed rate
There are two highlights in the overall population trend. The first is a continued slowing of population growth. True, the national population has increased by 72.06 million between 2010 and 2020, but the increase was 0.04 percentage points lower than the 0.57 percent from 2000 to 2010 .
Second, the census shows China has 264.02 million people aged 60 or above, accounting for 18.7 percent of the total population. This reflects an increase of 5.44 percent compared with the 2010 census of 13.5 percent. While this may sound startling to some, it should come as no surprise, for it only affirms the long known trend of sustained low fertility and rapid population aging in China.
Let's zoom in on low fertility, which, of course, has not occurred overnight.
China has been facing sustained low fertility rate since the 1990s with an estimated fertility rate of 1.5-1.6 children per woman, far below the replacement level fertility rate of 2.1 children per woman, the number which any population needs to exactly replace itself from one generation to the next, without migration. The total fertility rate of 1.3 children per woman as reported by the 2020 census is even lower than that of the estimated rate.
After the national fertility policy adjustment (so-called two-child policy) in 2015 (but implemented in 2016), there was hope in many quarters that the fertility level would bounce back, but even at that time, a number of realities converged to make it clear that such a rebound would be difficult, if not impossible. About 14.6 million births were registered in China in 2019, and about 12 million in 2020. This low fertility trend will likely continue in the near future.
Rapid population aging
Turning to the rapid population —aging - fuelled in part by sustained low fertility and a significant rise in life expectancy — we see the proportion of people aged 65 or above is estimated to increase to 26 percent (331 million) of the total population by 2050, almost double the number in 2020.
Responding to this situation, the Chinese government has indicated in the 14th Five-Year Plan (2021-25) that it would urgently "further optimize fertility through various policy measures".
However, simply allowing couples to have more than two children is unlikely to boost the fertility level, unless it is accompanied by well-designed and comprehensive policy responses to support couples and individuals to make fertility decisions of their own, as envisioned under the landmark 1994 Programme of Action that emerged from the International Conference on Population and Development in Cairo.
That's where 179 governments, including China, agreed that individual rights and choices, grounded in the wider context of gender equality and human rights, must be at the core of sustainable development and prosperity — with a special focus on the agency and empowerment of girls and women via optimal sexual and reproductive health and reproductive rights.
Socioeconomic compulsions
In China, according to the 2017 Fertility Survey, women's desired fertility rate dropped to 1.9 children, while the actual number of children an average woman gave birth to dropped to 1.7. This means the average number of children women in China wish to have is practically two, amid the reality that many women do not have the number of children they ideally want to because of socioeconomic constraints and other factors.
This shows that low fertility in itself is not a problem. It is the gap between desired and actual fertility that implies a strong need for comprehensive policies to help women and couples to realize their fertility decisions, through incentives and safety nets that allow them to raise a family while balancing socioeconomic aspirations and demands — especially for women who are still burdened with often overwhelming expectations of domestic life and a career track, underpinned by the very real gaps that remain in the achievement of genuine gender equality. This is true not only in China, but also across Asia-Pacific and globally — a scenario played over and over again in both developed and developing economies alike.
Low fertility and aging trends, and inevitably, slowing population growth and eventually shrinking population size are perceived to have complex socioeconomic impacts on labor force supply, the intergenerational support system for child and elderly care, family welfare, levels of savings and investment, the fiscal burden for provision of increased needs for healthcare and pension for all, and consumption patterns.
In recent years, the government has put in place many policy measures including improving maternity and paternity leave, childcare for the 0-3-year-age group, long-term care and basic social pensions for all elderly people, and other policies to address many of the current challenges. It's still too early to gauge the impacts of these policy measures, which should be monitored.
Turning challenge into opportunity
Population aging is widely seen as a challenge or problem, by governments and societies alike. We need to find ways to turn population aging on its head — to transform its challenges into opportunities that move from the aspirational to the practical. For example, population aging could present an opportunity to adjust economic and health systems, and social institutions quickly enough to provide economic and social security, improving the quality of life and enhancing the well-being of the growing number of senior citizens.
This could include enhancing individual, community and societal productivity through continuous investment, life-long education and training, creating economic and employment opportunities for the elderly, improving the quality of healthcare and making it affordable, as well as shifting toward high-tech, digital, innovation-driven manufacturing and services as part of China's plan to harness the Fourth Industrial Revolution — the digital transformation that's been occurring in recent decades.
Technology and flexible employment opportunities aren't the only solution, however. We must recognize that ultimately the best approach to tackling population aging lies at the very beginning of life itself — what we call a life-cycle approach to today's demographic realities, through the lens of gender equality.
Investing in girls and women, right from pregnancy through childbirth, from infancy to childhood and adolescence, and then on to adulthood leading to the advanced years — this is the life-cycle approach that pays rich dividends by laying a strong foundation for life, empowering women sufficiently to ensure an optimal old age, with socioeconomic security and health.
Reproductive health services
In this, we must promote universal access to client-based, gender responsive and high-quality sexual and reproductive health (SRH) services as part of the solution. While China recognizes individual health as the foundation for all national policies, disparities and inequalities in access to quality SRH services still exist even though it has made significant gains.
There is a widening gap in the SRH services between urban and rural areas, the eastern and western parts of the country, and different segments of the population.
One adverse result of this has been over 9 million abortions performed annually, reflecting a range of factors including a lack of SRH information and services and unmet need for family planning. In this complex and long-running context, the integration of essential reproductive health information and services in universal health coverage is critical.
This ties strongly to an important gender dimension as well which affects reproductive decisions of couples and women. Among the many examples of gender disparities in China, there is now an ever-increasing unpaid care burden on women. On average, men spend three times less time than women on unpaid domestic work including childcare in China. Besides, women earn less, often significantly less, than men in comparable positions. And many women continue to be employed in the informal sector, leaving large numbers of them uncovered by social insurance schemes.
So, as we can see, while low fertility and population aging are a real concern, as the latest census shows, these interlinked yet discrete challenges require much more comprehensive and well–designed policy responses.
Gender responsive policies needed
Policies around fertility and aging need to be gender responsive and consider how best to eliminate gender discrimination at the workplace and across society; how best to strengthen women's employment potential and translate that into reality; how best to support both women and men to balance work and life through employment and social insurance policies including extended and flexible maternity and paternity leave, incorporating support for childcare and eldercare; and how best to improve access to quality SRH services.
The census results may not be a surprise but they should be a wake-up call for strengthening the considerable gains China has achieved in its remarkable development, and addressing the population and development challenges including low fertility and population aging, through comprehensive, integrated and well-designed long-term policy responses.
The author is representative ad interim, United Nations Population Fund in China.
The views don't necessarily reflect those of China Daily.
If you have any problems with this article, please contact us at app@chinadaily.com.cn and we'll immediately get back to you.