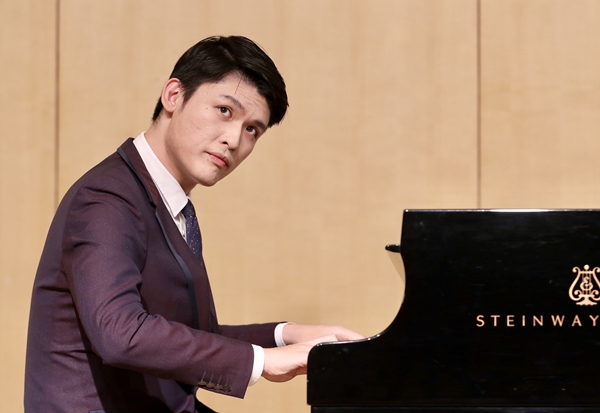 Nearly a dozen pianists from China enter the first round of this year's Leeds International Piano Competition, Chen Nan reports.
When pianist Fang Yan performed pieces by Mozart and Aleksandr Scriabin at the Central Conservatory of Music in Beijing on April 6, it was a different experience to his usual shows. Cameras were his audience.
The 23-year-old pianist was taking part in the first round of the Leeds International Piano Competition. In its 20th edition, the competition is taking place in 17 cities across the world this year, and for the first time in Beijing.
Held every three years, the competition has made some changes to its 2021 format due to the COVID-19 pandemic.
For the first time, the first round of the competition will be judged online. Each competitor is given about 25 minutes for a recital, which is filmed and viewed remotely by the jury.
That afternoon, five young Chinese pianists also took part in the first round. The results will be announced in early May.
"With no live jury or audience, it was a bit challenging for me in the beginning. However, when I started to play, it was just about music," says Fang.
Born and raised in Xiamen, Fujian province, Fang is a student of piano at New England Conservatory in the United States and will graduate with a Bachelor of Music degree in 2022.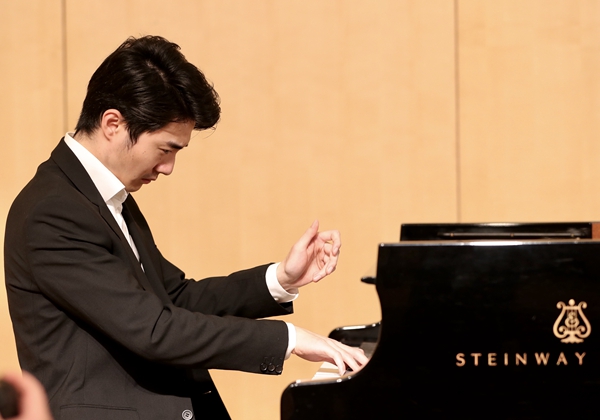 Due to the pandemic, Fang took a gap year and returned to China, where he held charity concerts in Xiamen before participating in the international piano competition.
Fang says he had learned about the competition a long time ago.
"It's true that every competitor wants to get prizes but the experience of learning new pieces and making progress in my performances matters most to me," says Fang.
Fantasie, Op28 by Russian composer Scriabin was new to him but he chose to perform it in the first round because "the piece is very beautiful and emotional, which inspired me to give it a try".
Wang Zixiang is another first-time Chinese contestant. "I am 29 years old and reaching the age limit of the competition. It was a surprise that I could enter the first round," he says.
Wang got his musical arts doctorate from the University of Michigan in 2020 before returning to his hometown of Wuhan in Hubei province.
During the first round of the competition, Wang performed Keyboard Sonata in D minor, K9 by Italian composer Domenico Scarlatti and Gaspard de la nuit by French composer Maurice Ravel.
"Besides concentrating on my music, I can get to know lots of young, talented pianists during the competition. It's really a great experience to open my eyes and my mind," adds Wang.
The Leeds International Piano Competition has attracted some of the world's finest young pianists since its debut in 1963.
In 2018, the first rounds were held in Berlin, New York and Singapore. That year the competition was broadcast online for the first time, attracting over 1 million views in more than 190 countries, according to Adam Gatehouse, the artistic director of the competition.
This year, 264 pianists from 44 countries applied for the competition, including 68 participants from China, an increase of 43 percent in the number of overall contestants compared to 2018.
After a preselection, 63 pianists from 28 countries were chosen to compete in the first round, with 44 percent selected from East Asia. Among them, 11 are Chinese.
The second round, semifinals and finals of the 2021 competition will be held from Sept 8 to 18 in Leeds, England. The organizers say they hope it will be in front of a live audience.
The winners will be taken on by Askonas Holt, a global artist management agency, and given recording opportunities with Warner Classics, the BBC and medici.tv. The three top prizewinners will be included in recitals and concerts by the Royal Liverpool Philharmonic Orchestra and performances at Wigmore Hall in London.
"The classical music scene in China is so exciting and vibrant, and there are so many wonderful young musicians coming out of China that we want to be part of that, in particular to offer our winners opportunities to play there," says Gatehouse.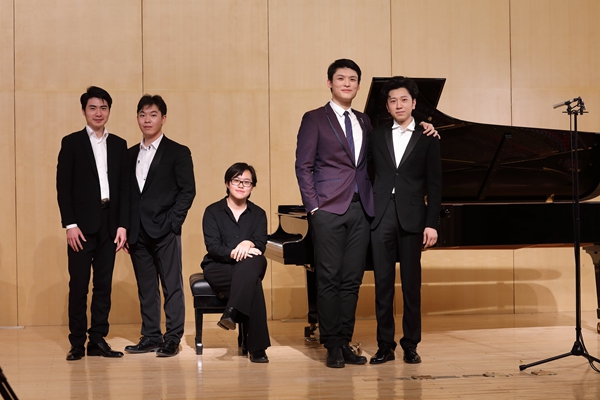 Apart from Beijing, the first round locations include London, Paris and Berlin. In each of these cities, competitors perform under the same conditions: playing on a Steinway Model D grand piano and with identical camera setups.
"It does pose a challenge for us as jury members. I know that it can be a very valid way of judging so long as the criteria for each competitor is the same, and the recordings and films are of the highest quality," Gatehouse says.
"I say to our juries that we are looking for musicians above all, musicians of individuality and character, honesty and truthfulness."
There is a long relationship between the Leeds International Piano Competition and China.
China's Chen Sa won the fourth prize at the competition in 1996 at the age of 16. She was a jury member in 2018.
Other prominent Chinese pianists who have taken part in juries over the years include Zhou Guangren, Bao Huiqiao and the pianist-conductor Xu Zhong.
The top prize in 2018 was won by Chinese American Eric Lu, while the third prize that year was awarded to Wang Xinyuan, a Chinese pianist who had already carved out a successful musical career.
A large number of Chinese musicians apply for the competition, more than any other country, Gatehouse says.
He adds that the competition's global ambassador, Chinese superstar Lang Lang, who was known to the competition's late founder, Dame Fanny Waterman, is "a unique figure in the musical world and is such a remarkable ambassador for the piano and a role model for young aspiring pianists".
If you have any problems with this article, please contact us at app@chinadaily.com.cn and we'll immediately get back to you.