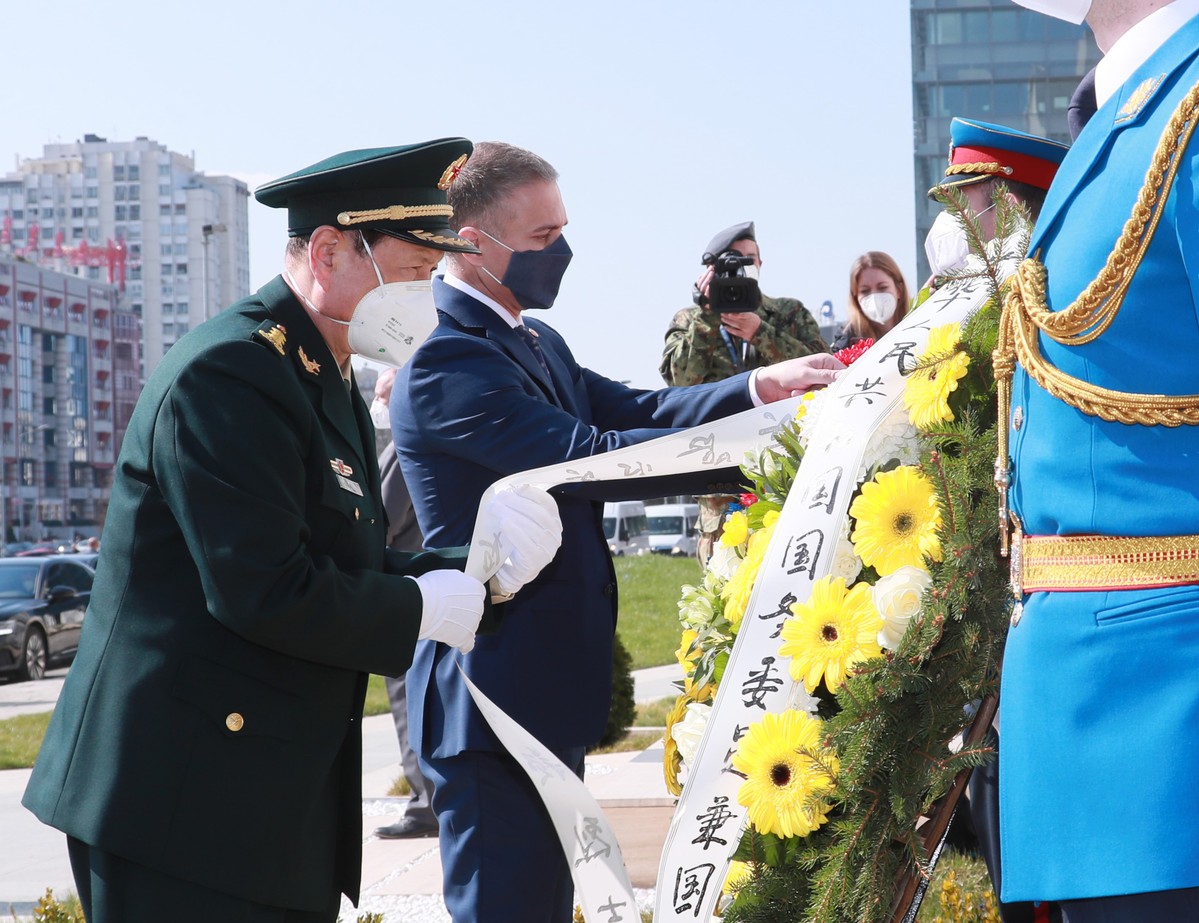 Wei Fenghe's trip to four countries aims to boost strong ties, experts say
State Councilor and Defense Minister General Wei Fenghe's tour of Europe aims to bolster pragmatic cooperation and honor China's lasting friendship with the countries on his itinerary, experts said.
However, any country that is contemplating any attempt to undermine China's core interests should heed Wei's declaration that China is fully capable and determined to defend itself, they said, adding China will not accept and stand idly by in the face of foreign slander and transgression.
Wei's weeklong trip began on Wednesday. He was invited to visit Hungary, Serbia, Greece and North Macedonia, the Ministry of National Defense said.
"This tour will further enhance traditional friendship and pragmatic cooperation with defense departments and militaries of the said countries, thus facilitating a healthy and stable growth of bilateral military-to-military relations," the ministry said.
On Friday, Wei met with Serbian President Aleksandar Vucic in Belgrade. Vucic said China is Serbia's most trustworthy friend, and the destinies and futures of both countries are intertwined, the ministry said.
Vucic said Serbia firmly supports China's stance on issues concerning its core interests, including Hong Kong, Taiwan, and the Xinjiang Uygur autonomous region. It will also support the Belt and Road Initiative, he said.
Wei said China appreciates Serbia's support and the Chinese military is willing to expand military exchanges and cooperation with Serbia.
During a visit to the bombed Chinese embassy site in Belgrade, Wei said the Chinese people will never forget the United States-led NATO bombing of the Chinese embassy in the former Yugoslavia, nor will the Chinese military allow such history to repeat itself.
"We are fully capable and determined to safeguard our national sovereignty, security and development interests," Wei said as he paid homage to the three martyrs killed in the incident.
On May 7, 1999, a pair of US B-2 stealth bombers dropped five guided bombs on the Chinese embassy during an airstrike, killing three Chinese journalists and infuriating the Chinese public. The US said it was an accident and apologized, but later investigations suggested the act was deliberate, though NATO and US have challenged those findings.
On Wednesday, Wei met with Hungarian President Janos Ader. Both sides promised to enhance cooperation on economic, trade, tourism and military affairs, as well as on tackling the COVID-19 pandemic.
Ader said bilateral relations have developed rapidly in recent years, and the COVID-19 vaccine China provided has brought hope for Hungary to overcome the pandemic, the ministry said in a statement.
Wei said China has always regarded Hungary as a "good brother and partner" and is willing to continue to strengthen cooperation with the nation in various fields. Wei briefed Ader on the real situation in Xinjiang, and refuted allegations made by the US and some other Western countries.
China strongly condemns the unilateral sanctions imposed on China by the European Union, the US, the United Kingdom, Canada and some other countries under the pretext of the so-called Xinjiang human rights issue, Wei said.
Lasting friendship
Wei's European tour came amid rising tensions between China and European countries due to issues regarding Xinjiang and the South China Sea, prompting speculation that China is bolstering its geopolitical influence around NATO for leverage in key issues.
The EU recently imposed sanctions on senior Chinese officials from Xinjiang. In return, China imposed its own sanctions on European officials, think tanks and experts who it said have consistently interfered in its domestic affairs by spreading lies and false information.
Last month, French warships and a submarine conducted patrols in the South China Sea. Germany and the UK have also announced plans to send warships to the region this year, despite China urging countries outside the region to stop causing trouble in the area.
Cui Hongjian, director of the Department for European Studies at the China Institute of International Studies, said Wei's visits were pre-scheduled and not meant to antagonize any nation.
The four countries on his itinerary all share strong and friendly relations with China, as evidenced by their support for affairs related to China's core interests and by China's sharing of medical supplies to help the countries combat the pandemic, Cui said.
"The US and certain European countries may be irritated by China expanding military dialogue and cooperation with European countries, but China has no wish to undercut or confront the US or NATO," he said.
"But in regards to security issues, China also doesn't need to dance to the tune of the US and NATO."
Ding Chun, the director of the Centre for European Studies at Fudan University, said the recent tour by Wei signals that China still has many good friends around the globe and that any attempt to isolate China is doomed to fail.
"The US is rallying its allies around the world to cause trouble for China, from the Taiwan Straits to the South China Sea, and NATO is a key part of this strategy," he said. "Therefore, China expanding dialogue and cooperation with European countries is meant to showcase our pragmatic and peace-loving diplomatic vision."
If you have any problems with this article, please contact us at app@chinadaily.com.cn and we'll immediately get back to you.