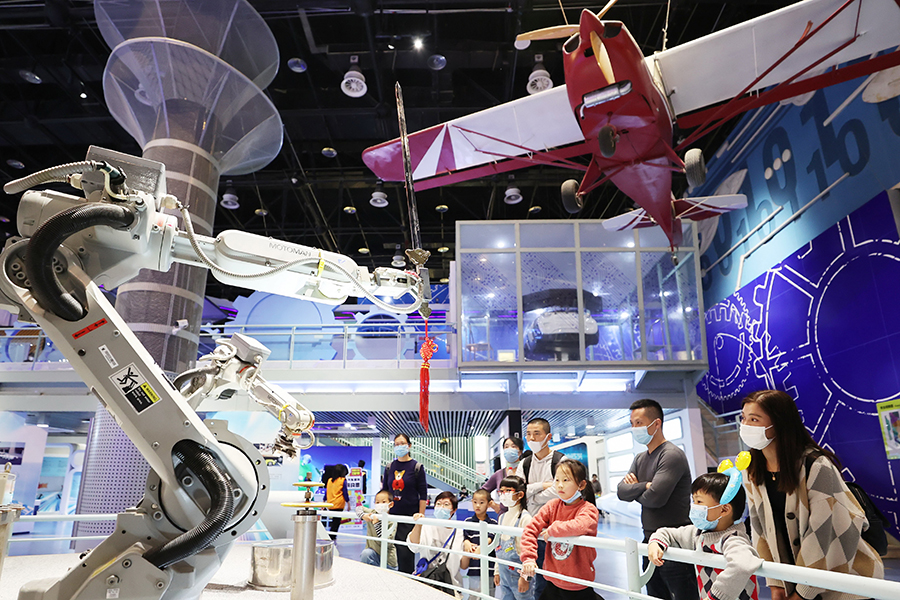 Digital economy will become a key ingredient of national strategy during the 14th Five-Year Plan period (2021-25), researchers and entrepreneurs in the technology sector said.
Through its newly released outline of the 14th Five-Year Plan, a document charting the country's development course for the next five years, Beijing is eyeing to have digital economy, largely synonymous with the enhancement of traditional industries through digital tools, account for around 10 percent of its newly added economic output by 2025.
Based on the latest blueprint, China will give digitalization full play, leveraging the troves of data and the wealth of application scenarios to enhance its merger with the real economy, enable the upgrade and transformation of traditional industries and foster new industries and new business models.
The fact that digital China is singled out as a stand-alone chapter in the latest government directive is a clear indication of the sector's increasing prominence in driving economic growth and empowering all walks of life, said Shao Yu, chief economist at Orient Securities.
"It symbolizes that China regards the transformation and upgrading of the digital economy as a key window of opportunity in the next 10 years, and that the digital economy will become the 'core component' fueling economic transformation," said Shao.
High-end chips, operating systems, key artificial intelligence algorithms and sensors are highlighted in the document as among key technological areas to be sharpened, while research and development of basic theories, basic algorithms and equipment materials should be advanced.
Shao said "new infrastructure", mostly involving the likes of 5G, data centers and basic software, will see enhanced investment through innovative vehicles such as public-private partnerships.
The document also recognized artificial intelligence, big data, blockchain, cloud computing and cybersecurity as emerging digital industries to be fostered, and called for the betterment of telecom equipment, core electronic components and key software.
Shao expects relevant policies to be rolled out soon with regard to specific industries.
The fact that blockchain is mentioned in such a high-profile document is heartening news to the likes of Onchain, a Shanghai-based company using the technology to empower both the private and the public sector, according to the company's chief executive officer Da Hongfei.
"For enterprise-level applications of blockchain, we call it 'digital economy' related business in our company," Da said. "While supply chain finance remains our area of focus, we will also aim to expand to areas like healthcare, digital government affairs, internet-connected vehicles, and agricultural technology."
Da said Onchain is working with Daimler Mobility on a project dubbed Welcome Home that uses blockchain technologies to ensure privacy protection and credible data-sharing in the driving scenario. The project is poised to carry great weight as the autonomous driving era draws nearer.
The company also joined hands with Tongren, Guizhou province, to issue a so-called digital identity certificate for citizens. People can enjoy a suite of services using the digital certificate such as remote medication.
Tencent Cloud, the cloud computing arm of internet giant Tencent Holdings Ltd, is offering an end-to-end enterprise solution called "WeMake", covering the full spectrum of the industrial process that has incubated more than 20 industrial solutions since its launch in 2019.
In partnership with Jiangsu province's city of Zhangjiagang, Tencent Cloud is estimated to have helped introduce 200 industrial applications for local enterprises and enabled 500 companies migrate to cloud-based platforms by the end of last year.
Liang Dingan, general manager of Tencent Cloud's smart manufacturing business, expects dedicated industrial apps to spring up with a better combination of technologies and industrial scenarios.
"Industrial internet development is essentially a revolution on efficiency, meaning that the improvement of connections and data efficiency will help enterprises deal with external uncertainties and enhance their agility," Liang said in a written reply to China Daily.
"With favorable national policies, the industrial internet is likely to welcome more players, form a comprehensive knowledge system and eventually form a symbiotic relationship (among all players)," Liang said.
If you have any problems with this article, please contact us at app@chinadaily.com.cn and we'll immediately get back to you.