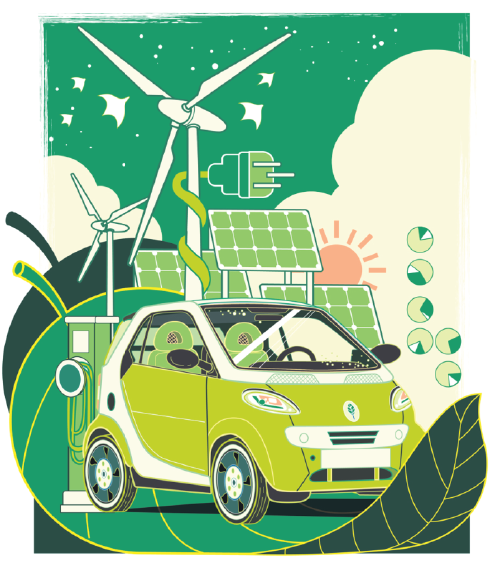 China can offer the world technological and policy solutions to help achieve the goal of global carbon neutrality
Last year, China energized international climate change efforts by pledging to peak carbon emissions before 2030 and reach carbon neutrality before 2060.
Increasing scientific evidence about the urgency of reducing greenhouse gas emissions is driving such global commitments; technological innovation will enable them to be fulfilled. Decades of research, learning by doing, entrepreneurship and economies of scale have produced rapid innovation, characterized by plummeting clean technology costs and steady improvement in performance.
These trends create new domestic and international economic opportunities for China, argues a new report titled China's Carbon Neutral Opportunity, jointly written by Chinese and US researchers, which concludes that upping the pace of clean energy transition should be a core economic strategy.
Accelerating efforts to peak carbon emissions as early as possible would spur innovation by Chinese clean technology firms, enhancing their international competitiveness and boosting exports. By strengthening its climate policy, the country will not only deliver progress toward blue sky goals and improved quality of life in cities, but also boost its energy security.
China's leading positions in several rising technologies including solar and wind power generation technology and advanced batteries point to the potential for these to become new pillars for its economy.
The country has installed more solar power, grown its solar manufacturing capacity, and exported more solar technology than any other country, giving it an advantage in the single most important global clean tech market segment. The International Energy Agency's World Energy Outlook found solar technology to be one of the lowest cost sources of electricity in history and its executive director Faith Birol predicts that solar "is on track to set new records for deployment every year after 2022".
China is also a global leader in battery storage technologies and electric vehicles. It is home to about half of all electric passenger vehicles and over 90 percent of electric buses and trucks. According to a report on electric cars published in The New York Times in January, "the business of making cars has reached a critical juncture-and it looks as if China is in the driver's seat… Chinese companies have come to dominate the market for batteries, motors and other essentials."
The leaders of the world's major economies have signaled an increasing commitment to a fast transition away from gas vehicles. In 2017, France set a 2040 target. In September, California committed to making all new vehicle sales EVs by 2035, only to be eclipsed weeks later by the United Kingdom and its ambition to do so by 2030.
Support for electrification is also strong among vehicle manufacturers. In February, the largest US automaker, General Motors, announced plans to produce only EVs by 2035.
EVs are rapidly gaining market share and outperformed conventional cars during the economic turbulence of 2020, both in China and internationally. Bloomberg New Energy Finance forecasts that globally EVs will account for 28 percent of new vehicle sales by 2030 and 58 percent by 2040.
In China's electricity sector, the average cost of electricity from a new solar farm has fallen 82 percent over the last decade and the cost of wind-generated electricity has fallen by 33 percent, making both less expensive than the average cost of electricity from new coal plants. These plunging costs mean a faster transition to zero-carbon power will lower overall electricity costs even after accounting for investments to ensure system reliability.
Meanwhile, the cost of batteries has fallen 89 percent over the past decade, and battery storage technology continues to improve with more innovation to be expected. Today's EVs save consumers money due to lower fuel and maintenance costs. But without government support, EVs still cost more to buy. One Chinese automaker has taken the innovative approach of offering buyers the option to lease their car's battery, instead of purchasing it outright to reduce the long-term costs.
The value of blue skies for quality of life needs no explanation. Clean air also boosts economic performance through lower healthcare costs and increased worker productivity. The International Monetary Fund analyzed the economic payoff, concluding China "would experience substantial economic gains from co-benefits (due to more ambitious climate action)-on the order of 0.7 percent of GDP immediately and 3.5 percent of GDP by 2050".
Growing domestic and international benefits aside, successfully managing climate change is a moral imperative. Bold action to preserve climate stability is an obligation people today owe our children and future generations. China is highly susceptible to climate change, facing the threat of desertification in the north, coastal flooding, and temperature and precipitation extremes nationwide. The costs of uncontrolled warming would be catastrophic for China and the world.
However, advancing the timetable for China's peak emissions ambition does present challenges. For example, ensuring high quality, reliable power in an energy system dominated by renewables requires rethinking grid management.
But these challenges can be overcome. Germany has proved clean energy can deliver high quality, reliable power. As Germany grew renewables from 12 to 42 percent of its electricity supply, the average outage experienced by consumers fell by almost half to just 12 minutes per year.
Clean tech innovation is changing the economics of climate policy. New technologies present a pathway to cleaner and more affordable energy. Increasingly, climate policy is a race to the top, with stronger actions motivated by the economic benefits and opportunities.
But despite the improving prospects for profitability, it would be a mistake to rely on the invisible hand of the market. Existing policy and market momentum in China, and elsewhere, would not drive the society-wide transition to cleaner technologies quickly enough. Limiting climate change to reasonable levels depends on rapid reductions in global emissions over the next decade. By strengthening its climate policies to set a course for an earlier carbon emissions peak, China can offer the world an invaluable example in confronting the common, existential threat of out-of-control global warming.
The author is research director at Energy Innovation, an energy and climate policy firm based in San Francisco.
If you have any problems with this article, please contact us at app@chinadaily.com.cn and we'll immediately get back to you.