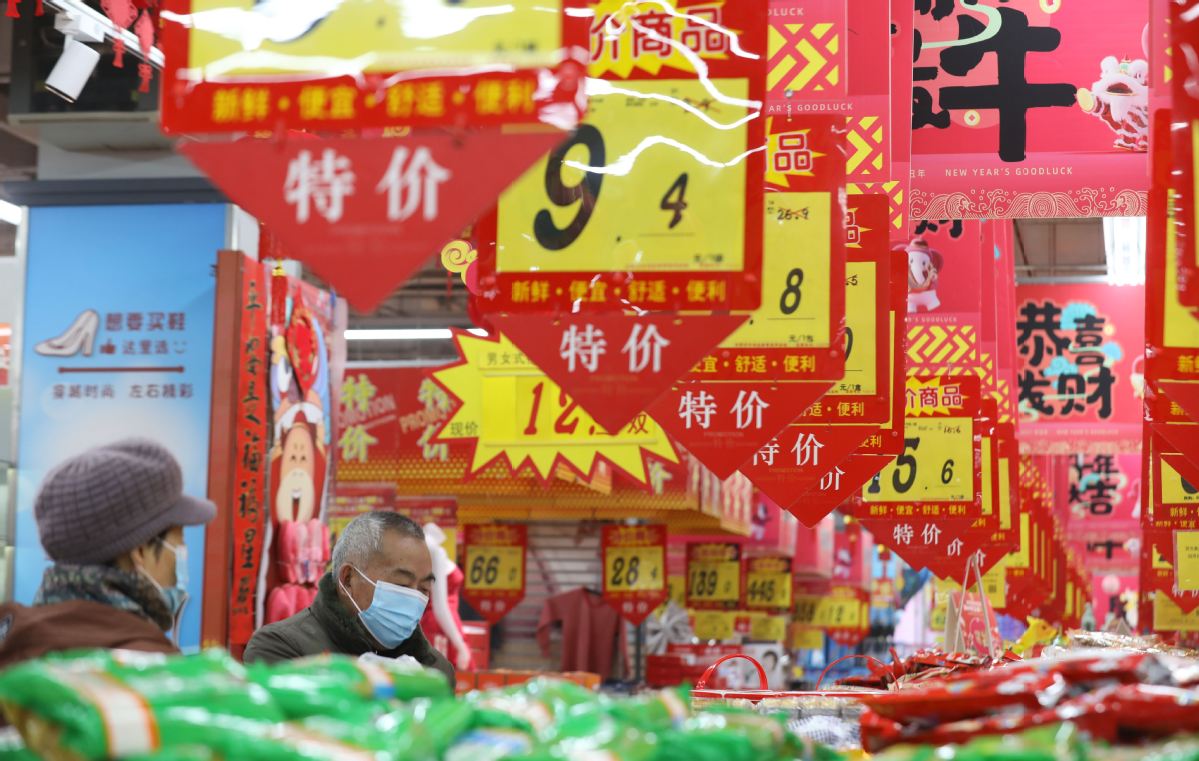 Retailers nationwide are stocking up on Lunar New Year necessities including local foodstuffs ahead of the country's biggest holiday and in anticipation of a shopping surge as more families opt to stay at home and cook rather than travel due to COVID-19 preventive measures.
Walmart China said staying at home is the catchphrase for this year's Chinese Lunar New Year, or the Spring Festival. Its top-end membership store, Sam's Club, with its 31 stores nationwide, has increased supplies of daily necessities.
Supplies such as eggs and vegetables at Sam's Club have increased 1.5 times versus amounts in the prior year. Its factories that produce ready-to-eat foods have also been operating in high gear. For example, the supply of frozen dumplings for Sam's stores tripled or quadrupled from the same period a year earlier.
"We have selected signature local products from all over the country to make sure our customers can try their hometown foods at their homes in cities where they work," said Qi Xin, store manager of a Walmart outlet in Beijing.
At Walmart stores for the upcoming festival, the amount of rice, flour, foods and oils is two or three times the average inventories.
Spring Festival, the peak season for food and beverage purchases, usually sees consumers who are less price-sensitive, more willing to purchase high-end products and gift packages, said Jason Yu, general manager of Kantar Worldpanel China.
Kantar's research found that high quality, healthy products with attractive packaging or prestigious brands are priorities for consumers. Yu said retailers during this holiday have been better prepared than last year.
The number of Z-generation consumers buying holiday merchandise at convenience stores has risen 31.8 percent, becoming the largest growth group and the main consumption driver, according to research by Bianlifeng Convenience Stores, a leading chain based in Beijing. Its research was carried out at more than 1,800 stores in 20 cities nationwide.
About 45.1 percent of Gen Z consumers surveyed said they would purchase holiday merchandise at convenience stores-second only to e-commerce platforms, which stood at 54.5 percent.
Beverages, dairy, biscuits and cakes - as well as snacks and confectionary - are the top five categories favored by younger consumers at convenience stores.
Better-prepared logistics will also allow people to send gifts and affections to friends and families in distant locations, Yu said, adding that this Spring Festival's e-commerce market share will set records.
Yan Lihong, director of procurement and distribution of Dmall-a leading omnichannel retail digital platform based in Beijing-said this year's holiday shopping is expected to mostly move online instead of brick-and-mortar stores as in previous years.
"Due to the impact of the pandemic, consumers are less willing to shop in stores, preferring instead online shopping and home-delivery services," Yan said.
Due to the sharp decline in the number of people returning to hometowns during the holiday season, supplies at supermarkets have been focusing on home cooking, she said.
Dmall has offered retail digital services to more than 120 retail chains in the country, covering more than 13,000 stores. The number of its members has exceeded 180 million, with monthly active users reaching nearly 19 million.
This year, Wumart-a leading retailer in China whose owner Zhang Wenzhong founded Dmall in 2015-has doubled its merchandise offerings on Dmall applications for shoppers during the holiday.
The digital retailer has added more domestic pears and apples following research through its big data platform during the festival.
Dmall's retailing cloud capacity has empowered many traditional offline supermarkets to link with delivery platforms via Meituan.com and Ele.me to reach more consumers.
Zhang Feng, president of Dmall, said the platform has collaborated with retailers nationwide to prepare in advance needed inventory and transportation capacity for sudden surges in demand.
If you have any problems with this article, please contact us at app@chinadaily.com.cn and we'll immediately get back to you.