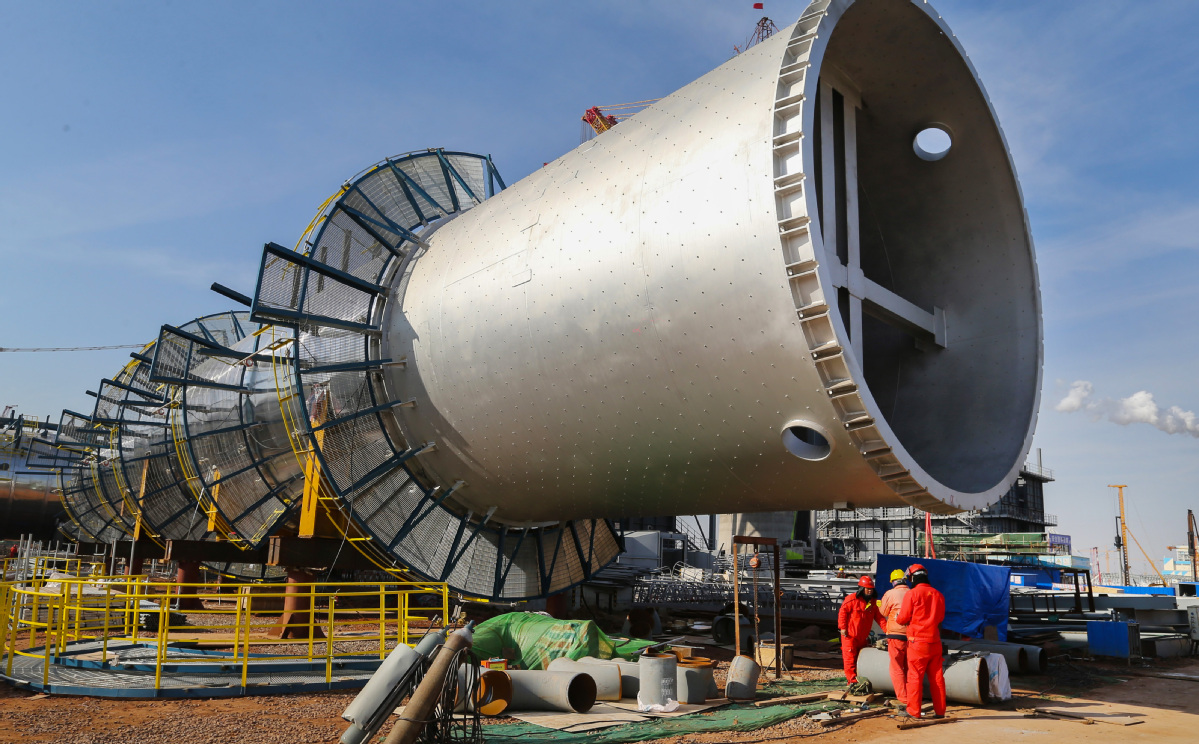 Shandong province leads the charge as utilization rates drop globally on COVID
China's fuel refining capacity continues to rise, with the average utilization rate of China's independent refineries in Shandong province standing at around 70.4 percent in 2020, up by about 6 percentage points from 64.2 percent in 2019, despite the sluggish global refinery demand due to the COVID-19 pandemic, according to S&P Global Platts, an energy industry news and data provider.
The rise in capacity is attributed to low crude oil prices, which led to refiners keeping their throughput high, and the strong economic activity rebound in China, thanks to effective domestic control of the pandemic.
The coastal province of Shandong has more than 70 percent of China's independent oil refineries, most of which are privately owned.
Their average runs hit a multi-month low of 43.8 percent in February last year and jumped to a record high 79 percent in June.
This is against the backdrop of refiners worldwide decreasing utilization rates after months of lackluster demand and an abundance of inventories.
Industry insiders said China, the world's second-largest fuel consumer, has led the world in oil demand recovery, with its economy displaying strong resilience.
"With the country's major State-owned refiners, including China Petroleum & Chemical Corp (better known as Sinopec), Asia's biggest refiner, giving some of their market share to independent oil refineries, the latter have seen their utilization rates remaining high last year after COVID-19 was better controlled domestically," said Li Li, research director at energy consultancy ICIS China.
"The independent oil refineries, known as teapots, have also consolidated and shut down outdated production facilities last year, which gave them a further edge."
Li further said the market share allocations for this year are expected to be more than sufficient, and exports of products like gasoline and diesel in the first half of next year are likely to see a year-on-year increase.
Overseas sales are expected to grow this year, she said, thanks to a possible demand recovery if COVID-19 vaccines are widely deployed.
Li said she expected more room for China to sell its oil products overseas this year, as some of the products, like gasoline and diesel, might see a relatively strong growth in exports with effective vaccine immunization in many countries.
China has said it will further develop a more market-oriented oil industry, allocating more decision-making powers to refiners and oil companies while allowing them to better manage their oil product exports.
The Ministry of Commerce recently dispatched the first batch of refined oil products for this year, a total of 29.5 million metric tons, up 5.4 percent year-on-year.
While most of the quotas are allocated to State-owned enterprises, teapots' share is expected to grow further.
The ministry also recently removed a breakdown of export quotas set for each specific oil product to enhance export planning flexibility, after awarding an oil product export license to Zhejiang Petroleum & Chemical, the first such license granted to a private refiner.
In November, the ministry added Zhejiang Petroleum& Chemical and China North Industries Group Corp Ltd to the list of fuel-exporting companies. The list was previously restricted to only five SOEs.
"With more large integrated refining and chemical enterprises in China seeking to export, it is expected more export quotas will be granted to them," said Pang Guanglian, deputy secretary-general of the China Petroleum and Chemical Industry Federation.
The domestic refined oil product market is already characterized by fierce competition in the end-user segment and it is necessary that refiners should look for exports, he said.
Bloomberg New Energy Finance estimated earlier that more cooperation between foreign companies and teapots could be created in China with favorable policies.
According to Han Bing, marketing director at PetroChina's sales division, the utilization rate for Chinese refineries will likely be lower this year amid growing refining capacity and limited oil product outlets overseas.
The country is expected to add 440,000 barrels per day, or 22 million tons per year, of new capacity this year, in addition to the 260,000 bpd that were expected to come online last year, S&P Global Platts data showed.
China's exports of gasoline, gasoil and aviation fuel will be steadier this year compared to last year, it said.
If you have any problems with this article, please contact us at app@chinadaily.com.cn and we'll immediately get back to you.