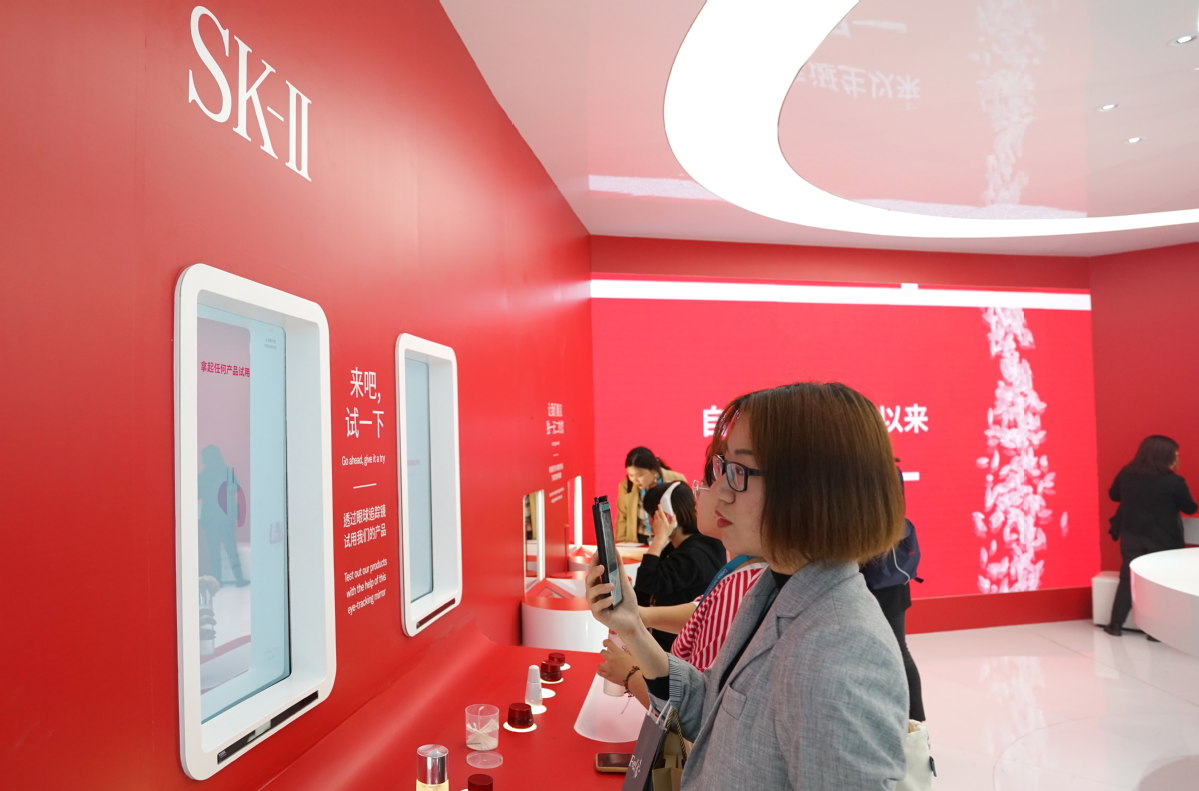 SK-II brand finds fresh purpose, digital market channels to satisfy consumers
Despite masks covering part of their faces for protection from the novel coronavirus, beauty-and health-conscious female consumers in China are not neglecting skin care and, in fact, preferring environmentally friendly products, which encourages cosmetics firms to innovate the sourcing of raw materials and use digital technologies like artificial intelligence in production.
This heightened sensitivity to the environment in the COVID-19 era among consumers has pushed Procter & Gamble to redefine the purpose of its SK-II skin care brand.
P&G has expanded the scope of "Change Destiny", its motto for SK-II, said Sandeep Seth, chief executive officer of SK-II Global.
"The last six to nine months have shown the world what can happen to the environment (in certain circumstances) and how big an impact it can have on everyone's life," he said. "People talk about the new normal because so much has changed."
Without disclosing relevant figures, Seth said 2019 was a good year for SK-II in China. "We exceeded our target."
Although sales slumped during the first half of this year due to COVID disruptions, the second half saw a recovery on the back of robust domestic consumption due to limited outbound travel that invariably spurs shopping abroad.
China's success in combating the epidemic helped push sales of cosmetics and other wellness products among domestic consumers, who would have otherwise bought them overseas during their travels. China's quick rebound also helped SK-II's 800"beauty consultants" to re-establish contact with their patrons, he said.
"We tried to re-emerge stronger by strengthening supply chain agility, e-commerce and user experiences online and offline."
All this helped P&G to build SK-II into a strong brand. E-commerce, in particular, took off during the pandemic peak period as it fulfilled consumer desire for contactless shopping.
Toward this end, SK-II developed the Magic Scan, a contactless and AI-enabled skin counseling diagnosis tool. It allows skin scanning without any contact, and can detect freckles and generate high-quality analysis for skin management.
The brand has also introduced Yumi, an animated figure that serves as a communication bridge connecting retailers and consumers. "Online domain experts said we need to leapfrog and bring the latest technologies to the market, so we introduced livestreaming sessions in our e-commerce channels," said Seth.
SK-II has been researching skin in the context of the pandemic. In particular, it focused on how, with the mask on or while staying at home, consumers can take better care of their skin.
Its consultants began offering online training for consumers to compensate for the lack of offline interactions and to ensure online shopping was not considered a poor substitute.
"During the COVID period, the importance of skin care has gone up even more," said Seth.
According to Kantar Worldpanel China's analysis, the rising popularity of environmentally friendly cosmetics and healthy products reflects consumers' desire for positive change inside out.
In a report, the market research firm said the prevention of novel coronavirus has had a major impact on the skin care sector. In the first six months, about 13 million female consumers have started to use skin-repair products.
Duty-free stores are considered an emerging driver of sectoral growth in China, Seth said.
"The landscape of domestic retailers is changing with duty-free stores, especially the Hainan duty-free island. It's helping the travel retail industry to shape itself for the next six to 12 months," he said.
Consumers are also keen to buy products that underscore sustainable practices in sourcing and manufacturing. According to Who Cares Who Does report from Kantar Worldpanel, the ratio of environment supporters in the total number of consumers has increased to 53 percent, up 13 percentage points year-on-year.
So, SK-II is now using bamboo material-based packaging. Its new program called NOW invites shoppers to participate in, and donate to, a good cause.
"A lot of our shoppers are creating, getting more aware and interested in what we can do to create an environment that is sustainable.
"That's why we are expanding our brand's purpose of 'Change Destiny' from skin and life to include the planet," said Seth.
If you have any problems with this article, please contact us at app@chinadaily.com.cn and we'll immediately get back to you.