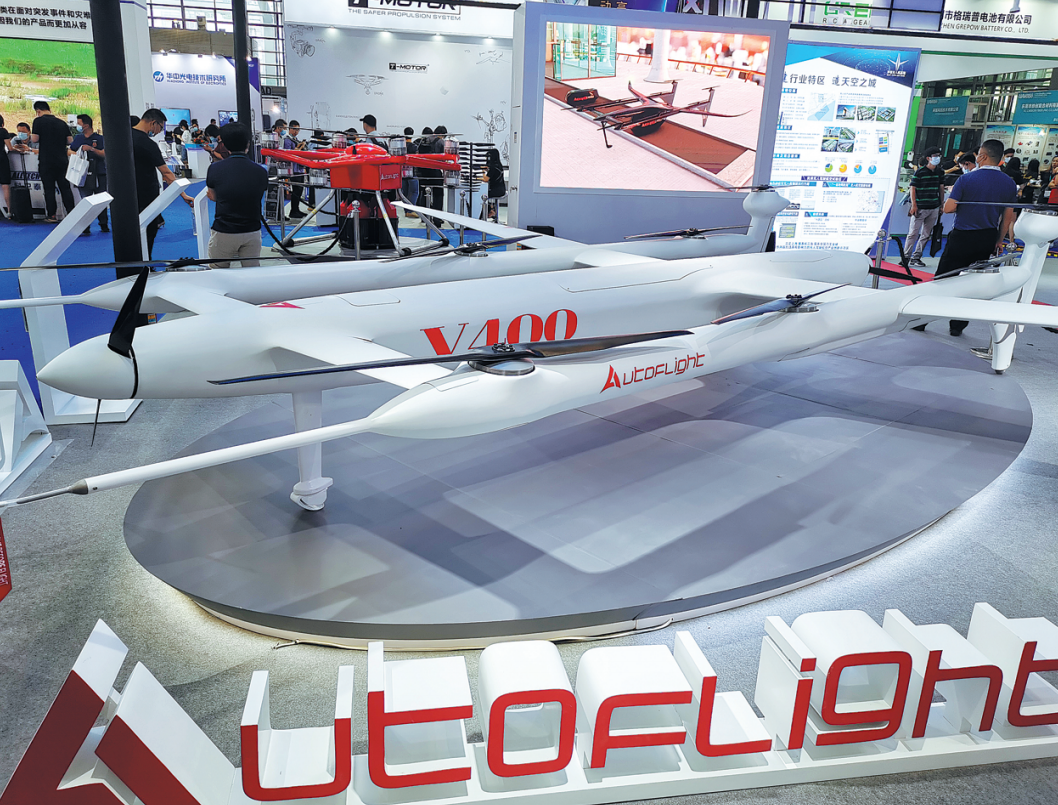 Flying robots can now carry heavier cargoes longer distances, thanks to use of high-tech
It is not an astonishing concept anymore to use drones for package deliveries. But a new army of much larger unmanned carriers, some even the size of small aircraft, have recently been taking to the skies.
New large drone applications are surging in the Chinese market as costs fall substantially and capacity booms, industry experts said.
After several e-commerce retailers and delivery firms have already applied small unmanned aerial vehicles, a large cargo drone took off in northwestern of China in August, marking the first application of large drones in China's logistics industry.
The plane-sized carrier FH-98, developed by Chinese logistics giant SF Express, is designed to carry payloads of up to 1.5 metric tons and a maximum volume of 15 cubic meters, one of the largest of its kind in China.
It is capable of flying as far as 1,200 kilometers on a single charge at a speed of 180 km per hour-sufficient for cross-provincial missions. The trial flight flew from the Ningxia Hui autonomous region to the Inner Mongolia autonomous region in about an hour-a route that overland transport faces many hurdles along due to the complicated landscape of mountains, deserts and wetlands.
SF Express said the large drone retains traditional cargo aircraft advantages of speed and expediency and also significantly reduces operating costs-even to the equivalent of truck transport.
The Shenzhen-based delivery company is panning out a three-part air transport network, including piloted planes for mainlines, sizable crewless aircraft for support routes and small drones for short-distance deliveries to individual recipients.
Yang Daqing, a researcher at the China Society of Logistics, said that power endurance and dynamic control were constraints on the sector's growth, but recent technological advancements in batteries and fifth-generation communications have ensured the safe and long-distance operation of unpiloted aircraft.
Yang said the shortage of cargo plane capacity and pilots is also a contributor to growing demand for large-sized drones.
Eyeing the market potential of large drones, UAV developers and manufacturers are speeding up the release of new products.
Autoflight Aviation Technology Co Ltd unveiled its newest large-sized cargo drone V400 "Albatross" at the 4th Drone World Congress in Shenzhen, Guangdong province, in September, and the model is expected to carry out its maiden flight by the end of this year.
The V400 features a maximum takeoff weight of 400 kilograms and a payload of 100 kg. Its flight range varies from 300 km to 1,000 km with a pure or hybrid-electric power system. The company also expects another new drone with a maximum takeoff weight of 1,000 kilograms to perform its maiden flight this year.
Jiang Jun, senior strategic vice-president of Autoflight, said many clients approached the firm for cooperation opportunities after the debut of the V400.
"They asked us to provide solutions to deliver medicine to mountainous areas, metal products in mining zones and heavy equipment transportation for communication infrastructure construction firms," Jiang said. They are preparing a trial run this month to deliver seafood from the Zhoushan Islands near Shanghai, along with a logistics firm.
Jiang said large drones are suitable for warehouse-to-warehouse transportation and cost efficiency could be improved to less than trucks once they're put into large-scale operation, especially to and from islands and mountainous regions.
He believes the industry has entered a fast track of development as related air traffic control is relaxing this year and market acceptance of large drones is rising.
Yang Jincai, director of the Shenzhen Unmanned Aerial Vehicle Industry Association, said the number of large drones displayed at the Shenzhen congress increased by about 25 percent compared to last year's event.
One of the buyers' major concerns is how to integrate automatic airport systems for large drones on roofs, at factories and in parks, Yang said, adding that costs are increasingly less of an issue as they have been remarkably lowered in recent years.
He anticipated the rapid growth of large drone transportation applications between industrial parks, residential areas and other areas with the advancement of technologies, such as 5G and artificial intelligence. A wide range of sectors such as petroleum, electricity and emergency rescue services demonstrated procurement interest at the Shenzhen congress, as the overall number of visitors surged by about 20 percent, Yang added.