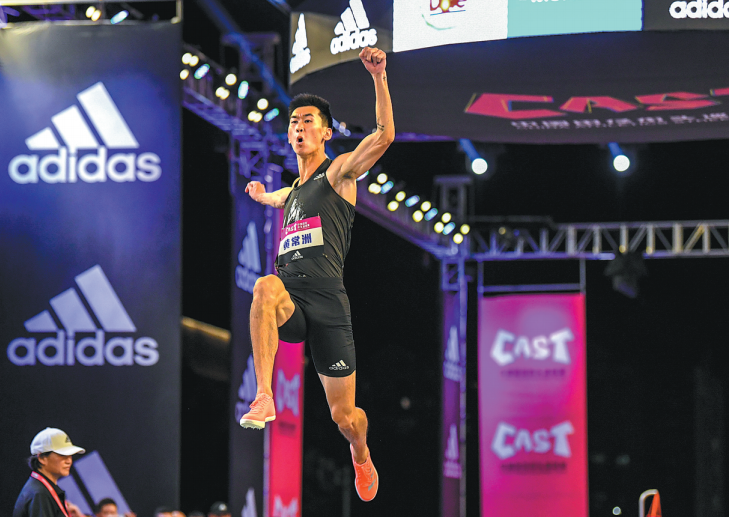 Even though the COVID-19 epidemic is under control in China, major athletics meets have still yet to return. The China Athletics Street Tour, however, is filling the void by bringing top-class action directly to the public.
The second leg of this year's circuit was staged in front of a Wanda Shopping Plaza in Nanjing, Jiangsu province, on Friday when a total of 19 triple jumpers and 15 long jumpers displayed their skills on a specially designed stage. Big screens and fashion elements ensured that the action attracted the attention of not only athletics fans but also curious shoppers and passers-by.
Huang Changzhou, who won gold at the 2017 Asian Athletics Championships, triumphed in the men's long jump with a leap of 8.28 meters, with Qin Huiling (6.37m) taking the women's title. In the triple jump, Fang Yaoqing (16.88m) claimed the men's title, with Zeng Rui (14.10m) crowned women's champ.
"I'm happy with today's result," said Huang. "The COVID-19 pandemic has had a big effect on our athletes. But I just tell myself to not think too much.
"I kept pushing myself to my limits. I've also been through medical quarantine, and even during that time I kept training.
"I was ready for today's event, which is the first official competition that I've participated in this year. I'm thrilled and I tried to give my best performance.
"Many people thought 2017 was a highlight of my career, but I was not totally satisfied with myself. But now I'm sure I'm going in the right direction."
Undoubtedly the biggest pandemic-enforced disruption to the athletics calendar has been the postponement of the Tokyo Olympics until summer 2021.
For Huang and his fellow Chinese athletes, the postponement has brought challenges but also more time to prepare.
"The pandemic has affected every Olympian in the world. I'm lucky to be in China where the epidemic is under control," Huang added. "But for any athlete, we don't have too many four-year cycles to compete at Olympics. So I will keep training and preparing with my coaches for the Olympics next year."
Wang Jianan, the 2018 Asian Games men's long jump champion, admitted that the pandemic has taken a toll on his form.
"This was not my best performance, and I need to focus more on the details," said Wang after finishing third in Nanjing. "My training has suffered because of the pandemic. I need to work harder on my strength, and I hope I can have better performances at the Olympics.
"The Street Tour is a very new experience for me. Due to the pandemic, there's only a very limited number of meets for us to compete in, so when I heard about this event, I felt that I must come."
The first leg of the Street Tour took place in Beijing last month and featured the high jump. All legs are being staged close to large shopping malls in a strategic effort to showcase athletics to a wider audience.
"I heard about the Street Tour before, and I think it's a great promotion of athletics to the public," said one spectator, Ge Mingwei, in Nanjing.
"I'm a marathon runner but I also love all other track and field sports, so I'm always keen to take advantage of such an opportunity to catch the action live."
With the Beijing and Nanjing legs proving a success, plans are afoot to expand the circuit.
"Our purpose has always been to expose more people to track and field, and this is also what World Athletics and the Chinese Athletics Association want," said Sun Bo, the general manager of event organizer Olysports.
"Before, people have always had to travel to a sports stadium or sit in front of TV to enjoy an athletics competition. So we always choose city landmarks to stage the event, so that more people can enjoy it.
"Each year, we stage four to five events across China, and we hope to expand that number to eight and to include more athletes of more sports.
"Now it's still challenging for us. As the pandemic is still not over, we have to ensure the safety of everyone involved and the quality of the event. We also want to provide a platform for our athletes to prepare for the Tokyo Olympics."