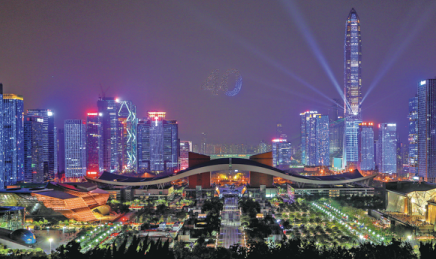 That Shenzhen has been at the forefront of reform and opening-up is evident from the fact that it has transformed from a small fishing town to not only an internationally important city but also an innovation hub with the country's highest per capita GDP among the cities in only four decades.
"The miracle of Shenzhen" truly demonstrates the effectiveness of China's reform and opening-up.
Over the past four decades, Shenzhen has achieved fast and continuous economic growth. Shenzhen's average annual GDP growth is the highest among all Chinese cities. In 1979, Shenzhen's GDP was less than 0.2 percent that of Hong Kong, but today it exceeds Hong Kong's GDP. And its per capita GDP increased from 606 yuan ($88) in 1979 to 206,700 yuan ($29,912) in 2019-equivalent to many developed countries'.
Shenzhen's sustainable development capacity, too, has improved over the past years. Last year Shenzhen's patent ownership was more than 90 for every 10,000 residents, which is 10 times the average nationwide. In 1979, there was almost no technology industry in Shenzhen, while in 2017 the production value of Shenzhen's high-tech industry was more than 2 trillion yuan. And yet the city's average energy and water consumption per 10,000 yuan of GDP in 2019 is only one-third and one-tenth compared with the national average.
Shenzhen has always made significant breakthroughs in reform and opening-up. The Shekou Industrial Zone is the first pilot zone of reform and opening-up. Shenzhen is also the first Chinese city to break the assigned employment system and introduce free job selection, the first to initiate land-use rights auction, the first to explore the modern enterprise system, and the first to establish a stock market. As for the Shenzhen Special Economic Zone, it has made two significant contributions to not only China but also the world-initiating the socialist market economic system, and developing a courageous innovation spirit.
Shenzhen has gradually changed from a global original-equipment manufacturing (OEM) base to an international high-end manufacturing and innovation center. Till the early 1990s, Shenzhen's economic development as a labor-intensive, high-energy consuming and highly polluting OEM base highly depended on Hong Kong.
However, Shenzhen realized the necessity to transform its economic structure based on its own advantages in order to become a global high-tech and financial center. So it began to restrict and shift the traditional processing industries to other cities and encourage high added value industries to set up shop in the city. It also took measures to boost the development of electronics and information and communications technology industry clusters, and began cultivating potential global high-tech leaders such as Huawei, Tencent and DJI, and top domestic financial institutions such as Ping An Insurance and China Merchants Bank. And to Shenzhen's credit, the majority of the more than 300 A-share listed companies in the city are privately owned hi-tech companies.
Thanks to its market advantage and strong industrial capacity, Shenzhen gradually built a good development environment for high-tech and financial industries, which played key roles in each other's promotion and success. Today, Shenzhen has the highest number of high-tech industries and the most vibrant financial industry on the Chinese mainland.
In Shenzhen, enterprises run more than 90 percent of the research and development institutions, employ more than 90 percent of the research scholars, fund more than 90 percent of the research, and hold more than 90 percent patents.
Large-scale technology marketization, which promotes innovation in high-tech and improves the international business environment, has made Shenzhen the best city on the mainland in terms of achieving scientific and technological breakthroughs, and attracting talents for the science and technology sector from across the country, even the world.
Shenzhen has transformed from a "world factory" to a high-tech innovation center thanks to its nonstop reform and innovation. All these achievements notwithstanding, Shenzhen should continue promoting reform and opening-up to even higher levels, setting an example for other Chinese cities to follow.
In the following decades, Shenzhen should further pursue high-quality development in urban management, legal construction, technology innovation, soft power, financial strength, living environment, social security and social welfare, as well as take measures to improve socialist market economy.
Explorations and breakthroughs have made Shenzhen a vigorous, energetic and innovative international metropolis. Shenzhen now also shoulders the responsibility of building the Guangdong-Hong Kong-Macao Greater Bay Area and the Pilot Zone for Socialism with Chinese Characteristics, sharpen its competitive edge, and boost its innovative capacity and influence.
The author is director of the Institute of Studies for the Guangdong-Hong Kong-Macao Greater Bay Area, Guangdong University of Foreign Studies. The views don't necessarily represent those of China Daily.