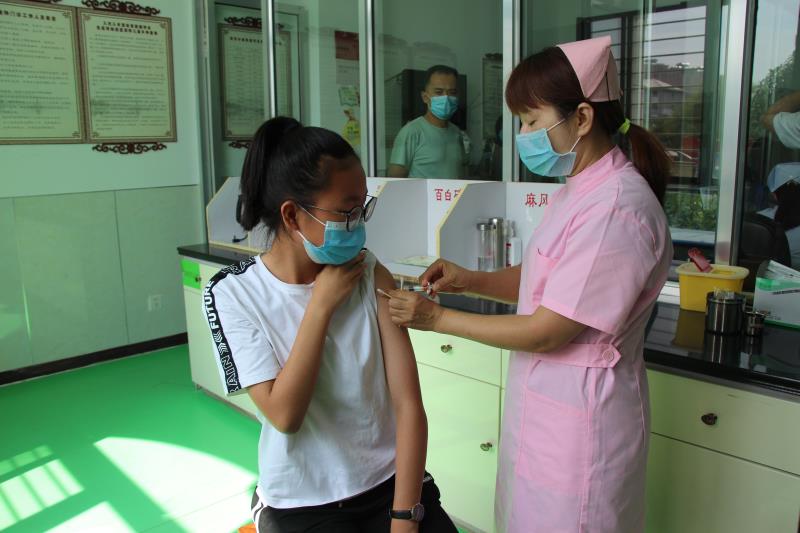 Juungar Banner in Ordos, Inner Mongolia autonomous region, became the first area in China to offer free vaccinations against human papilloma virus for female students ages 13 to 18, expecting to help prevent cervical cancer in about 11,000 young women.
The new policy aims to promote health in women, said Wang Genhou, director of Juungar Banner Health Commission, adding that the region has seen high infection rates of HPV since it began cervical cancer inspections about 10 years ago.
Cervical cancer, which can be caused by HPV, is one of the most common tumor diseases for women in China and is highly fatal.
More than 100,000 women in China contracted cervical cancer in 2018, with 47,739 deaths, according to the latest data from the International Agency for Research on Cancer.
Incidents and mortality related to cervical cancer have grown over the last two decades in the country as Chinese youth begin to have sexual intercourse at a younger age than in previous generations, which increases exposure to potential HPV infection, said Qiao Youlin, professor of epidemiology at the Cancer Hospital, Chinese Academy of Medical Sciences and Peking Union Medical College's School of Population Medicine and Public Health in Beijing.
Li Caixia, 41, mother of a 15-year-old middle school student in Juungar Banner, said she is "happy to hear the news", and that all girls in her daughter's class have applied to get vaccinations.
Yang Meiling, 39, a local teacher, said she immediately applied to get her daughter, 15, a vaccination.
She said she has two female relatives infected with HPV, and one was confirmed to have contracted cervical cancer.
"The local government has been providing free cervical and breast cancer examinations for years, and many people have shown abnormalities. Having the HPV vaccines to protect children, we parents feel much more reassured," she said.
World Health Organization Director-General Tedros Adhanom Ghebreyesus called for action in 2018 to eliminate cervical cancer and recommended children from 9 to 14 to get HPV vaccinations. Concerning historic and cultural backgrounds, most Asian countries and regions, including China, mainly target 13 to 15-year-old girls in middle school for vaccination, Qiao added.
"It's an effective way to protect the next generation from the HPV-caused diseases by getting the vaccination as early as possible," he said.
The earliest HPV vaccine was put into market in 2006. Since then, 104 countries and regions have provided the shot among certain groups of young women for free, previous reports said.
Qiao said the latest move by Juungar Banner is of great value and shows the government's determination to secure and improve people's health, adding that more cities may be inspired to follow.
In 2018, the WHO set the goal for all member states to provide HPV vaccinations to 90 percent of girls under 15 by 2030. But the data may be less than 1 percent among Chinese girls from 9 to 14, Zhao Fanghui, director of epidemiology department of Cancer Hospital of Chinese Academy of Medical Sciences, told news outlet Caixin in a report in 2019.
Experts said a lack of awareness, high prices and an insufficient supply of the vaccines are some of the challenges.
Yu Luming, a national political adviser, put forward the proposal in May to offer all girls ages 9 to 14 free HPV vaccinations.
If you have any problems with this article, please contact us at app@chinadaily.com.cn and we'll immediately get back to you.