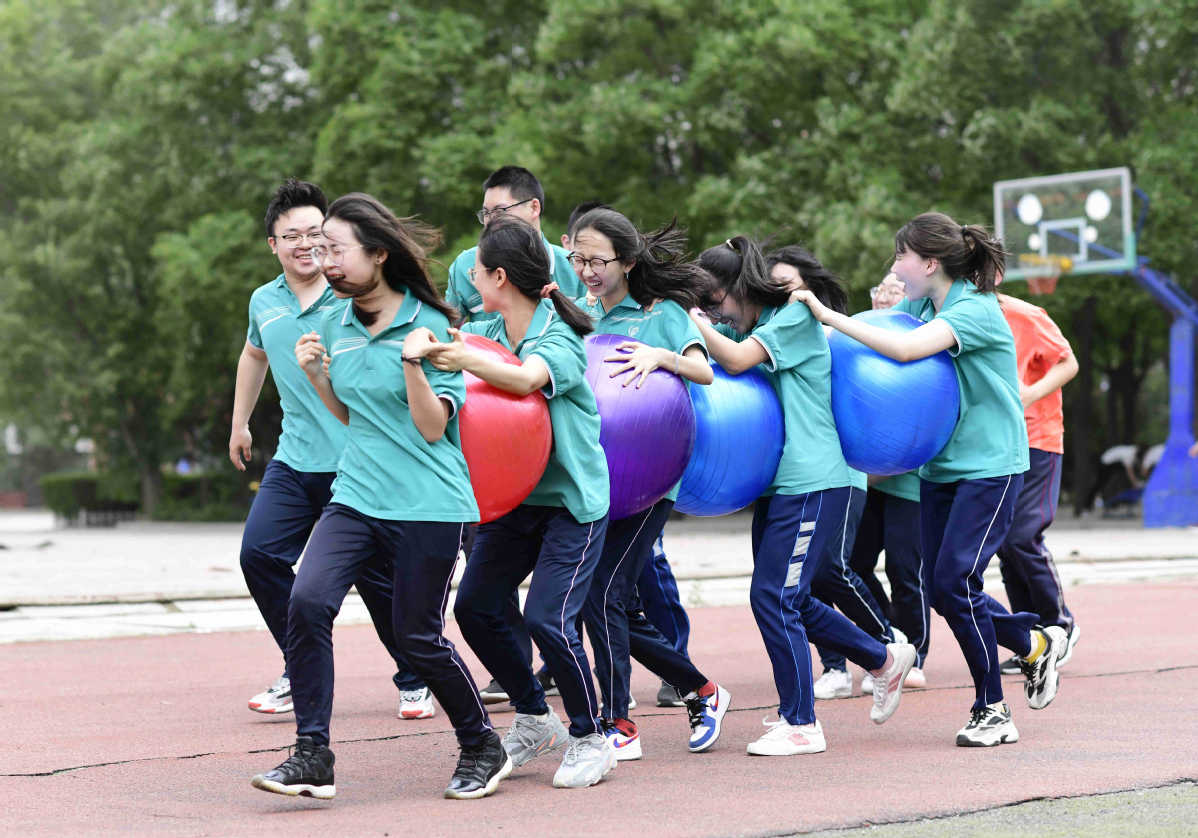 Pandemic places additional pressure on candidates
With the countdown to the gaokao, the national college entrance exam, in full swing, Feng Haowan has a clear schedule.
In coming days, she will work on preparing to answer possible questions she may face. Ten days before the test, she will simulate the exam conditions using tests from previous years.
Feng said she and her classmates are also attempting to strike a balance between finding the best time to go to bed and making the maximum use of their study time.
The 18-year-old, who attends Shanghai Foreign Language School Affiliated to Shanghai International Studies University, is among some 10.7 million students nationwide who will take the exam on July 7 and 8.
The gaokao caps 12 years of study, including the final year of high school. This year, students face additional pressure, as the exam will be taken during the coronavirus pandemic.
"I am making time to attempt some challenging test questions, while also doing exercises with a medium level of difficulty to keep up to speed with answering questions," said Feng, who wants to major in finance at a comprehensive university.
The pandemic meant that the gaokao, which is usually taken in June and has a considerable bearing on students' academic and career development, had to be postponed for a month. In preparing for it, numerous changes, uncertainty and surprises have been experienced.
Shu Dingfang, principal of Shanghai Foreign Language School Affiliated to Shanghai International Studies University, said: "If there's one good thing to take from the pandemic, it is that it has offered young people an opportunity to look at the world and humans' role in nature from another perspective. This may reshape their values before they embark on adulthood, where collaboration, empathy, mutual understanding and support will always be key attributes.
"The unexpected situation (regarding the outbreak) has also reminded the students that anybody may encounter accidents, adverse conditions and disasters even more devastating than the pandemic, but this is never the end of the world. Instead, such situations remind us to better treasure life, family and the planet."
The viral outbreak, which struck China in late January, left students feeling uncertain.
Feng said: "When the outbreak first emerged, I checked social media and news apps many times each day to update myself about the number of people infected by the coronavirus. Myself and my classmates were extremely anxious."
She added that it took her about two weeks to overcome her fears and gradually return to a self-study schedule.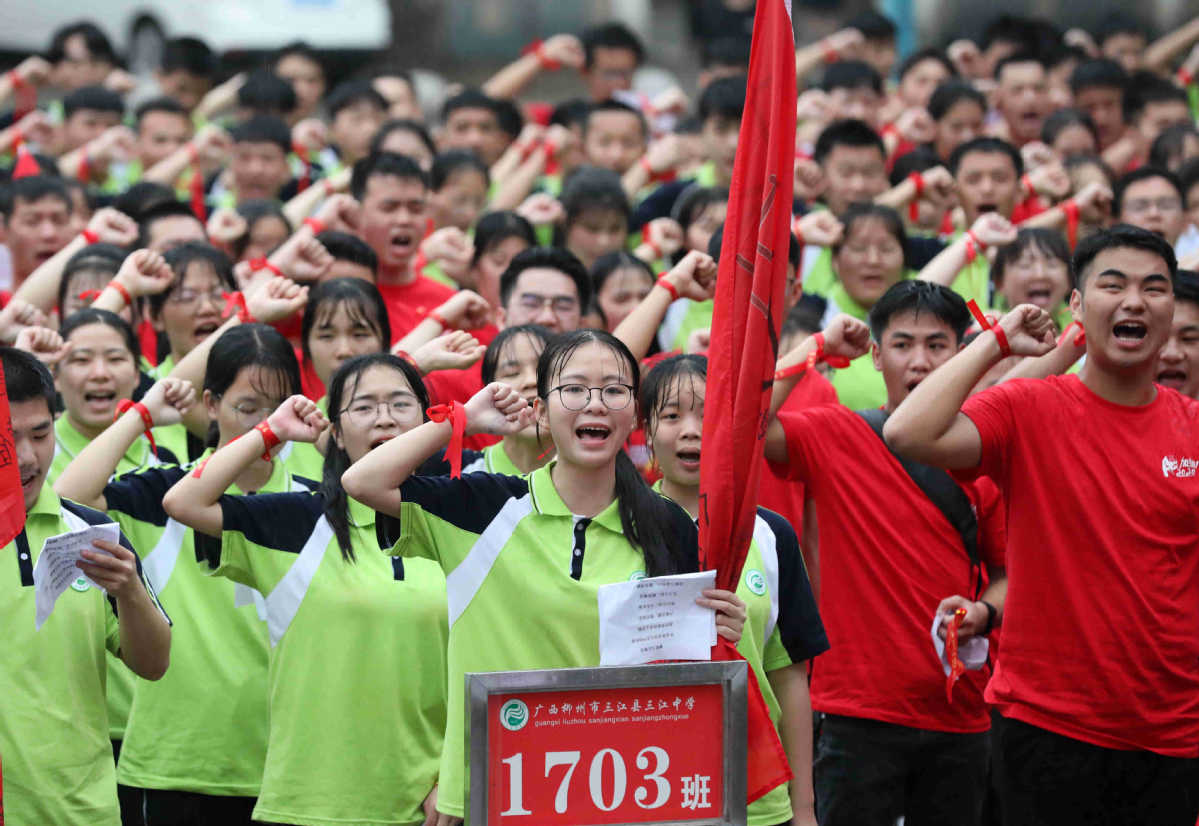 'Out of control'
Feng has set herself a strict daily timetable from 6:30 am, when she gets up, to 10:30 pm, when it's time for bed. She adheres to this schedule, apart from the days when she has an excessive amount of homework.
She said that to avoid being disturbed, she puts her phone to one side when studying and has also downloaded an app to limit the amount of leisure time she spends on her smart phone to just 30 minutes after lunch and dinner.
"When I was at home on my own during the lockdown, I felt as if everything was out of control. I feared that if the resumption of classes was delayed but the gaokao was not, the amount of study time would be squeezed," Feng said.
She added that her mother had offered to stop going to work to be with her at home-a suggestion that Feng declined to accept.
"I was also afraid that if I failed to make good use of my learning time, I could be left behind after months of self-study at home," she said.
In February, it was announced that the start of the spring semester would be postponed.
More than 10 million final-year senior high school students nationwide shifted to studying online and through television programs. This meant that in some remote mountainous areas students had to walk long distances to reach locations with a good internet connection.
To mark the start of online learning, He Qinheng, who lives in Deyang, Sichuan province, and attends Deyang No 2 Middle School, raised the national flag at home at 8 am, which he still does each day.
"I also wore school uniform every day to create an atmosphere of learning, as we were all at home on our own without the company of classmates," he said.
Before going to bed at 10:30 pm, he exercises for an hour, which includes 60 pushups, 100 situps, 30 deep squats and rope-skipping for 15 minutes.
"Good health is the basis for intensive study and helps relieve stress and ensure a good night's sleep. The coronavirus has further reminded us of the importance of health," said He, who wants to enroll at a medical school in a first-tier city.
Feng said students were reassured at the end of March, when it was announced that the gaokao would be postponed for four weeks. "It somehow compensated us for the time we had wasted on feeling anxious during the previous months," she said.
In April, students taking the gaokao were the first to return to school in most areas of the country when classes resumed based on local developments in curbing the spread of the virus. On April 27, final-year students in Beijing and Shanghai returned to school after the prolonged winter holiday.
Feng said, "We finally felt that we had stopped fumbling in the dark and had a new sense of security and togetherness, with a common, clear goal and study schedule."
Yao Jun, head teacher for final-year students at Shanghai Foreign Language School Affiliated to Shanghai International Studies University, said that even though the gaokao is drawing closer, the students have been livelier this month than when they initially returned to school.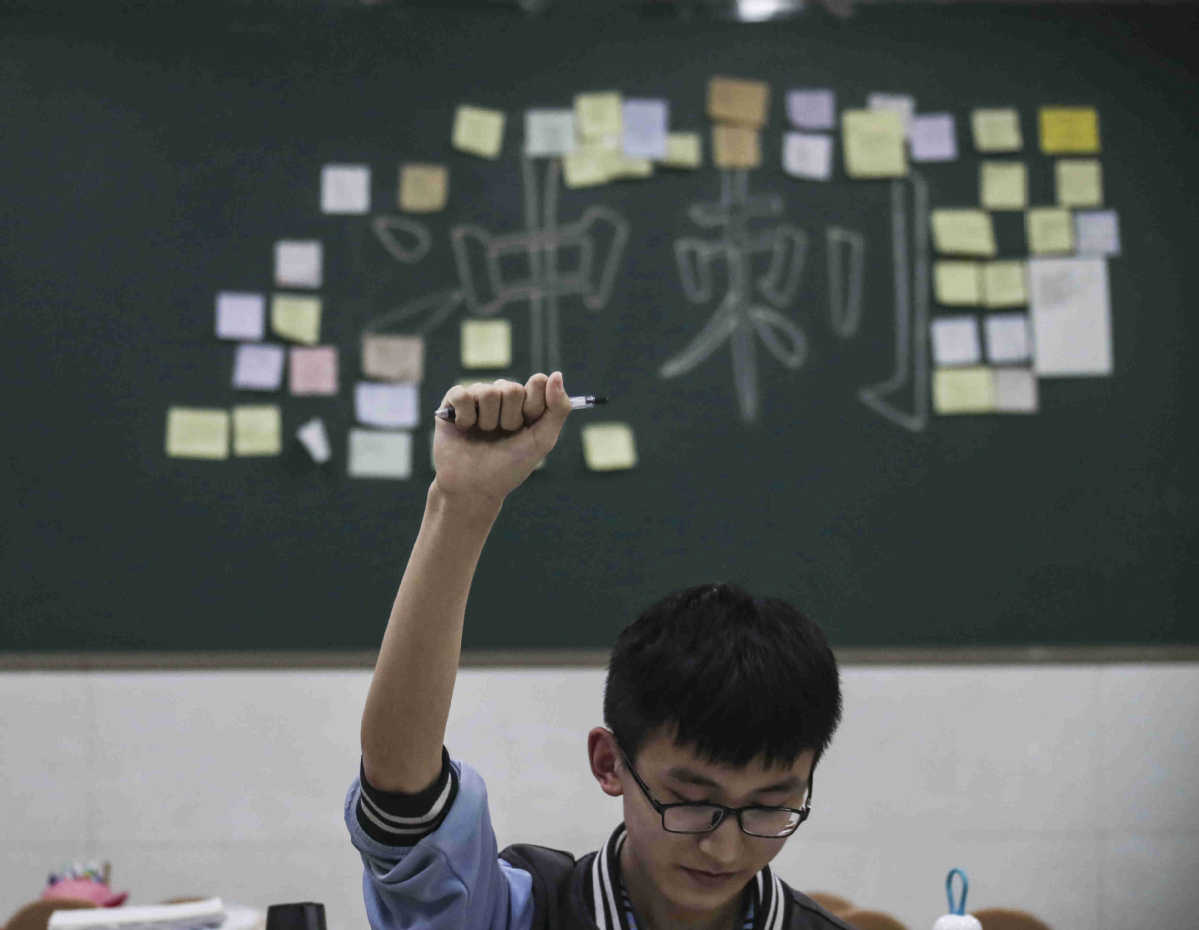 Wary parents
In addition to preparing to answer the gaokao questions, Feng said it is also vital to keep calm before the exam.
"My parents have become very cautious when they talk to me, to avoid any unnecessary disputes that could affect my mood," she said.
Her parents are among the numerous families and teachers caring for student emotions, as the gaokao candidates have trodden an uneasy path in recent months in coping with home isolation and tension due to the virus.
Since mid-February, when the resumption of school was postponed and studying at home began, teachers have been tasked with observing the exam pressure students face, along with any related mental problems.
Yao said, "By subtly observing behavior, such as the same question being asked repeatedly or one being asked that has just been answered by the teacher, we can spot signs that a student is experiencing emotional instability or is excessively nervous."
He said answering questions and giving students positive feedback plays an important role in relieving their anxiety.
Yao added that most teachers welcome students' questions through instant messaging apps-even late at night-a practice that has become more common this year due to the pandemic.
Feng, summing up her final year at high school, said the teachers have functioned as "pacemakers "for the students.
When there was a stressful atmosphere at the start of the academic year, "the teachers reminded us to slow down and keep a reasonable pace. When we became too relaxed, they inspired us to help boost our morale and make us fight to the end," she said.