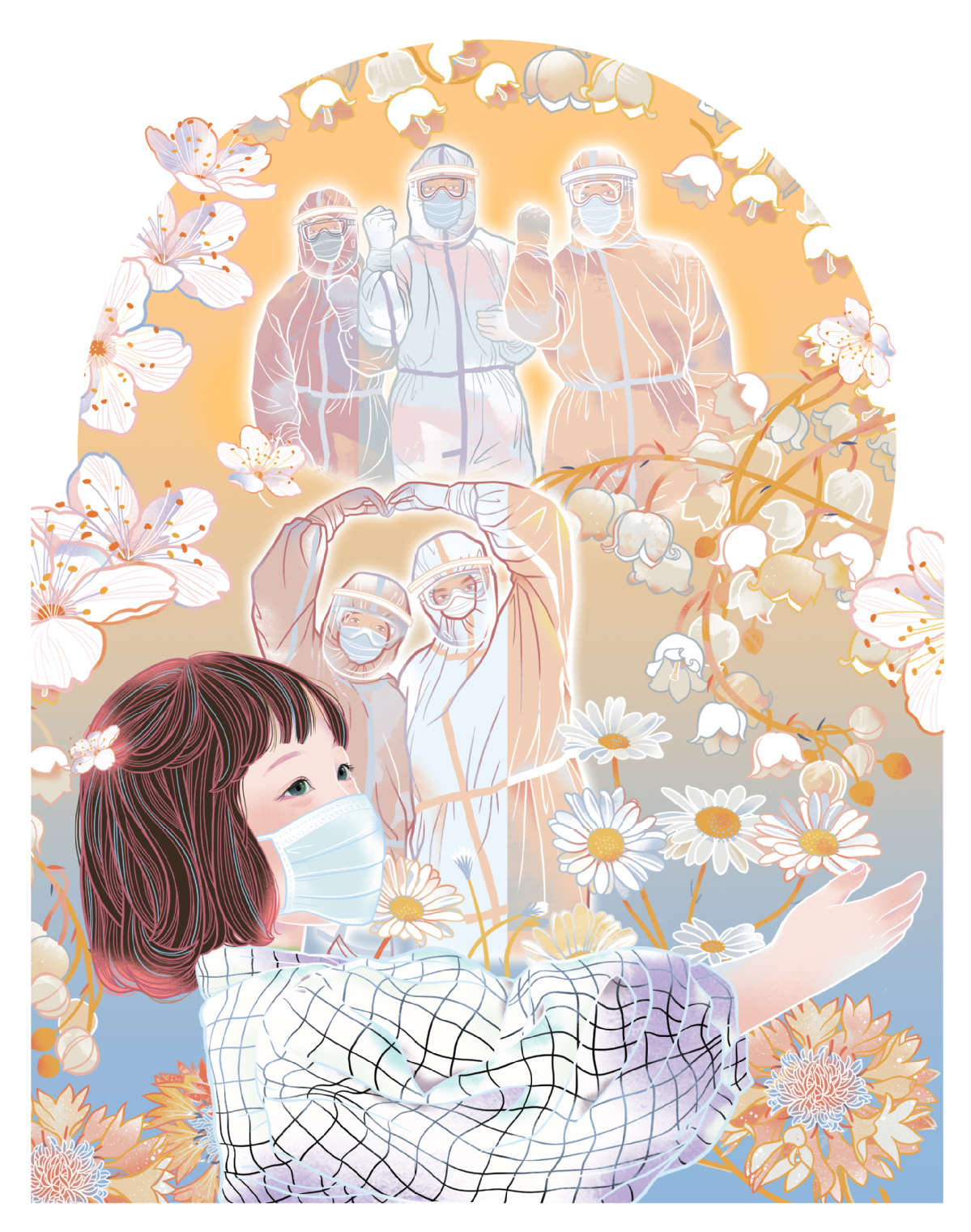 Editor's Note: A series of meetings on human rights protection amid the novel coronavirus pandemic were held through videoconferencing in China recently. Many experts from home and abroad enriched these meetings with their knowledge and experience. Following are excerpts from the contributions of some of them:
All countries should give priority to saving lives
China's measures to contain the novel coronavirus outbreak have prompted the international community to think afresh about the meaning of human rights. Due to their diverse histories, cultures and traditions, people of different countries may have different understandings of human rights. Yet the West, which has become used to dominating the global narrative on major issues, has always been skeptical about, even critical of, the human rights situation in non-Western countries, especially those in Asia.
To protect human lives from a pandemic, many countries have imposed stringent quarantine measures, with quite a few declaring a state of emergency, issuing stay-at-home orders, restricting the movement of people and vehicles, and banning religious gatherings and demonstrations.
When individuals' freedom disturbs the sociopolitical order, leading to heavy loss of lives-for example, during an epidemic outbreak-even the Western world demands that people give up some of their freedoms, and imposes unprecedented, draconian restrictive measures on individuals.
Some Western experts say that in the post-pandemic world, the West will need to reevaluate the importance of cultural pluralism and collectivism including the social security system, and strike a balance between national security and individuals' fundamental rights.
When people face a life-threatening virus, shouldn't the top priority of a government be to protect their lives, by balancing individual freedom with restrictive measures and medical services?
Sociopolitical order is established to guarantee liberty, and liberty is hard to achieve without a reasonable social order. Western and non-Western countries should try to reach a consensus on how best to protect lives, and make human rights a shared value for humankind. And the international community should devote itself to building a community with a shared future for mankind by promoting dialogue and diversity.
Han Dayuan, director of the Center for Human Rights Studies at Renmin University of China
Pursuing liberty at cost of society's safety immoral
In the fight against the coronavirus outbreak, the right to life and health should be paramount. Although many people believe life and health can be sacrificed for freedom, an individual's pursuit of liberty at the cost of the health and safety of the entire society is socially and morally unacceptable.
So, even if there is a conflict between individualism and collectivity, the right to life and health should be accorded the highest priority, in order to better protect human rights. To enjoy human rights, individuals are obliged to fulfill certain social responsibilities. As the cost of protecting human rights during an emergency is much higher than in normal times, it is necessary to carefully consider how best can human rights be protected amidst, say, a raging pandemic.
No country or society can claim to protect all human rights to the fullest extent. But meticulous, careful decision-making after considering all the pros and cons can help better protect human rights.
He Zhipeng, a professor at the School of Law, Jilin University
Medical staff should be better protected
Medical workers in the front line of the fight against the novel coronavirus have been praised while those who evaded their duties penalized. But when there is a lack of even basic protection of life, do medical workers have the right to refuse to perform their duties?
There are no clear ethical norms or legal guidelines on whether medical workers should risk their lives to prevent and control a deadly disease, perhaps social and ethical norms cannot differentiate between the life of a patient who needs treatment and a medical worker who is supposed to administer such treatment. But judging by the experiences during the fight against the Ebola and H1N1 epidemics, legal experts say that sacrificing the lives of medical workers to save sick people is morally indefensible.
Therefore, no medical worker can be condemned for "evading responsibility". Since all lives are equal-and the cornerstone of human rights-no law can force a medical worker to risk his or her life to save that of others, which is different from the legal principle of military service.
Qi Yanping, a professor at the Human Rights Research Center, Beijing Institute of Technology School of Law
Special measures needed to ensure economic equality
Since there is as yet no vaccine or a specific set of medicines to treat COVID-19 patients, lockdown and other measures to contain the spread of the virus, despite extracting a heavy socioeconomic price, was essential to save lives. But countries that believe in "economy first" have seen a conflict between the right to life and the right to economic activity thanks mainly to government policies.
Yet economic equality, not resumption of economic activity, should be promoted to strike the right balance between economic freedom and the right to life.
Securing the rights of the poor should be the bottom line in times of emergency. The authorities need to distinguish between the economic interests of elites and the right to work of the working class, because sacrificing the health and life of the majority for saving the economy would mean giving priority to elites' interests.
At a time of high infection risk, economic problems should be addressed through social security and welfare programs, not resumption of production. And a special social security system to cope with major public health emergencies should be established to maximize economic justice, including strengthening social security, and giving debt relief, paid leave and subsidies to the needy.
After the pandemic is fully contained, economic freedom will automatically retain its special place as a material guarantee to the right to life.
Wang Xigen, head of the Institute of Human Rights Law, Huazhong University of Science and Technology
States have obligation to protect human rights
According to the European Convention on Human Rights, some restrictions are necessary in a democratic society. Yet under parliamentary control, restrictions should be continually reviewed, because the longer the restrictions are in place the more negative the impact they have. States should determine whether the measures are proportionate, and if they are not, they should abolish them.
Also, no measure should be discriminatory in nature. Before imposing any measures, governments should take into consideration the rights of all people, their impact on certain groups-such as senior citizens, people with disability, children, migrant workers and the homeless-to make sure people are not disproportionately affected. In particular, governments should protect the vulnerable, including women and children who are more susceptible to domestic violence, people in over-crowded prisons, patients in long-term care. For example, when inmates in Norway complained they can't receive visitors, the government arranged for videoconferences.
Broad public debate has become more important than ever amid the outbreak. Since the pandemic has affected all aspects of life, it is essential that its impact on human rights is publicly debated. States must ensure media freedom, freedom of civil society and human rights defenders, so the public can rest assured that the government is making decisions in the interest of everyone. And when disseminating information, governments should ensure it reaches linguistic minorities, too.
Parliamentary control is also very important in a democratic society; it is needed to regularly assess the anti-pandemic measures. It is also important that states engage with national human rights institutions to better protect people's human rights and their defenders.
Petter Wille, a board member of European Network of National Human Rights Institutions
Culture plays big role in boosting anti-virus fight
In China, people in general have great respect for experts, especially in the sciences. When Zhong Nanshan, a renowned specialist in respiratory diseases, suggested ways to protect against coronavirus infection, nearly all Chinese people followed his advice. Zhang Wenhong, another specialist, too, convinced people to adopt some practices to prevent infection. In the United States, it seems, such experts do not have the same level of influence.
Trust in political leaders prompts people to follow official directives during an emergency, because they believe the government will act in the best of their interests.
The tradition of filial piety also played a key role in the Chinese people following strict anti-epidemic measures right from the beginning, because they know the elderly are more vulnerable to COVID-19. The Confucian principle of respect for the elderly in China and other Eastern countries helped to minimize similar risks.
Countries sharing the Confucian philosophy with China are more likely to empathize with each other. No wonder Japanese aid packages with poems pasted on them touched many a Chinese citizen. Similarly, when China later dispatched masks, ventilators and medical equipment to Japan-when cases in that country began rising-it pasted Chinese verses on the parcels wishing Japan quick victory in the fight against the virus.
Cultural activities, too, brought comfort to many people. The global online concert, One World: Together at Home, initiated by the World Health Organization and US singer Lady Gaga, inspired people around the world to unite in the fight against the pandemic.
But instead of copying the Western model, China will implement programs that it believes will be effective in the country and better protect human rights. Countries that share some cultural traits, for example European countries or Asian countries such as China, Japan and the South Korea, could collaborate more easily in the fight against the virus. But only if countries adopt non-discriminatory and equitable policies can they strengthen international cooperation in the fight against COVID-19 and better protect human rights.
Zhang Wanhong, a professor at the School of Law, Wuhan University
Important to safeguard vulnerable groups' rights
The COVID-19 pandemic has reminded us about the importance of a comprehensive social protection system that can prevent poverty and social exclusion. The social consequences of the pandemic are still uncertain. Yet we have reasons to believe that people in precarious positions are more likely to suffer because of the crisis.
Not only are the health risks unequally distributed, but also the consequences of "social distancing", closing down of businesses and increasing unemployment are unequally distributed in society (dependent among others on social class, gender and disability).
However, the sudden economic recession and the immense debt that is currently accumulating point toward a bleak future for social expenditure. And the crisis is likely to deepen social inequalities, and hence requires even more and better social intervention.
Rune Halvorsen, professor of social policy at Oslo Metropolitan University
Secure equal treatment without prejudice
Older people tend to be more politically active everywhere. Certainly, the political process seems to be more alive to their needs. In the past, at least, elder politics has had much to do with resources and little to do with justice or their human rights concerns. And people with disabilities, though many in number, have had limited political impact.
Three issues in particular during the COVID-19 crisis draw out the value of intersectional analysis in the context of disability and age. The first has to do with the more extreme consequence of segregation that affects both groups-institutionalization. Despite popular misconceptions, there is nothing natural or inevitable about institutionalization as a policy choice for older people (or anybody else for that matter).
The second common issue experienced by both groups has to do with equal treatment-or really unequal treatment-when it comes to healthcare and related services.
Third, and in common between both groups, the absence of their collective voice in the process of handling the crisis is almost universal.
It is important that the intersectional lessons from this crisis are adequately taken on board during the drafting of new instruments. They principally have to do with the wisdom of residential institutions for elderly people, the need to secure equal treatment without prejudicial judgments about the "quality of life" and the need to find better ways to co-produce emergency responses with the communities most directly affected.
Gerard Quinn, a professor of law at the University of Leeds, and a professor at the Wallenberg Institute, University of Lund, Sweden
Government helping people with disabilities
Although the novel coronavirus has infected people across the social and age divide, people with disabilities are one of the hardest-hit groups. The pandemic, in fact, has aggravated the inequalities they face.
President Xi Jinping has personally directed the fight against the virus. China attaches great importance to the life, health and protection of people with disabilities, particularly those who have been affected by the pandemic, and has taken effective measures to ensure their safety and health.
First, China has taken targeted measures to prevent and control the pandemic among people with disabilities, including providing them with timely updates on the epidemic through audios and sign-language videos, organizing online rehabilitation video courses for disabled children, providing counseling for people with disabilities who have lost their relatives to COVID-19 or have been quarantined.
Second, the Chinese government continues to strengthen care and assistance services for people with disabilities, especially those who live alone.
Third, the government has been helping disabled people find jobs, attend schools and meet their basic needs.
It has also raised the living allowances for people with disabilities who have been infected by the virus, while arranging for online education to help students attend classes. And it has made sure such people are not deprived of their basic livelihood, by arranging for their flexible employment by giving subsidies to enterprises that employ them.
Since the outbreak, the China Disabled Persons' Federation and its branches at all levels have been sending reports on the difficulties faced by people with disabilities because of the pandemic to relevant ministries and departments, including the finance, civil affairs and health departments, and have worked out policies and measures to help them fight the outbreak.
People with disabilities are facing much more difficulties than other people because of the pandemic, and the Chinese government has taken various measures to make their lives better. For example, to ensure that students with disabilities affected by the pandemic have access to education and rehabilitation services, the government has arranged for distance learning for them. And it has been paying special attention to opening online family rehabilitation and teaching courses for children with disabilities, and inviting experts to provide online counseling for them.
Hu Zhongming, a senior researcher at the research office of China Disabled Persons' Federation
Discrimination in the time of a global health crisis
The pandemic has had a disproportionate impact on vulnerable people. As reports show, the COVID-19 fatality rate for people above 80 is five times the global average. In New York, data show people with intellectual and developmental disabilities are five times more likely than the general population to contract COVID-19 and die from it.
But some governments' policies and medical practices to deal with the pandemic conflict with not only medical ethics but also international human rights norms. These policies and practices have the potential to be more disruptive to society than the disease itself.
The most prominent examples of such controversial policies and practices, as seen in countries such as the US, are discrimination against vulnerable groups, particularly people with disabilities, in the allocation of life-saving resources.
In the US, people representing many vulnerable groups have filed complaints with the federal authorities against the discriminatory allocation criteria. No wonder experts say medical malpractice litigations will increase in the near future.
Lin Nuannuan is a lecturer at the School of Law, Fudan University
The views don't necessarily represent those of China Daily.
If you have any problems with this article, please contact us at app@chinadaily.com.cn and we'll immediately get back to you.