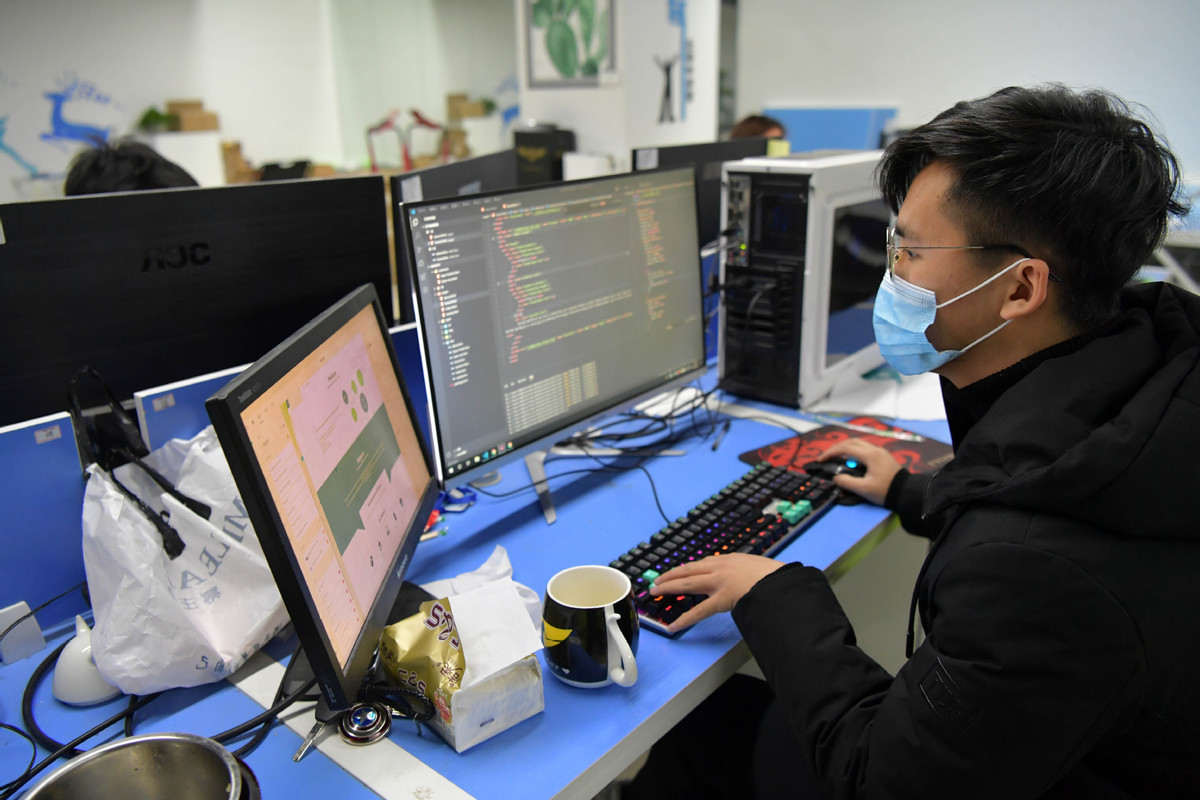 More than half of micro businesses owners said they are willing to pay higher interest in exchange for a stable supply of funds and hope to receive loans with a maturity of one year and above, according to the latest online survey on micro businesses and the working class in China.
The survey report, released by the Chinese Academy of Financial Inclusion at Renmin University of China on Tuesday, analyzed 854 samples of micro businesses and 396 samples of the working class. Over 70 percent of the micro businesses surveyed hire less than nine people, and 60 percent of them posted a monthly net income below 30,000 yuan ($4,317).
About 70 percent of the business owners said their business may face a shortage of funds because of the novel coronavirus outbreak. For most, the shortage was up to 1 million yuan.
Many business owners expressed concerns over the risk that financial institutions may demand early repayment or cut off loans during an emergency. They put a higher value on the stability of loans than the cost of funds.
Micro business owners surveyed said they are more inclined to solve the current cash flow problem through online lending platforms or folk lending, for they face obstacles to getting a bank loan due to factors such as a lack of collateral, poor financial situation and complicated loan application process.
Among the businesses that are running entirely online, 47 percent said they will use online lending services provided by digital financial platforms. It shows that digitized operations have expanded their financing channels, making loans more accessible to these kinds of companies.
"To help micro businesses overcome a shortage of funds, we advise financial regulators to further increase the line of credit for online credit loans offered to individual business owners and to relax restrictions on the maturity of online personal loans, which is currently limited to no more than one year," said Lai Danni, an analyst at the Chinese Academy of Financial Inclusion at Renmin University of China.
The report's writers also advised financial regulators to include internet banks and nonbank financial service providers into the system of financial inclusion, allowing them to enjoy the same benefits of financial inclusion policies as traditional banks, and relaxing rules so that they will be able to broaden channels of capital replenishment.
"I hope China will build a favorable ecosystem of financial inclusion that will encourage banks to support nonbank financial service providers, which will supply micro businesses with various financial services, just like how capillaries work in the blood circulatory system," Bei Duoguang, president of the academy, said.
Small and medium-sized banks that are lagging behind in terms of online strategies should be encouraged to accelerate the development of comprehensive online financial services targeting micro businesses through cooperation with fintech companies, said Hu Anzi, research director of CreditEase, a leading fintech conglomerate in China.
"We also called for the government to be more open-minded in terms of giving external business entities access to enterprise data collected by various government departments.
The data will be very helpful for risk management and customer profiling, which will help financial institutions better serve small and medium-sized enterprises," said Jiang Ning, general manager of corporate finance at Ping An Insurance's OneConnect Financial Technology.