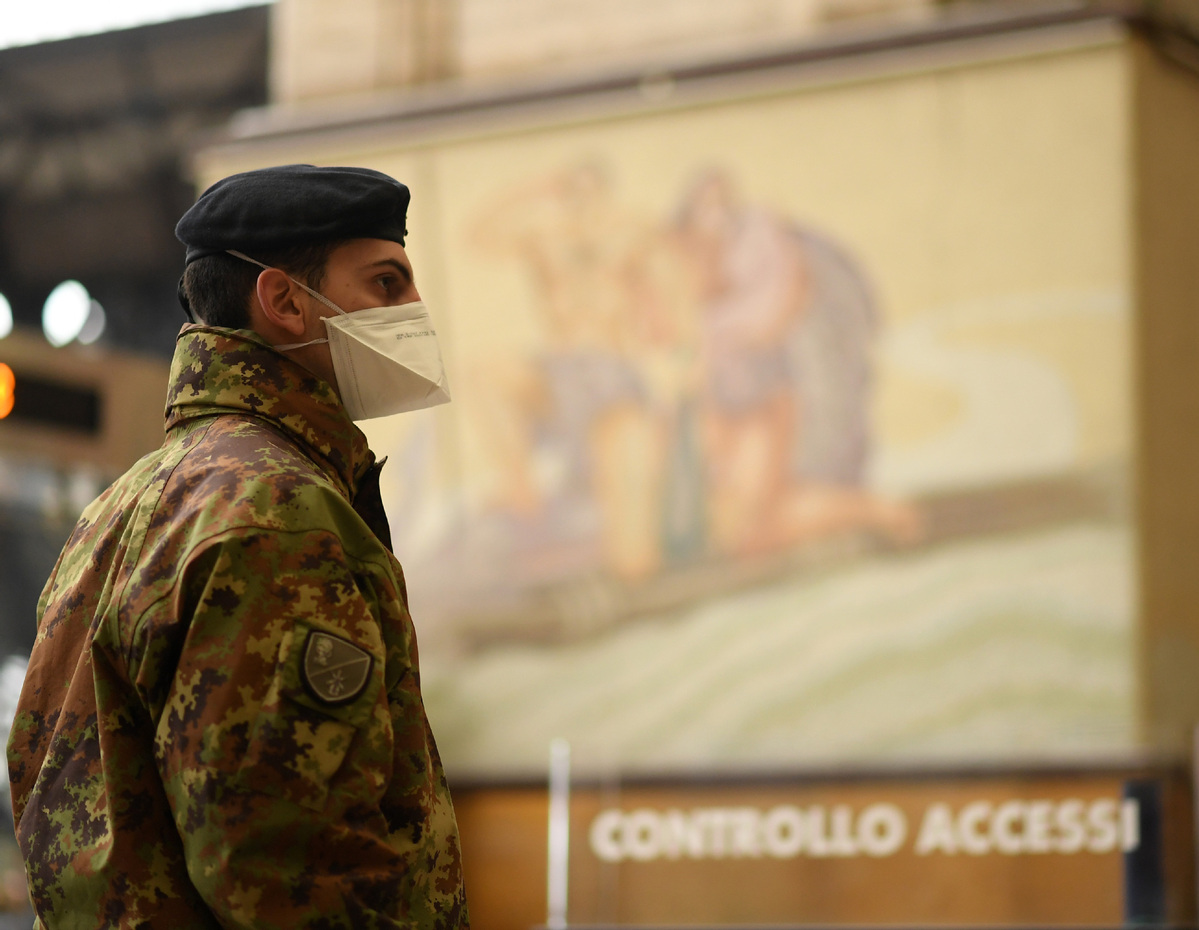 The global spread of the coronavirus continued Monday as Italy announced it would restrict movement throughout the entire country of 60 million, while more cases were reported in the US.
Prime Minister Giuseppe Conte made the announcement on Monday, a day after Italy imposed similar restrictions on one-quarter of the country.
Italy, with 9,172 cases by Monday, surpassed South Korea over the weekend to become the country with the second-largest outbreak after China.
A new oil price war sparked by the coronavirus sent shock waves through financial markets.
The Dow Jones Industrial Average fell more than 2,000 points, or roughly 7.8 percent. Stocks tumbled around the world as more countries implemented measures to contain the virus outbreak.
Oil prices recorded their biggest one-day crash Monday since the first Gulf War in 1991, as traders bet that a clash between oil giants Saudi Arabia and Russia could flood a world already facing the coronavirus outbreak with a glut of crude. The decline put oil at its lowest level in four years.
The United States' tally of known infections passed 700. Across the country, school districts in several states have shut down; some universities are moving classes online; companies are telling employees to work from home; and houses of worship are limiting services.
In California, officials prepared to have passengers leave the cruise ship Grand Princess docked at the Port of Oakland and quarantine the thousands of people who have been stranded on board as it sat off the coast of San Francisco for days amid a coronavirus outbreak.
The ship is carrying 2,421 passengers and 1,113 crew members. Last week, 45 people on the ship were tested for coronavirus, and 21 tested positive, 19 of them crew members.
All passengers on the ship will be quarantined for 14 days, with the majority being held at military bases or on the ship itself.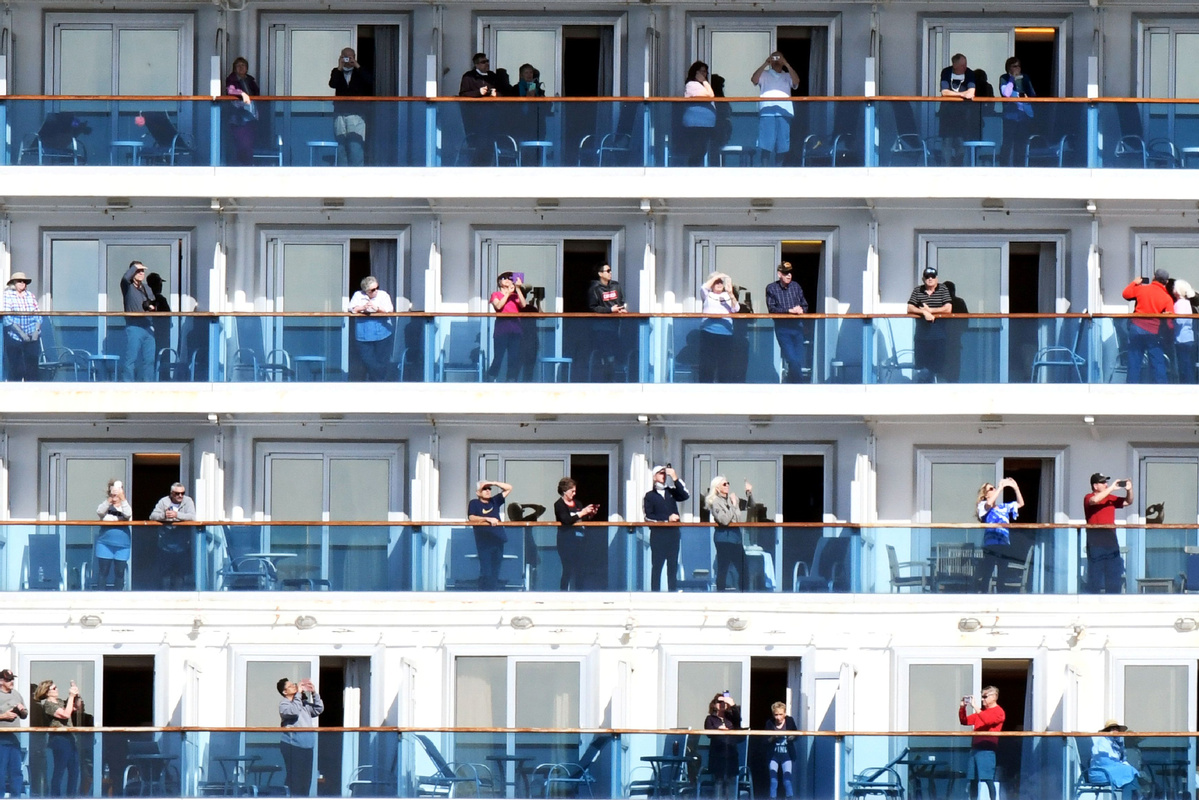 California residents make up around 40 percent of the passengers and will be transferred to military bases across the state. Foreign passengers will be sent home on charter flights from a section of Oakland International Airport where they can avoid contact with the general public, officials said.
Most of the crew members will remain onboard the cruise ship, which is expected to leave the San Francisco Bay within about three days.
In Washington state, Governor Jay Inslee said he was considering mandatory measures to keep people apart.
Dr Anthony Fauci, the leading American expert on infectious diseases, said in an interview that "social distancing like in Seattle is the way to go" and not shutting down cities.
Senior Pentagon officials began practicing social distancing, holding meetings by videoconference in several rooms, rather than crowding into a single room.
The Army announced on Monday that the commander of US forces in Europe, Lieutenant General Christopher G. Cavoli, along with several members of his staff, had been exposed to the coronavirus and would self-quarantine as they wait to see if they develop symptoms. The general is based in Wiesbaden, Germany, and travels throughout Europe.
A global health conference in Orlando, Florida, planned for Monday, with President Donald Trump as a speaker, has been called off.
In Washington, public health officials in King County said Monday that there were 33 new cases of COVID-19 reported in the area around Seattle, including two deaths. The number of confirmed reported cases in King County has risen to 116, according to county officials.
A third person who had previously been reported ill also died Sunday, bringing the total coronavirus-related deaths in the region to 20 — with 19 of them linked directly to a nursing home in Kirkland.
The three new deaths reported Monday were a woman in her 70s, a woman in her 80s and a woman in her 90s, all of whom had been residents at Life Care Center, the nursing home that has been most seriously affected during the outbreak in Washington state.
Also Monday, a spokeswoman for Kirkland said that a city firefighter has tested positive for the virus. Kirkland is a city of 90,000 on Lake Washington northeast of Seattle.
Thirty-one firefighters — almost a third of the fire department — and three police officers remain in quarantine, officials said in a statement.
On Monday, New York Governor Andrew Cuomo said that 142 cases had been confirmed statewide, including the executive director of the Port Authority of New York and New Jersey, Rick Cotton. He oversees the region's airports and other transportation infrastructure and had been visiting Port Authority facilities. Cotton is being quarantined and his team was also being tested for the virus, Cuomo said.
In Europe, the number of infections continued to surge, doubling in three days to more than 14,000 confirmed by Monday, with more than 520 deaths.
Ireland's government on Monday canceled all St. Patrick's Day parades, including Dublin's.
Germany, France and Spain each have more than 1,000 cases. Switzerland, the Netherlands, Britain, Sweden, Belgium and Norway each have more than 200. Germany's status as the only country with a large outbreak but no fatalities came to an end, with its first two coronavirus deaths.
The French government announced a ban on almost all public gatherings with more than 1,000 people.
Anyone arriving in Israel from abroad — no matter the country — will have to spend the next 14 days in self-quarantine, the government said on Monday, announcing a sweeping coronavirus containment effort.
The order, affecting Israeli citizens and foreign nationals alike, will remain in force for the next two weeks.
There were 41 confirmed cases of coronavirus in Israel by Monday evening.
Saudi Arabia closed off air and sea travel to nine countries.
In China, where the outbreak began and where most cases have occurred, the first schools reopened on Monday as authorities began lifting some of the restrictions they imposed when the epidemic was out of control.
If you have any problems with this article, please contact us at app@chinadaily.com.cn and we'll immediately get back to you.