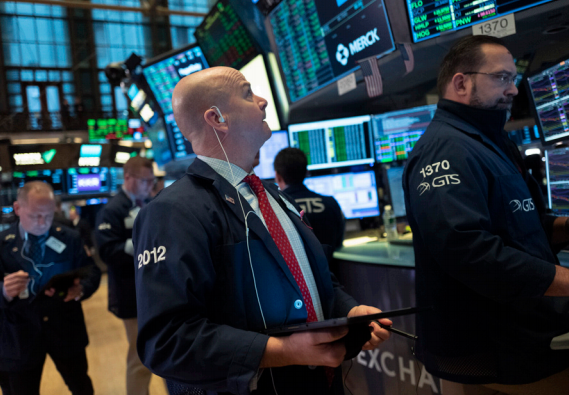 The US stock market on Thursday suffered its worst blow so far in a bad week, as growing concern about the global spread of the coronavirus sent the Dow Jones Industrial Average and S&P 500 indices to their worst one-day point drops in history.

The DJIA closed at 25,766.64, down 1190.95 points, and the S&P 500 fell 137.63 to close at 2978.76. The Nasdaq Composite index lost 414.30 points, or 4.61 percent, to close at 8566.48.

The selloff knocked all three indices well into correction territory, which is defined as being down at least 10 percent from 52-week highs, which all three reached within the last 10 days.

Before Thursday's open, stock futures had fallen on news that the US Centers for Disease Control and Prevention (CDC) had confirmed the first US case of a possible community spread of the coronavirus in Solano County in Northern California.

Health officials in Germany reported a similar case of a man testing positive for the virus despite no known connection to anyone with it. California said it is currently monitoring at least 8,400 individuals for signs of COVID-19.

"The game has changed with Italy and also with the new case in California," said Keith Buchanan, portfolio manager at GLOBALT Investments, told CNN, adding that investors should remember that a "10 percent pullback after the kind of run US equities have been having is not the worst scenario".

Italian authorities said on Thursday three more people had died from the virus, bringing the death toll there to 17, with 650 cases confirmed.

"The size and scope of the impact of COVID-19 on global corporate profitability is the biggest question mark I have seen face the markets since 'Lehman Monday' (the collapse of Lehman Brothers in the 2008 financial crisis)," Jim Collins, CEO of Excelsior Capital Partners, told China Daily. "The human toll is horrible, but the economic impacts are just incredibly uncertain. Markets hate uncertainty."

At a White House press conference on Wednesday, US President Donald Trump looked to calm fears over the virus. Appearing with top US health officials, he said the risk to the American public is still "very low" but added that the US is going to "spend whatever is appropriate" to fight the coronavirus.

Trump also tasked Vice-President Mike Pence with coordinating and communicating the federal response to the virus threat. Trump said that he believed US markets would soon recover.

"The market is selling off late like it's a holiday weekend. There is genuine fear of being long stock overnight given how any COVID-19 headline could lead to a huge sell order," Kamal Khan, chief US editor at investing.com, told China Daily. "Wall Street isn't happy with Vice-President Mike Pence being in charge, and markets are still at the behest of any virus headline."

The Dow and the Nasdaq are down 12.8 percent and 12.7 percent, respectively, from their all-time highs earlier this month.

"We've hit a pocket of fear," Gregory Faranello, head of US rates trading at AmeriVet Securities, told CNBC. "This is a big deal. … If this flows into the US, we could be in trouble because, let's face it, the US consumer is what's holding this thing together."

The economic impact was widely felt Thursday with markets in Europe and Asia also taking a hit. Shares in London fell into correction territory, and crude oil futures fell 4.7 percent as investors signaled fear of reduced economic activity resulting from further travel restrictions, factory slowdowns and school and office closings.

This week's market losses also raised expectations that the US Federal Reserve would cut interest rates at its meeting next month, to boost the economy.

The yield on the benchmark 10-year Treasury dipped below 1.25 percent Thursday, a record low. The yield on the 30-year bond was also at an all-time low.

The CBOE Volatility Index (VIX), a widely followed measure of predicted turbulence for US stocks — and therefore a proxy for investor fear — jumped above 39 on Thursday, up 42 percent.

"People have gone from saying this is a non-event to saying this is the end of the world," Peter Jankovskis, co-chief investment officer at OakBrook Investments LLC in Lisle, Illinois, told Reuters. "There's room for a middle ground."

Industry analysts and economists continued to sound the alarm as they assessed the fallout of the outbreak, with Goldman Sachs saying US firms will generate no earnings growth in 2020.

Microsoft Corp, the biggest drag on the S&P, dropped almost 7 percent after it warned of weakness in the PC business due to a hit to its supply chain from the coronavirus, echoing similar statements from Apple and HP.
William Hennelly in New York and Reuters contributed to this story.
If you have any problems with this article, please contact us at app@chinadaily.com.cn and we'll immediately get back to you.