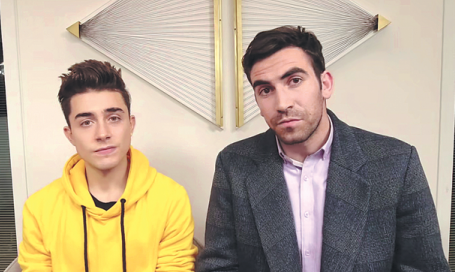 An Israeli alumnus of Peking University and his Argentine friend organize a large donation of medical supplies to China.
Since the coronavirus outbreak, overcoming difficulties has become a common belief in China. Some foreigners who studied in the country in the past are doing their bit to help.
One shinning example is Raz Gal Or, an Israeli alumnus of Peking University, and his Argentinian friend Brain O'Shea, an actor and internet celebrity in China, who went through various parties to collect 100,000 medical masks, 50,000 pairs of medical gloves and 7,000 sets of surgical gowns within a short period of time.
"I hope to end the fight as soon as possible and hope my friends will be safe and stay healthy," Gal Or, whose Chinese name is Gao Yousi, says on his video from Tel Aviv, Israel.
Gal Or studied at Peking University's Institute of International Relations from 2014 to 2018. He says he and his friends are paying close attention to the epidemic situation in China and want to do something for their Chinese friends.
In 2016, he co-founded Wow FanTV with friends in Beijing. It is this short sports clip series that made Gal Or and his team earn 80 million "clicks "online. In September, by chance, he received an invitation from the talk show A Bright World Season Two, and it was through this program that Gal Or started to get more attention. In 2017, he led a creative team of more than 20 people to launch the program of YChina, which focuses on expat life in the country. The foreigners in the video participate in discussions on Chinese cultural life and also about the latest trends in the country that shows a vibrant China.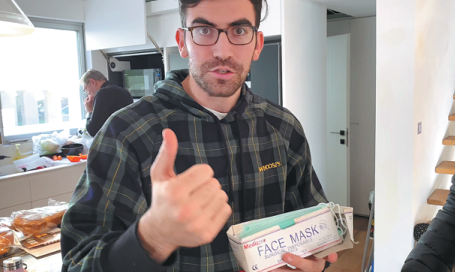 Knowing that medical supplies, such as masks, protective clothing, gloves and disinfectants were in short supply in China, Gal Or mobilized his resources, hoping to contribute to the fight against the epidemic. Due to the limited stock of masks in pharmacies, he set his sights on large medical institutions. He first went to Tel Aviv Medical Center, one of the largest hospitals in Israel, hoping to get such supplies but failed to contact the management team.
Then he says, he and his friends realized that as young people they could do less without approaching somebody with influence. His father, Amir Gal Or, chairman of Infinity and Innonation, and president of the China-Israel Chamber of Commerce, who has contacts in the medical, business and public relations industries, stepped in. It was a happy coincidence that the board of directors at the same hospital was holding a conference on Feb 29. The board meeting included big figures, such as representatives of Netafim, Israel's leading company in precision irrigation solutions for sustainable agriculture, and Sheba, one of the top 10 hospitals in the world. At the end of the meeting, Raz Gal Or and his friends were allowed to enter. They proposed a plan to help their Chinese friends, which was endorsed by all parties present at that meeting, he says.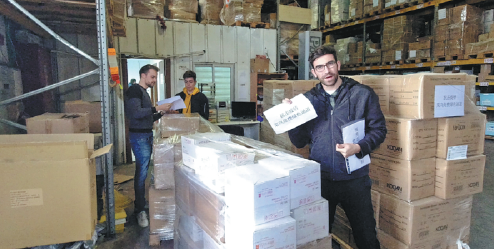 Yuval Bloch, CEO of Innonation Medical, tells Raz Gal Or the ongoing crisis will be overcome by China.
Ofra Gordon, head of international relations at Sheba Hospital, says people should try to understand the difficulties the medical staff is facing.
"There is fear and sometimes anger, but we have to put them aside," she adds.
Tslil kleinman, a representative of the China-Israel Chamber of Commerce, says China has helped Israel, and they want to be there for China now.
"China has helped Israel so many times. China is all about mutual help. So it is only natural that we should do everything possible and there is no question about it," Amir Gal Or, the chamber's president, says.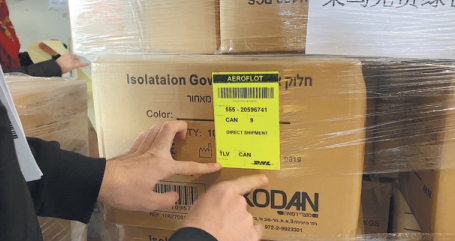 After that, Raz Gal Or and his friends received 30,000 medical masks donated by all walks of lives in Israel, and they found the medical equipment supplier from Tel Aviv's large hospitals, and obtained more medical masks and other medical supplies.
Transportation to China became a big obstacle after the World Health Organization declared the outbreak, which has spread to two dozen countries, a global emergency, and international airlines canceled routes to China by the hour. With the uncertainties, and no guarantee that the goods could get on flights, they succeeded in reaching Cainiao, Alibaba's logistic platform operator, for free shipping to China on Feb 5 via Moscow.
Then 100,000 medical masks, 50,000 pairs of medical gloves and 7,000 sets of surgical gowns from Israel were sent to Huanggang Central Hospital in Hubei.
Raz Gal Or says more supplies are being collected to be sent to China in coming times. The donation story is far from over.
If you have any problems with this article, please contact us at app@chinadaily.com.cn and we'll immediately get back to you.