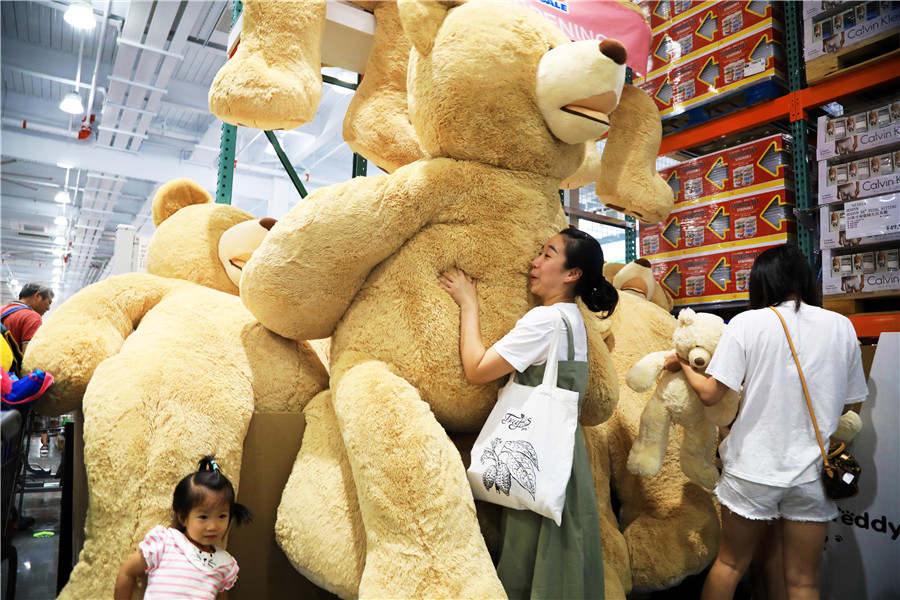 Rising demand for high-end products fueling big growth opportunities for companies in China
Editor's note: As the 70th National Day of China on Oct 1 approaches, China Daily's special business stories will explain how various industries have upgraded over the years on the back of a more open economy. Here, we recount how consumption upgrade has helped transform the nation's commercial landscape. Next up will be special stories on the latest developments in fields like e-payments, telecommunications, capital markets, real estate and insurance.
Ryne Fang had to wait for seven days to visit the new Costco outlet in Shanghai, as overcrowding had forced the membership-only US warehouse retailer to suspend sales early for the first few days.
"It was a rainy day when I finally went to the store. There was a much shorter waiting time on that day," said the 30-year-old Fang, who had become a registered member several months ahead of the official store opening on Aug 27.
"I bought my favorite roast chicken for 29.8 yuan ($4.15), a six-pack muffin with nuts, Kirkland Signature nuts and giant jars of jam. The products are of good quality and are really value for money. That is also why there are such huge crowds. For shoppers like me, the inaugural membership fee of 199 yuan was a promise of that trust," said Fang.
Jason Yu, general manager of Kantar Worldpanel China, a market research firm, believes that the resounding demand for Costco products is a clear indicator of the changing consumption patterns in China.
"The crowds at the Costco outlet indicate that consumption demand from affluent Chinese consumers remains robust," said Yu.
According to the National Bureau of Statistics, the share of consumption in the overall output value has been climbing steadily for the last eight years.
Total retail sales of consumer goods amounted to 38.1 trillion yuan in 2018, compared with 2.77 billion yuan in 1952, or an annual growth rate of 11.6 percent, according to the NBS. Domestic consumption was one of the main triggers for higher economic growth in the country and made up 76.2 percent of the gross domestic product.
Yu, who has been tracking the Chinese retail industry for more than two decades, said consumption has risen as consumers are now more than willing to spend money on quality products. That was not the case in 2000 when consumers were more cost-conscious. Since then the market has grown rapidly in terms of retail offerings and quantity, while brands are willing to spend more to attract consumers, he said.
Demand for fast-moving consumer goods has fallen sharply in the last five years in China, with the growth rates tapering off from the double-digit levels to 5 percent currently, an indication of the change in growth, demand patterns, according to data from Kantar.
"Chinese consumers want diverse, quality products, and a nice consumption environment," said Yu, adding that spending on health, convenience and personalized lifestyle products has risen.
Demand for high-end products has grown by 6 percent between 2015 and 2018 in the country, fueled largely by rising per capita disposable income, urbanization and consumption upgrades. The desire to lead quality lives is not restricted to the younger generation as several of the frugal retired population are now not averse to spending money on high-quality products.
Li Guixia, a retired professor from Peking University, first came to Beijing in 1970. She remembered spending 4 yuan every month on groceries - basically a soap, towel and tomatoes. In the 1980s, she had to save money for several years to buy her first fridge for 800 yuan, which was equivalent to six months of her salary then.
In recent decades, Li, who is now 69, has traveled with her family to neighboring countries and regions in Southeast Asia and last year went to Perth in Australia for a tour.
"We bought an apartment, upgraded our car and now I get to see the world," said Li.
"Many of those between 50 and 70 years old are misunderstood as savers, not spenders. They actually want to have the lifestyle they could not when they were young. With property and savings, they are now more than willing to spend on products like fine wines, olive oil and pet food, as well as travel and education," Yu said.
Young people in urban areas who have a fast-paced work life are seen as the backbone for imported and niche products, health-related and even night economies. Young consumers in small towns with more disposable income are found to have a preference for high-end domestic brands.
In terms of where to buy products, Yu said though online shopping is the most-preferred source for high-end consumption, traditional channels such as brick-and-mortar supermarkets are still relevant for several daily consumers. The online-and-offline omni channels have stimulated the market growth, offering more convenience and more consumption power to shoppers. More than 63 percent of shoppers have spent money on multiple consumption channels, according to a Kantar's report on consumption trend in China.
Technology-savvy Chinese consumers have contributed to the growth of Chinese e-commerce platforms like Alibaba Group Holding Ltd and JD over the last two decades, on the back of fast deliveries, low costs and convenient user experiences.
E-commerce is now a major driver of China's retail economy, accounting for almost one-fifth of the country's total retail sales in 2018, according to the NBS.
Online retailers have created shopping festivals to unlock consumer desire and tap the consumption potential. Since 2009, Alibaba, founded in 1999 by Jack Ma and now the largest retail commerce company in the world in terms of gross merchandise volume, has transformed the date of Nov 11, also known as Singles Day, into the world's biggest online shopping carnival by offering attractive discounts and coupons to entice consumers.
During last year's Singles Day shopping spree, sales on Alibaba's online marketplace Tmall broke its own record by racking up 213.5 billion yuan in just 24 hours, up 27 percent on a yearly basis.
It was a similar story during this year's midyear retail carnival, spearheaded by JD. The company reported sales of 201.5 billion yuan for this year's June 18 shopping gala, which ran from June 1 to 18, compared with 159.2 billion yuan during the same period in 2018.
Online operators have gradually expanded their territory offline and altered retail landscapes by coining the term "New Retail" to create a seamless shopping experience so that consumers can shop whenever and wherever they want.
Meanwhile, China's cross-border e-commerce sector has been growing exponentially over the last few years, as demand from the country's middle-income shoppers is becoming increasingly diversified and personalized.
The Shanghai-based Fang said she was willing to visit Costco frequently if she gets better prices for imported products along with lesser waiting times."I hope they open more stores in the future and also sell some of their products online," Fang said.
"With the ongoing consumption upgrade in China, consumers are showing a preference for high-quality and imported products," said Cao Lei, director of the China E-Commerce Research Center, adding the integration of both online and offline retail businesses will be a trend.
If you have any problems with this article, please contact us at app@chinadaily.com.cn and we'll immediately get back to you.