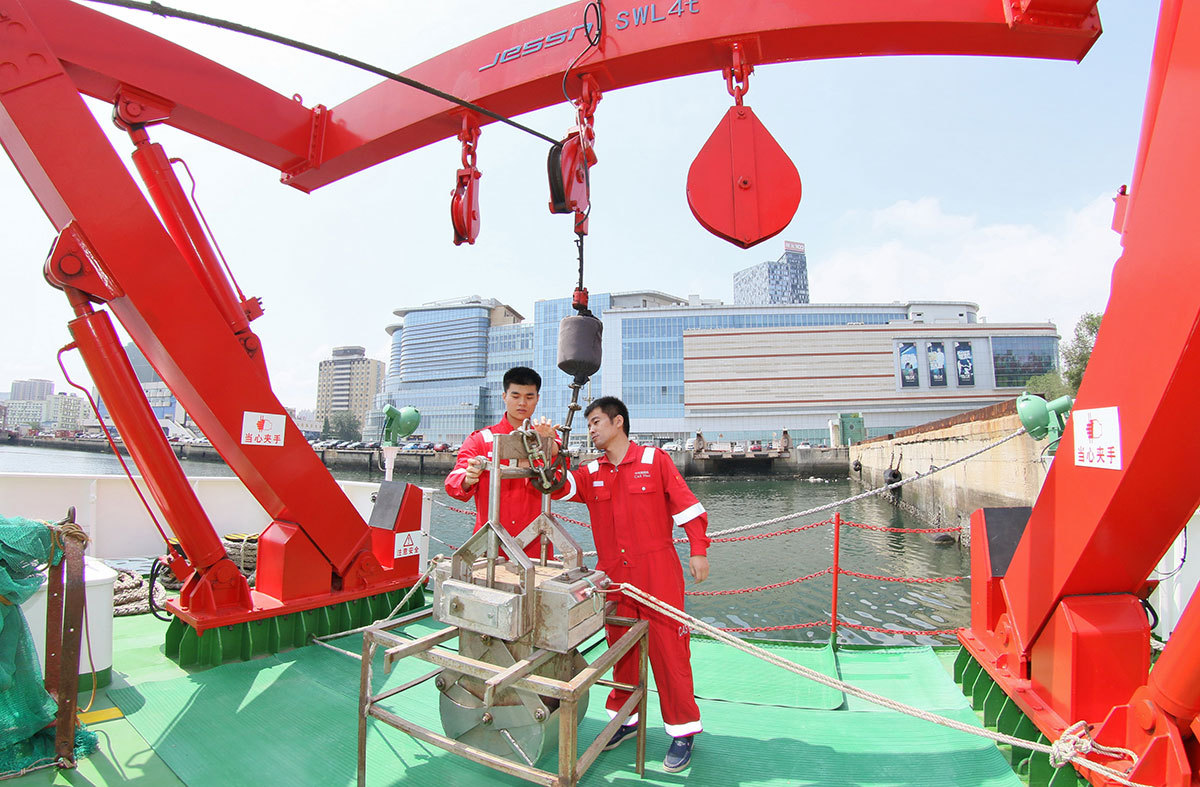 Eighty-year-old scientist Guan Huashi is steering an independent research team to find cures for diseases, and his source is the ocean.
Guan and his team, based in Qingdao, Shandong province, plan to develop several new medicines mainly derived from marine organisms in the next three to five years.
As a pioneer of marine pharmaceutical studies, Guan, a professor at the Ocean University of China, in 1985 led a team that successfully developed the country's first marine drug, called PSS. The drug helps to treat vascular diseases related to the heart and brain.
The latest breakthrough of Guan's team is an Alzheimer's drug called GV-971, which is extracted from brown algae.
When President Xi Jinping visited Qingdao in June last year, Guan, also a member of the Chinese Academy of Engineering, told Xi about his dream to develop a "blue drugstore" for medicine in China, with "blue" indicating the sea.
"We share the same dream," Xi replied.
"Developing the marine economy and conducting research in marine sciences are important parts of the nation's strategy of rejuvenation," Xi said, adding that all-out efforts should be made in this direction.
China is pursuing coordinated land and marine development, a national strategy adopted at the 19th Communist Party of China National Congress.
Bordered by the Bohai and Yellow seas, Shandong boasts 3,345 kilometers of coastline, accounting for one-sixth of the country's total, with its waters providing abundant marine resources. Qingdao, which contains 10 districts and three county-level cities, has 817 km of coastline, comprising 120 islands and 49 bays, and covers a maritime area of 12,240 square kilometers.
"Qingdao is at the forefront of marine science and technology," said Wang Qingxian, secretary of the Qingdao committee of the Communist Party of China.
The coastal city is home to more than 30 percent of China's marine science and technology universities and research institutes, as well as 50 percent of researchers and 70 percent of experts and scholars in the field.
The city also has an extensive shipping network to 177 ports across the world, thanks to its natural deep-water harbor.
"Qingdao is accelerating its efforts in the high-quality marine sector, with a focus on economic transformation, efficient port services, opening-up, technological innovation and ecological protection," Wang said.
The Institute of Oceanology of the Chinese Academy of Sciences in Qingdao was founded in 1950, a year after the founding of the People's Republic of China. It is China's first State-run marine science institution and has been focusing on research.
The institute has witnessed big strides and Chinese scientists have made ocean exploration a reality, said its director Wang Fan.
According to Wang Fan, the institute has established the world's largest marine observation system covering offshore areas and neighboring oceans. It also deploys a vast number of buoys, which can transmit real-time data.
Wang Fan said the Institute of Oceanology is teaming up with 12 domestic marine institutes to establish the Center for Ocean Mega-Science in Qingdao. The center aims to bring together facilities and talent and make innovative contributions to China's marine sciences.
The center will be located in the Qingdao West Coast New Area, the ninth national-level new area in China. When it was approved by the State Council in 2014, the new area was expected to play an important role in the development of the country's maritime economy.
Wu Jifa, deputy head of the new area's marine development bureau, said over the past five years it has helped establish a modern marine industry, which incorporates ship building, marine equipment manufacturing, shipping logistics and seawater desalination.
Zhao Ruixue contributed to this story.
If you have any problems with this article, please contact us at app@chinadaily.com.cn and we'll immediately get back to you.