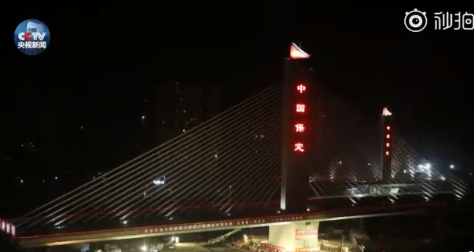 BEIJING - A bridge, weighing 46,000 tonnes and measuring 263.6 meters long, was successfully rotated to its targeted position in Baoding, northern China's Hebei province Tuesday.
The bridge swiveled around an angle of 52.4 degrees in 68 minutes above the Beijing-Guangzhou Railway, minimizing the interference on the railway traffic running below.
The bridge was constructed by the South Branch of the China Construction Communications Engineering Group Corporation. The weight and span of the swivel bridge refreshed the world record.
A spherical hinge, which is the "axis" supporting the rotating body, is a major piece of equipment used to turn the bridge. The diameter of the spherical hinge used in the project reached 6.5 meters, setting a new world record.
China has adopted the swivel construction method in building many bridges. The method helps overcome the constraints of environment and traffic, while shortening the construction period.
If you have any problems with this article, please contact us at app@chinadaily.com.cn and we'll immediately get back to you.