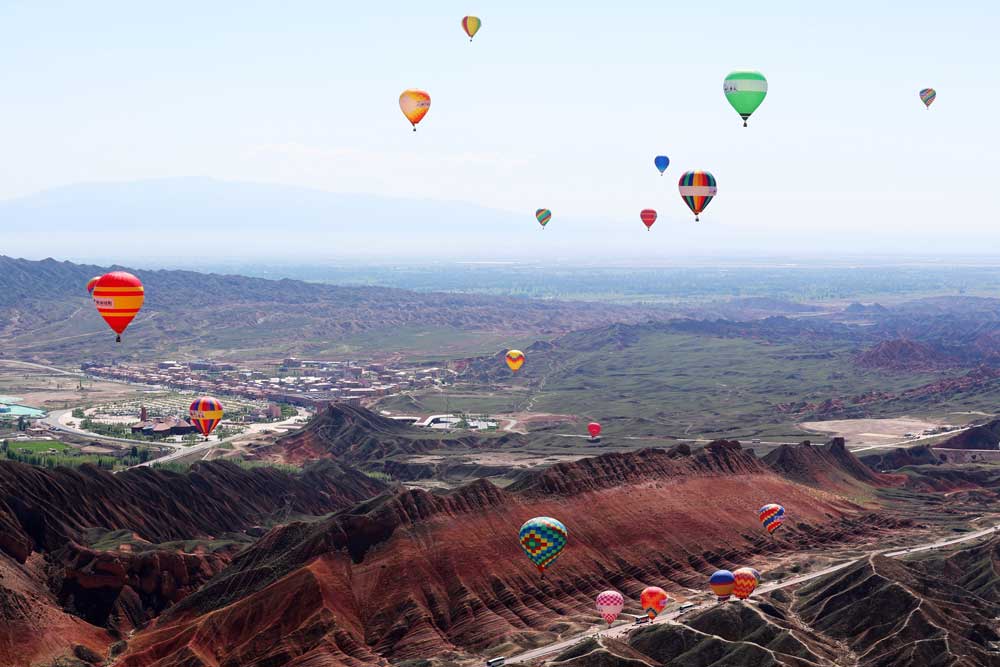 The first Zhangye (China) Colorful Danxia Hot Air Balloon Festival was held from Friday to Saturday in Zhangye, Northwest China's Gansu province.
The two-day event took place at the Zhangye Colorful Danxia Scenic Spot, the only area in the world with what is known as the Danxia landform and colorful hills. The area enjoys a great reputation, including a spot as one of the world's 10 magical geographical wonders, one of the world's most impressive 22 vistas and the world's most beautiful Danxia landform.
Danxia landform refers to various landscapes found in southeast, southwest and northwest China that consist of a red surface and steep cliffs.
During the event's opening ceremony, 100 hot air balloonists from all over the country, took off at three different starting points at the same time, flying over the whole scenic spot and making a beautiful sight.
During the festival, the hot air balloons were on hand for four free flights and three sets of tethered flights over the colorful Danxia landscape. Visitors could take a hot air balloon and fly high, experiencing the sunrise and sunset from a unique perspective. They could also overlook the "Rainbow Mountain" above the sky and enjoy the magnificent scenery.
The festival aims to create a diversified tourism theme of a colorful Danxia, promote in-depth development of sports and cultural tourism, cultivate tourism consumption hotspots and accelerate the transformation and upgrading of the colorful Danxia tourism into a low-altitude tourism integration development demonstration zone and a hot air balloon free-flying air resort.
In addition, these events enhance the international popularity of the scenic spot via hot air balloons, promote development and utilization of cultural tourism resources, facilitate the integration of Zhangye culture, sports, ecology and tourism, and make Zhangye an outdoor sports experience zone as well as a sports medical support development demonstration zone.