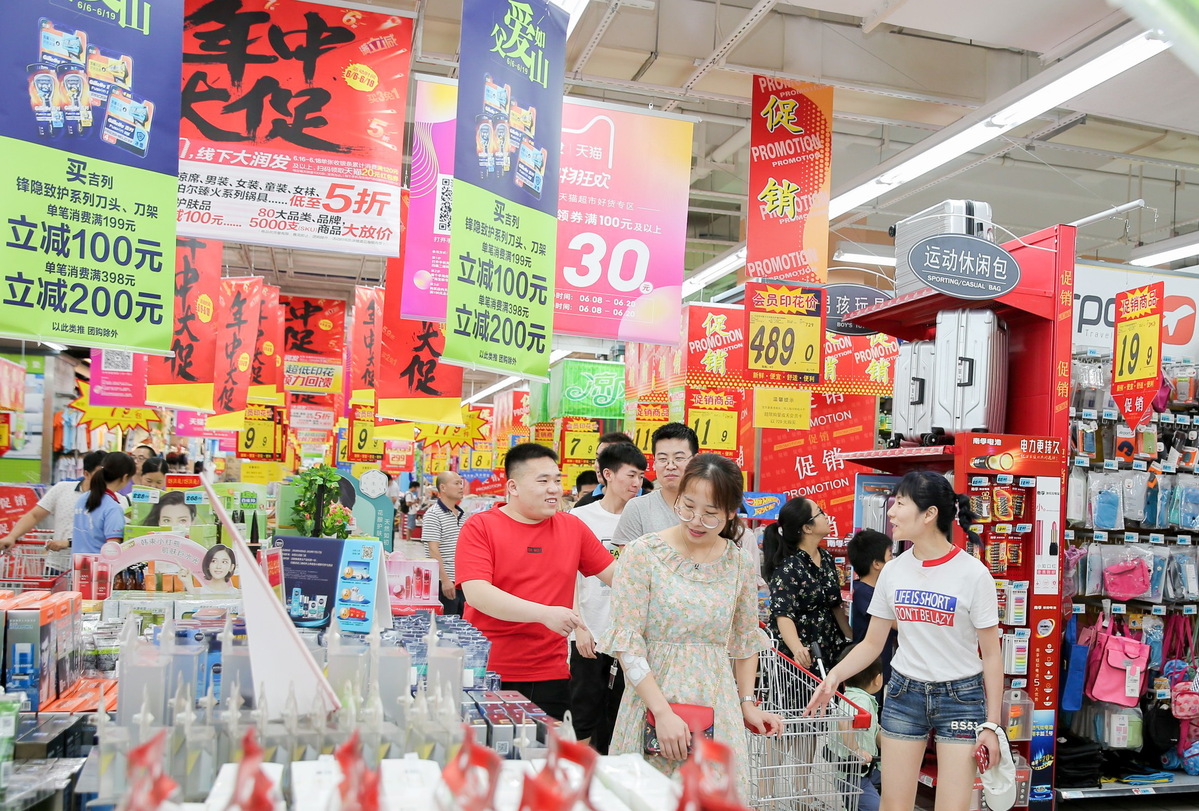 Fast-moving consumer goods (FMCG) consumption in China remained robust last year, growing at a rate of 5.2 percent, highlighted by the strong demands for high-end products, smaller brands and new retail format, according to an industry report.
The growth rate of 2018 was slightly faster than the previous year's 4.7 percent, with premiumization again playing a significant role in the sector's recovery, or achieving average selling prices up by 4.6 percent as consumers continued to demonstrate a willingness to trade up, as per the latest China Shopper Report from Kantar Worldpanel and Bain & Company, Premium Products, Small Brands and Now New Retail.
Among them, home care and personal care categories grew faster, while food and beverages maintained a slower pace, according to the report. If measured by value growth, soybean milk surged the fastest at 49 percent, followed by mouthwash and oyster sauce, while chewing gum saw slowest growth.
"We continue to see premiumization playing an important role, as Chinese consumers favor goods that promise to improve their health and lifestyle," said Bruno Lannes, partner in Bain's Greater China Consumer Products Practice and co-author of the report. "Brands can still encourage trading up, giving a much needed boost to categories in which volume is either flat or slumping."
Smaller brands are growth leaders compared with established and major brands in China as they grew faster than the top five brands in all categories except makeup and packaged water as consumers constantly ask for new brands and more characters of the products.
"The new reality is that many incumbent brands watch small brands doing an impressive job of serving specific consumer needs, responding in everything from R&D to digital marketing with agility and flexibility," said Jason Yu, General Manager of Kantar Worldpanel Greater China.
The other big emerging trend involves new retail. The report for the first time shows the growth limits of online penetration in China. Overall, e-commerce channel growth slowed slightly to 30.6 percent between 2017 and 2018 (compared with 35.1 percent annual growth between 2014 and 2018) as penetration in first-tier cities leveled off at around 80 percent last year.
The acceleration of new retail in multiple ways presents opportunities for retailers to transition from today's mass-oriented offline approach to tomorrow's seamless, multichannel world of shopping. Physical stores have a future, but offline retailers need to refine their moves to play in this new environment. Large store formats also show potential for growth, but it will require them to take on new roles, such as by reinventing themselves by upping their game in fresh food.
If you have any problems with this article, please contact us at app@chinadaily.com.cn and we'll immediately get back to you.