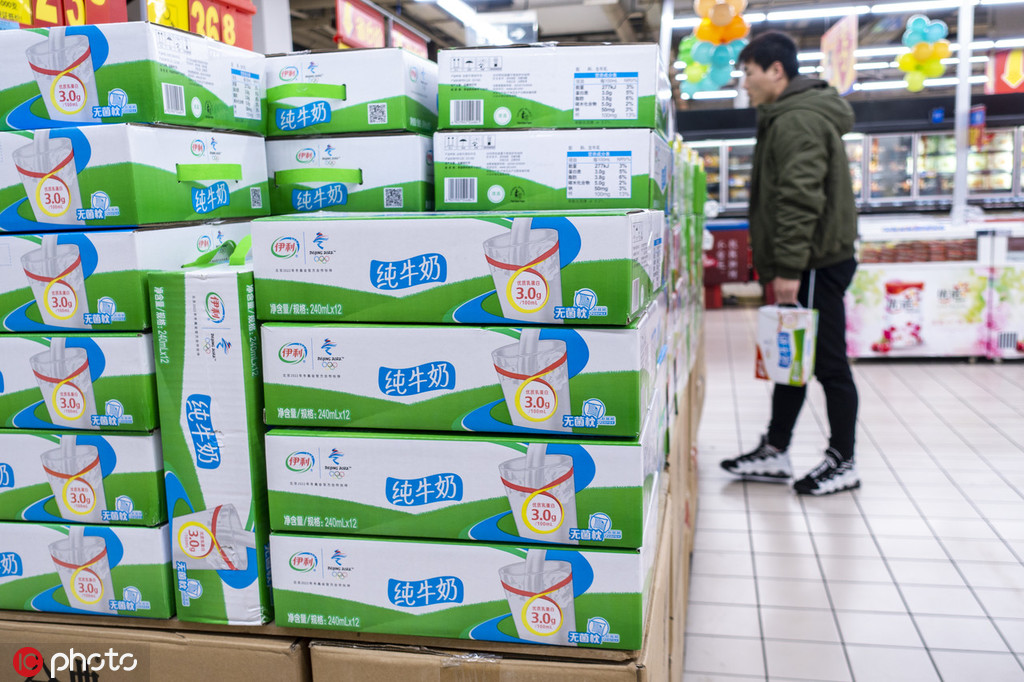 Domestic consumer goods continued to outpace foreign brands in terms of consumer reach with the list topped by dairy company Yili, although US beverage giant Coca-Cola has grown at the fastest pace, an industry report said.
Chinese brands dominated the Top 10 most chosen brands' list in 2018, with Yili leading the pack in the country for the fourth consecutive year, a report by Kantar Worldpanel Division Asia said.
"In China there is still significant headroom for most brands to grow by expanding into emerging categories, lower-tier cities and new shopper occasions," said Jason Yu, managing director of Kantar Worldpanel China.
"In the new retail era, both Chinese brands and overseas brands have opportunities to grow if they constantly innovate to meet the changing expectations of Chinese shoppers."
Yili grew its consumer reach points by 5.1 percent with penetration exceeding 90 percent for the first time. Brand Footprint provides information on real consumer behavior rather than attitudes and is measured through consumer reach and brand penetration.
Dairy company Mengniu and beverage brand Master Kong were ranked second and third behind Yili. Haday, the leading brand in the seasoning market, was ranked fourth.
Yili and Mengniu are the only two brands that were chosen by consumers more than one billion times annually. The brand footprint ranking shows that most of the growing brands enlarged their shopper base, said Kantar.
Among the 50 most chosen brands in China, there was a significant change to the list of the top 10 fastest rising brands.
Coca-Cola, Oreo and Liushen all made it for the first time. Coca-Cola was the fastest growing at 10 percent thanks to smaller-sized packs which helped the beverage maker expand. Coke Zero and Fiber Plus boosted the brand by answering the "healthy and indulgence" needs of buyers, the report said.
C'estbon and Lee Kum Kee also re-entered the top 10 list. For the third consecutive year, Nongfu Spring, Taili, Luhua, Haday secured their placing in the list.
Nongfu Spring achieved strong consumer reach points growth by meeting consumers' robust demand to upgrade "from tap water to packaged water" in their homes.
The report also covers seven markets in Asia where consumer trends have shifted to reflect the needs around health and safety, convenience and happiness.
Marcy Kou, CEO Worldpanel Division Asia, Kantar, said "growth and success is not just about making a big impact in the market but how to build a sustainable brand that can evolve through generations and changing consumer needs."
If you have any problems with this article, please contact us at app@chinadaily.com.cn and we'll immediately get back to you.