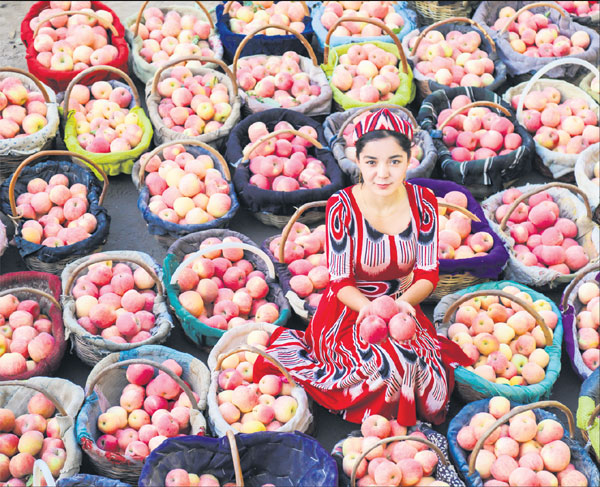 NANJING - An East China university has invented a test paper for quickly diagnosing a plant blight disease, which has assisted the production of prime fruit in Northwest China's Xinjiang Uygur autonomous region.
Aksu apples and Korla pears are hotly sought-after fruit on Chinese and foreign markets since the Aksu and Korla regions in Xinjiang have a temperate continental arid climate and long sunshine hours which are ideal for growing the succulent and sweet fruit.
However, a bough blight disease has posed a major threat to production. First discovered in 2016 in Ili, Xinjiang, the disease has since spread. About 500,000 fruit trees are infected in the region every year, triggering some 68 million yuan ($9.9 million) of economic losses annually for local apple and pear growers.
The test paper developed by the Nanjing Agricultural University in East China's Jiangsu province provides a fast and accurate method for detecting the bacterial blight in apples and pears.
"During our field investigation, we found that blight bacteria is often confused with decomposing bacteria and canker, which affects treatment," said Hu Baishi, a professor in charge of the plant quarantine research group at the university.
He said the researchers then decided to develop a quick test method that can be easily done in the field, saving growers the trouble of sending samples to a lab.
The speed test paper is about the size of a lipstick tube and can detect antibodies, providing instant results of diseased tissues for early prevention.
The university has provided 10,000 test strips to fruit growers in Xinjiang.